MHA Administrative Fellows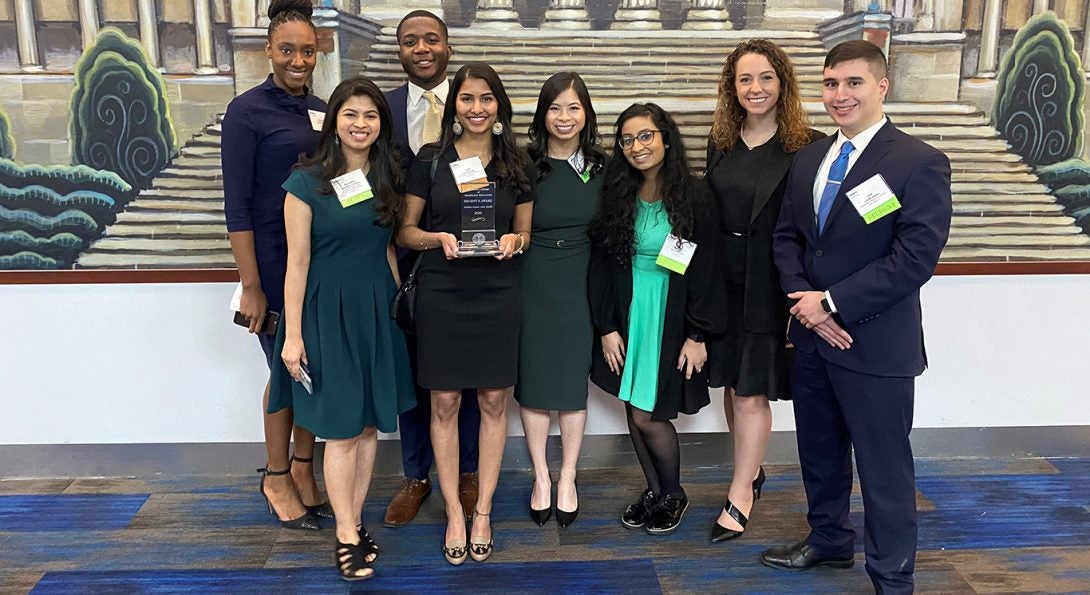 The UIC MHA program's Fellowship Support Program is offered to current students through assistance in their applications to administrative fellowships for the upcoming year. Nearly 80 percent of students who participate receive and accept offers to local and national Administrative Fellowship Programs.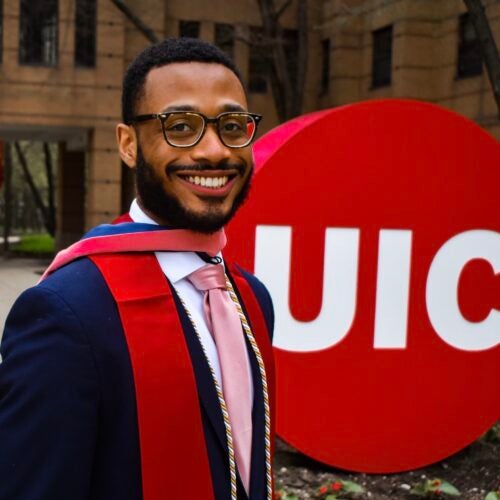 Saint Francis Health System
Caleb Wright is excited to relocate to Tulsa, Oklahoma as an Administrative Fellow with Saint Francis Health System, where he will be an active member of the leadership team. He will be engaging in hospital, ambulatory, and corporate rotations as he develops a broad understanding of operations, finance, quality, and strategic development. Caleb is thrilled to bring his passion and skills when completing projects that help further the ministry and collaborate with senior leadership across the health system.
Advocate Aurora
Ava Roper's fellowship with Advocate Aurora is a one-year experience in the Chicagoland area that includes both a rotation aspect as well as project work. She will spend the first three months rotating through core corporate functions including business development, finance, and human resources. After these rotations, She will have the opportunity to engage in system-level projects and strategic initiatives to gain experience and have the opportunity to decide on a post-fellowship role. Her preceptor for the fellowship is the president of Continuing Health for the organization, so my project work will center around the post-acute and rehabilitation care space.
Community Health Center, Inc.
Moneal Desai will engage as an Administrative Fellow in a 12-month program with the Medical University of South Carolina (MUSC) under the mentorship of the Chief Ambulatory Officer. He looks forward to furthering MUSC's strategic initiatives while working to pursue his goal of being a leader in ambulatory care.
Health Care Service Corporation
Jessica will be a leadership development fellow at Health Care Service Corporation, which operates through Blue Cross Blue Shield of IL. As a fellow, she will gain hands-on experience supporting high-profile strategic projects that are tackling key business priorities across multiple lines of business and functional areas, including Value-Based Care (VBC) and Retail Solutions teams. The fellowship is structured around 2-3 rotations designed to advance skills in strategic planning, communication, and leadership, as well as to prepare program members for attaining a permanent role within HCSC. Jessica is passionate about the shift to value-based care and is looking forward to working in the payer space.
Medical College of Wisconsin
Johanna Ponce is honored to be given the opportunity to join the Medical College of Wisconsin (MCW). She will join MCW as an Administrative Fellow focused on physician practices under the sponsorship of the COO of the Medical College Physicians Practice and the Senior VP, Ambulatory Operations for Froedtert Health. In her two-year long fellowship, she will have the opportunity to lead projects, build effective healthcare management skills, and overall exhibit an understanding of healthcare administration. My second year will include an increased focus on leadership and the management of long-term projects in interim role placement throughout the health system."
University of Illinois Hospital & Clinics
Olivia Ellsworth is pursuing a one-year Administrative Fellowship under the mentorship of the University of Illinois Hospital & Clinics (UI Health) CEO, Mike Zenn. The fellowship is a project-based experience in the Chicagoland area which provides Olivia with exposure to an energizing academic health center environment driven to provide high-value, personalized health care that addresses health disparities. She will progress through a series of projects providing exposure to emergency care, acute care, or ambulatory healthcare delivery models, healthcare finance, operations, information services, and marketing. In addition, the fellow will be able to participate in regular leadership meetings, including medical staff leadership, health system management, and potentially other areas of specific operational or organizational interest. She also has the opportunity to interact personally with University of Illinois Hospital & Clinics leadership in one-on-one or small-group interactions. To advance her individual skills during the year, she will also directly interact with a member of the leadership team to develop, execute, and report on projects during the year.
Advocate Aurora Health
Christopher McLaughlin will be completing his Administrative Fellowship at Advocate Aurora Health in Support Services. During the first three months, he will be rotating between finance, HR, and business development. For the remaining nine months, he will be assisting in the support services for the system helping oversee departments such as supply chain, EVS, facilities/construction, transportation, and security. He is excited to expand his skills in these support services to get a full well-rounded understanding of what it takes to make a health system run efficiently and smoothly.
Franciscan Alliance
Kenny Shoenig is the new Franciscan Alliance Administrative Fellow. This fellowship Program is a 12-month program that offers future healthcare executives many opportunities to experience the first-hand operation of a faith-based healthcare system both at the corporate and facility levels. The program combines departmental rotations, problem-solving projects, shadowing administrators, active participation in executive leadership meetings, and personalized professional development which complement the day-to-day hands-on experience.
NorthShore University Health System
Lindsay Cunningham will work closely with senior management across NorthShore on broad-based project assignments to support their strategic initiatives. Her career interests include hospital operations and strategic planning.
UI Health
Billy Diamandopoulos aims to center his career around understanding how he can best serve the needs of the individual patient and facilitate change at UI Health that will lead to more effective healthcare delivery and better access to care.
Hospital Sisters Health System
Vanessa Rodriguez will work with leaders from across the system's 15 hospitals toward extensive development opportunities and mentorship in strategic and operational initiatives.
Emory Healthcare
Samantha Yang is most excited to participate in Emory Healthcare's administrator on-call rotation for fellows, continuing her pursuit to be a healthcare leader in quality improvement and strategic planning.
Community Health Center, Inc.
Megan Coffinbargar will engage as a Weitzman Institute Administrative Fellow at Community Health Center. She will focus on understanding the management and operations of federally qualified health centers at this non-profit primary care system for medically underserved patients in Connecticut.
Vizient, Inc.
Mansi Mehta will be working as a Quantitative Fellow for Vizient, the nation's largest member-owned healthcare services company. She will work with the advanced analytics and product management teams to support the strategic initiatives of Vizient's diverse membership in the areas of clinical, operational, and supply chain performance.
Northwestern Medicine
Alisiyah Daya will work with senior leadership across Northwestern Medicine in hospital operations, risk management, strategic planning and more. Alisiyah is looking forward to cultivating strong mentor relationships.
Lalli Akurati will engage as an Administrative Fellow with Allina Health System in a 12-month program under the mentorship of Dr. Penny Wheeler, system CEO and president. Allina Health is a non-profit health system that is dedicated to the prevention and treatment of illness and enhancing the greater health of individuals, families and communities throughout Minnesota and western Wisconsin. Through their 12 hospitals, 16 pharmacies and associated services across the care continuum, Allina health is dedicated to providing patient centered care. Lalli will be involved in attending and participating in leadership forums, attending Allina board meetings and working on various executive system and corporate projects. The Allina Health fellowship provides flexibility for her to pursue projects in areas of interest such as social determinants in addition to system operations.
Ashritha Chintam's administrative fellowship at Sentara Healthcare is a one-year program consisting of a rotation schedule, developed and designed around her areas of interest and project-based work. She will be rotating among various hospitals across the system and will receive guidance from executives who have launched their own careers through the fellowship and strongly believe in the foundation offered by the program. Fellows at Sentara Healthcare collaborate with executive leaders during board meetings and monthly meetings. They also actively contribute to strategic and operational initiatives, expanding skills by creating new projects and pitching in with projects already in progress.
Ose Ituah will engage in a 12-month long project-based fellowship with AdvocateAurora Health, with a focus on leadership and project management skills. He will be mentored by Rashard Johnson, who is an established leader in healthcare and the CEO of two hospitals Advocate Trinity Hospital and South Suburban Hospital on the Southsides of Chicago. Ose will have the unique opportunity to work with underserved communities in theses areas, specifically focusing on improving and retaining Primary Care Physicians affiliated with these hospitals. He also aims to build strategies in community engagement to improve and increase community relations between the hospitals and the patient populations they serve.
Danielle Moore is joining Mercy Health in St. Louis as a quality and safety administrative fellow.  She will engage in advanced learning in quality and patient safety. Danielle and other fellows will work with leaders in both core and elective rotations to enhance both contextual and functional knowledge through department immersion. She will gain valuable experience through active participation in and completion of projects across the organization in areas including patient safety, social determinants of health, performance improvement, hospital quality, infection prevention and virtual care.
Jud Mustapha will engage as an administrative fellow with Atlantic Health System in a 12-month program of meaningful project-based work that supports both the ongoing needs and goals of the health system as well as the interests and development of the fellows.  Atlantic Health System is a leading non-profit, multi-hospital, clinically integrated health system, dedicated to establishing a Trusted Network of Caring and setting standards for clinical innovation and quality health care in New Jersey, Pennsylvania, and the New York metropolitan area.  Fellows are exposed to and become involved in a broad range of functions and areas across AHS, including operations, planning, integration, ambulatory care networks, telemedicine, analytics, business development, and performance improvement in corporate, hospital, ambulatory, and physician practice settings.
Vi-An Nguyen's administrative fellowship will take place at Indiana University Health over a two year period. During her first year, she will engage in project-based work across the system and business areas. In the second year, she will be participating in customizable rotations with the leadership team in mher areas of interest. Additionally, she will be attending and participating in executive leadership meetings and work on various system strategies in the most extensive health system in Indiana with 17 hospitals. Vi-An will work with a mentor from the executive leadership team as well as have access to a diverse steering committee that will provide extensive development opportunities and additional mentorship.
Ann Starling will serve as an administrative fellow at Michigan Medicine at the University of Michigan.  During her first year, she will engage in strategic rotations and high-impact project work aimed at advancing institutional priorities while cultivating core health care leadership competencies. Fellows also support executive-level meetings to observe first hand enterprise management and decision making.  Year two of her fellowship is structured as a customizable immersion that thoughtfully allows for continued growth and contribution to the health system. She will serve as an embedded resource under the direction and mentorship of preceptors and supervision of selected area leads.
Shivani Shah will be engage as an administrative fellow with Vizient in Chicago.  Fellows will work directly with the senior vice president of advanced analytics & product management to assist in internal and external analyses using data from Vizient's clinical and operational databases, including the clinical database/resource manager.  Projects include the use of data to facilitate performance improvement, quality and safety assessment and health services research for Vizient's diverse membership of academic medical centers, complex teaching hospitals, community hospitals, pediatric facilities, integrated health delivery networks and non-acute health care providers.  The fellows will work with internal analytic teams and directly with members on various initiatives and gain exposure to senior-level executives from more than 100 academic medical centers, integrated health systems and community hospitals.