At the UIC School of Public Health, we believe public health is not an action performed on others.  Rather, the most successful interventions are shaped by the knowledge and leadership of communities and people who are most directly impacted by structural determinants of health.  Our goal is to build and strengthen academic-community partnerships dedicated to advancing health justice.
In order to address structural violence, SPH's Collaboratory for Health Justice , through funding from the MacArthur Foundation , will be building capacity at the neighborhood level to address structural violence by repurposing academic knowledge and skills to directly support community-based organizations to lead healing and rebuilding public health movements.  This work takes place in communities across the globe but is centered in Chicago neighborhoods.  The goal of this work is to address the harms and exclusionary practices that academia has historically participated in to transform academia to be an ally in building power at the community level.
Transformative praxis: the concept of unity of action and reflection, binding theory and action together as one process. Transformative praxis begins in the stories of everyday life experiences.
Where academia has traditionally benefitted from working IN community, the Collaboratory aims to transform research and practice to be BY and FOR community. Community leadership will be centered through community co-instructors and guest speakers while student assignments will be hands-on learning opportunities that meet a concrete need of a community partner. Transforming academia such that those who are most impacted by social determinants of health will have the opportunity to share knowledge, participate in critical learning, and lead public health efforts brings public health back to its roots of being community-driven, inclusive, collaborative, and visionary.
Our mission is to support academic-community partnerships by facilitating the meaningful participation of broad stakeholders; fostering representation & presence in academic settings; and providing training and technical assistance for integrating community engagement across research, teaching and practice.
Read our Anti-racist Community Engagement Principles that guide all of our work.  
We need the community to play a role in all aspects of research, or it would be impossible to handle this pandemic and other public health concerns.

Associate Professor of Health Policy and Administration

|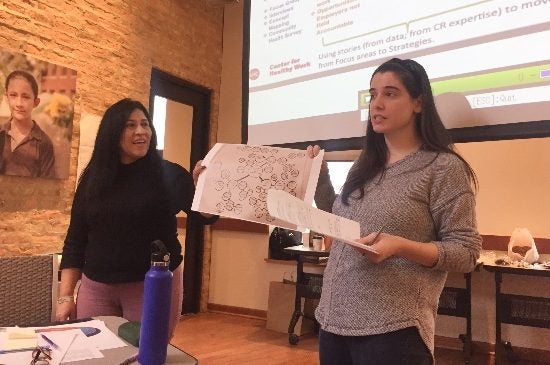 At the center of the School of Public Health's community engagement efforts is the Collaboratory for Health Justice, dedicated to enhancing reciprocal engagement between the community and UIC faculty, students, and staff. Our emphasis is on connecting people to each other and to resources that will ultimately improve their public health research, teaching, and practice. We strive to advance health justice—that all people would have the power and resources to have agency over their health, which requires addressing systems of oppression such as classism, racism, sexism and xenophobia.
Learn more