Peer Support Team
The Peer Support Team members are advanced MPH students who are dedicated to helping their fellow students succeed academically. The team offers individual and group sessions to help students understand public health concepts and skills, and to assist with class assignments in a relaxed and supportive environment. Services are free of charge and available to all undergraduate and masters-level Public Health students, regardless of skill level or comfort with the material. From understanding basic content to more advanced support, visiting the Peer Support Team is a great way to increase your comfort and success in your academic work.
The Peer Support Team is comprised of 3 members: a Writing Specialist and two Quantitative Methods Specialists. The Writing Specialist provides assistance with all aspects of written assignments, including brainstorming paper topics, thesis development, paper organization, proofreading and citations. The Quantitative Methods Specialists review basic concepts and methods, review homework assignments, conduct exam review sessions, provide SAS assistance, and more. All three Specialists work with one another and in consultation with course instructors, TAs and ODI staff to ensure that students at SPH have the support they need to succeed in their coursework. Schedule an appointment with a member of the Peer Support Team today!
Be on time

Try logging into Zoom ahead of time to address technical issues
If you schedule a meeting and find yourself running late, please contact the person you scheduled a meeting with to let them know that you are running late
If you are more than 15 minutes late, your appointment will be automatically canceled and your time slot will be given to another student

Students are limited to three scheduled Peer Support sessions per week. Feel free to reach out via email if you foresee needing further support
Complete sign-in sheet for each session (find links below)
Be prepared

To makes best use of time, please come prepared with assignment prompts and drafted work before your session
For Quantitative sessions, we recommend coming prepared with specific questions and sharing with the specialist what you have already tried

Please Note:

The Peer Support Team strives to create an accessible and respectful environment; those who disrupt that environment will be asked to leave
If you miss more than 3 scheduled sessions without advanced notice, your access to the Peer Support Team could be temporarily suspended. Please make sure to always contact the Peer Support Team when you foresee missing an appointment

Sign-in Links

Please sign-in prior to your scheduled appointment. To Sign-In, please use the following links:
Please complete a post survey after  your  session  with  a PST  member
*Sign-In and Post Surveys must be completed for every visit
Tanner Shull, MPH Candidate

Epidemiology

Tanner Shull (he/him/his) is a first year MPH student in Epidemiology with a concentration in Global Health. He has a BS in Biochemistry from the University of Missouri. He currently works at Rush University Medical Center as a research assistant in microbiology and immunology. Before pursuing his MPH, Tanner worked for the US Peace Corps in Guatemala in maternal and child health, and at the IDPH Chicago Laboratory for COVID testing. Tanner is passionate about the intersection between health and technology and loves to talk anything science or public health related. He's looking forward to meeting students, talking about their interests, and strengthening quantitative methods and concepts along the way.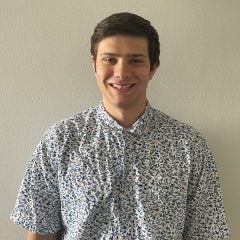 Cameron Zielke, PhD Candidate

Epidemiology

Cameron Zielke(he/him/his) is a first year PhD student in Epidemiology with a concentration in Environmental and Occupational Health and Safety. He has a MS in Epidemiology from University of North Texas Health Science Center. His main area of interest for research is the effects of air pollution on health outcomes, specifically asthma. He is currently working on projects involving Coronavirus and pregnancy, the interaction of pain and sleep on depressive symptoms, and consecutive absences effects on school performance. Cameron is excited to be a Quantitative Methods Specialist for the Peer Support Team and looks forward to meeting new students and helping further their understanding of Quantitative methods.
Emma Meersman, MPH Candidate

Community Health Sciences

Emma Meersman (she, her, hers) is a second-year MPH student in Community Health Sciences. She is interested in healthy youth development and interdisciplinary, community-driven approaches to address health inequities. Emma is an intern at the Illinois Chapter of the American Academy of Pediatrics, where she coordinates their Improving Access to Care for Children in Immigrant Families project. As a member of Radical Public Health at UIC, she helped plan two panels—Unlearning Fatphobia: Moving Toward Fat Liberation in Public Health and Child Welfare Justice: An Abolitionist Approach. Emma is excited to be the Writing Specialist for the Peer Support Team with the Office of Diversity and Inclusion!