Association of Future Healthcare Administrators
The University of Illinois Chicago (UIC) Association of Future Healthcare Administrators (AFHA) serves as an official organization of the Master of Healthcare Administration (MHA) programs. Any current student of the UIC MHA program is eligible for AFHA membership. The organization focuses on three main areas- professional development, academic affairs, and social networking.
Mission

The mission of AFHA is to provide a vehicle for the University of Illinois at Chicago (UIC) Master of Healthcare Administration (MHA) students to be connected and utilize opportunities within the MHA Program, UIC Campus, and external affiliations.

Vision

The vision of AFHA is to become a leading resource for UIC MHA students to be connected and informed of healthcare management, especially in the Chicago-land area, as to advance their career development.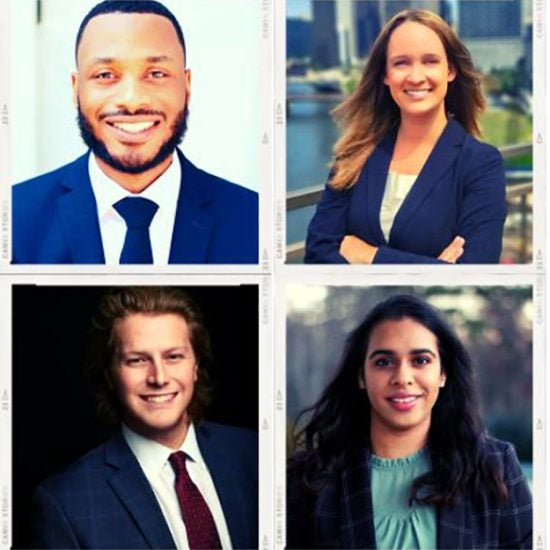 Welcome! We are excited to meet you. Please let us know what you would like to see from AFHA this academic year!

Email all of us @ afhaofficial@gmail.com

Or connect with us individually by viewing our profiles
Professional Development

Facilitate and offer professional development activities.

Academic Affairs

Provides current and incoming students with details related to professors, classes, preceptors and preceptroship sites. Serves as a liaison between the students' voices and the program leadership team.

Social Networking

Social activities are intended to provide a forum for members to interact outside of the classroom.
Social Media

Follow UIC's AFHA on Instagram @uicafha

Social Events

Upcoming: TBD

Past Events

MHA Virtual Friendsgiving

MHA Alumni Panel (Virtual Platform)

Preceptorship Fair  (Virtual Platform)

MHA Jeopardy Virtual Social
Volunteering Event(s) & Opportunities to Engage Heading link
Volunteering Event(s)

Dates and times coming soon for upcoming events!

Pilsen Food Pantry

AFHA participated by working 3-hour shifts, with a total of 5 individuals being able to participate in a shift at a time, throughout the month of November. Assisted with distributing healthy foods to people in need with proper COVID-19 precautions in place. Photos of the AFHA students who participated can be found in the slideshow below.

Opportunities to Engage

Thank you to all of you who participated in the nomination for first-year representatives. It was a competitive field, but 3 new representatives were selected. Congratulations Caleb, Christopher and Olivia. More information on the three new officers can be found here.

Don't forget to participate in MHA's Mentorship Program!