MacArthur grant aims to build community capacity in public health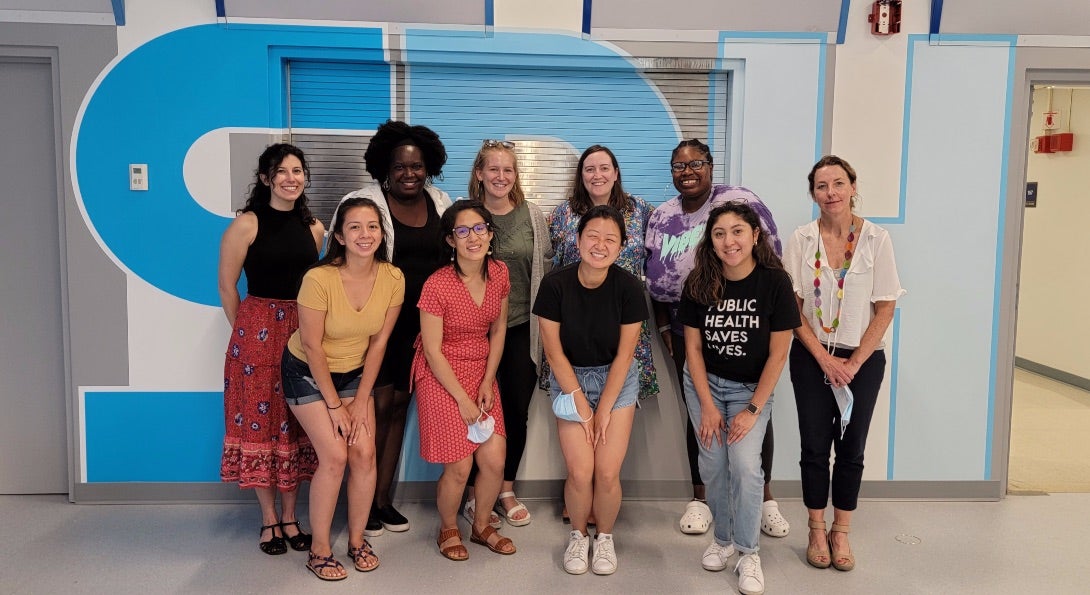 The UIC School of Public Health's Collaboratory for Health Justice was awarded a grant from the John D. and Catherine T. MacArthur Foundation to extend its work building public health capacity at the neighborhood level in Chicago, in the wake of health inequities exacerbated by the COVID-19 pandemic.
The grant is part of roughly $80 million in awards MacArthur announced in support of the foundation's Equitable Recovery initiative, centered on advancing racial and ethnic justice. The initiative is funded by MacArthur's social bonds, issued in response to the crises of the pandemic and racial inequity.
"It is long overdue that academic institutions recognize the ways in which we perpetuate systems that produce health inequities at the neighborhood level," said Jeni Hebert-Beirne, PhD, interim associate dean for community engagement and director of the Collaboratory.  "The Collaboratory is committed to transforming academic processes so that we can actively participate in building local capacity to promote health equity."
The Collaboratory is one of 35 organizations receiving grants advancing the Public Health Equity and COVID-19 Mitigation and Recovery focus area of the Foundation's initiative, to improve access to resources for immediate health challenges while advancing new policies, models, and structures to support a more equitable and resilient public health sector in the future.
The Collaboratory will focus on two initiatives:  building reciprocal relationships with community-based organizations (CBOs) toward more responsive local public health systems and launching a youth citizen science program.
The project envisions the UIC School of Public Health as supporting and learning from partner CBOs, which are ideally positioned to characterize successes and challenges in confronting health inequities in Chicago neighborhoods.
Led by Collaboratory co-learning and teaching specialists, community course alignment will integrate CBO needs into courses at SPH and across UIC to bolster grant writing, needs assessments, program evaluation, racial equity lens audits, health impact assessments and conceptual models.
Staff from partner CBOs will join in an inclusive classroom/campus initiative as guest students in university courses. CBO staff will also serve as guest experts and lecturers in UIC courses.
CBOs will be invited to co-develop the Health Justice LAB: Racial Life Expectancy Gap series. Co-developed with the UIC Partnership for Anti-Racist Campus Transformation, CBO staff will work with faculty addressing priority areas from the Healthy Chicago 2025 plan.
The youth citizen science program is preparing the future public health workforce from Chicago community areas most severely harmed by COVID-19.  These young adults are learning about public health, its history and the potential to decolonize public health and community engagement .  Participants pursue inquiry projects based on their personal experiences that explore the root causes of health inequities and build skills in qualitative and mixed-methods inquiry methods for data collection.  These projects include:
Community assets and resources around COVID-19. How have mutual aid, neighborhood associations, and cultural associations continued to grow as key sources of knowledge and resources?
Ongoing community needs for resources. How might a lived-experience lens help to inform current public health response and prepare for the next phase of "return to normal?"
Developing community health messages that are culturally tailored. Youth will explore different methods for understanding knowledge gaps and disseminating health information (e.g. peer-to-peer model and/or trusted messengers)
Consulting on UIC SPH COVID-19 projects. For example, informing research and practice around vaccine hesitancy and vaccine access research.
"As we emerge from this moment of crisis, we have an opportunity to improve the critical systems that people and places need to thrive. Our systems and structures must be rebuilt," said MacArthur President John Palfrey. "We are committed to ensuring that our response to the pandemic is focused on supporting the reimagining of systems that create a more just, equitable, and resilient world."
Almost two-thirds of the MacArthur awards represent new grantee relationships, and most of the organizations are Black, Indigenous, and People of Color-led or -serving. The grants also reflect MacArthur's global reach: 45 percent of the new funding supports work outside of the U.S., including 12 percent in India, and 14 percent in Nigeria, where MacArthur has offices.
Modified on October 18, 2021