Community course alignment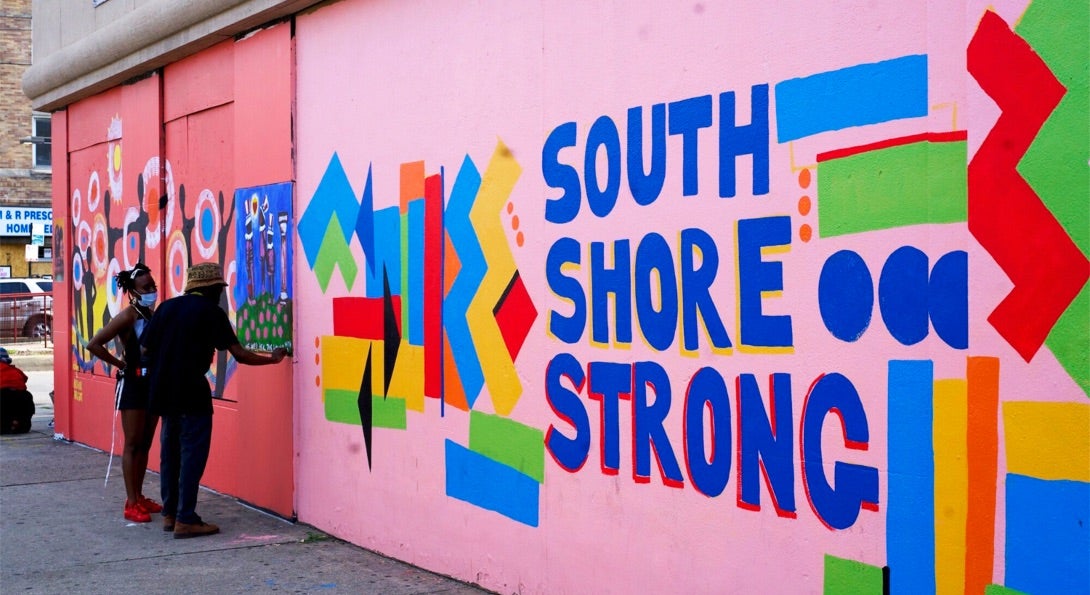 With MacArthur Foundation funding, SPH classes are redesigning curriculum to incorporate the technical needs of Chicago community-based organizations
As a program case manager at Lawrence Hall, a Chicago community-based service agency committed to healing the effects of childhood trauma, Aaron Brown believes teens and young adults in Chicago's South Shore neighborhood need a chance to turn off their "survival brain."
When young people face heightened exposure to violent crime and property crime, Brown says they develop tendencies to live in the moment rather than focusing on long-term goals and development.
"When you are in survival mode, you can't live in that mode, you can't have fun in that mode," Brown said. "When you get out of this space you normally are in, going hiking or canoeing or ziplining, you finally feel like you can be free and actually learn."
In 2019, Brown created the Journeys Across Communities Recidivism Reduction Program (JAC Program) to equip youth ages 14-24 in Chicago's South Shore neighborhood with support, resources and cultural immersion experiences after involvement with the justice system, as a strategy to prevent the recurrence of high-risk behaviors and violence. The program grew out of his own experiences as a young person in the community and centers on the concept that even a few hours of intentionally designed programming toward love and healing can foster teens and young adults to envision personal goals and a new life path forward.
But how does a program measure the impact of adult mentors or the creation of personal goals? Do these objectives lead to changes in the lives of participants? If so, why? What role does love play in participant success? Ultimately, what does success look like?
A new form of academic-community partnership piloted at the UIC School of Public Health aims to bolster community-based organizations' capacity to tackle key technical challenges like program evaluation. Known as community course alignment, SPH professors are tailoring courses to address specific real-world tasks facing Chicago community-based organizations (CBOs).
"When it comes to understanding needs and challenges our communities face, our community partners are the experts," said Brenikki Floyd, PhD, associate dean for community engagement. "We have a responsibility to create space for our community partners and foster the co-creation of mutually beneficial innovations through transformative partnerships."
The genesis for course alignment grew from an SPH-initiated needs assessment with the CBOs involved with the City of Chicago's COVID-19 response. In 2021, to fund community engaged teaching efforts, Jeni Hebert-Beirne, PhD '08, MPH '95, associate professor of community health sciences and founder of SPH's Collaboratory for Health Justice, and Maggie Acosta, former assistant director with the Collaboratory, earned a $500,000 grant from the MacArthur Foundation called "Strengthening Public Health Infrastructure in Chicago Communities."
"What we are asked to evaluate from funders is not always the stuff that matters," Hebert-Beirne said. "It's the hard-to-articulate stuff that really matters – how do you measure love, what keeps young people involved in a program, how young people feel like they matter – all these things we don't have a great way of defining."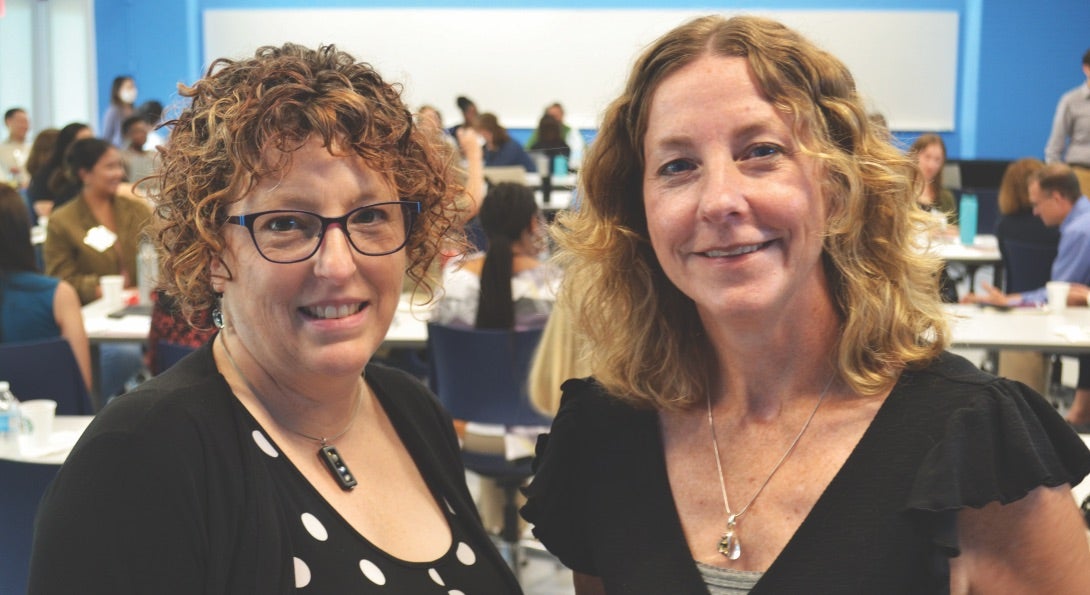 Alisa Velonis, PhD, associate professor of community health sciences and faculty with the UIC Center of Excellence in Maternal and Child Health, worked with Lawrence Hall staff to co-design one of these courses, Community-Engaged Program Evaluation. The partnership had two goals: to provide specific technical assistance to Lawrence Hall and to embed community partner expertise in the experience of students learning community-engaged program evaluation.
Each week during the spring 2023 semester, Lawrence Hall's Sean McGinnis, chief program officer; Breanna Hollie, vice president of youth and community development; Brown and other Lawrence Hall staff attended class sessions, partly as students and partly as co-instructors. The community alignment final product was a draft evaluation plan for Lawrence Hall to implement, co-developed by students, faculty and program staff.
"It's one thing to say, 'I know the program works, I know what we need to do to help youth,'" Brown said. "It's entirely different to have a group of professionals study the ins and outs of the program and make clear whether it's beneficial."
Over 13 weeks, JAC Program participants engage in group and individual therapy, mentoring, employment services,
educational support and cultural activities. In collaboration with Brown, McGinnis and Hollie, the class dug deep into the program, hypothesizing how programmatic elements work together to succeed. The class reviewed literature that illustrated how providing youth with mental and physical support that fosters opportunities to grow and change can reduce violence recidivism rates.
The JAC Program was ripe for evaluation because of its recent formation, a need to attract sustained funding and a goal of launching the program in other communities.
"A lot of our programs are based on someone like Aaron and his lived experiences and his natural connection to kids," McGinnis said. "We can't put that in a job description and say, 'You have to be Aaron if you want to work here.' If we're going to replicate this, we need to be able to define [what it is that works]."
Class discussions about program theory and student-led literature reviews highlighted possible key drivers of program success, including the need for passionate staff with genuine love for youth participants. Peer-to-peer engagement and teaching may create outsized benefits, which led Brown, McGinnis and Hollie to think about how to better incorporate participant and alumni leadership in the program. Finally, class conversations about family engagement led Lawrence Hall to apply for grant funding to include family members in cultural immersion activities.
"I think our students saw what could be accomplished when there is constant communication and sharing of power, validation and decision-making between 'traditional public health' and community partners," Velonis said. "As teachers, we have the potential to have this ripple effect of learning."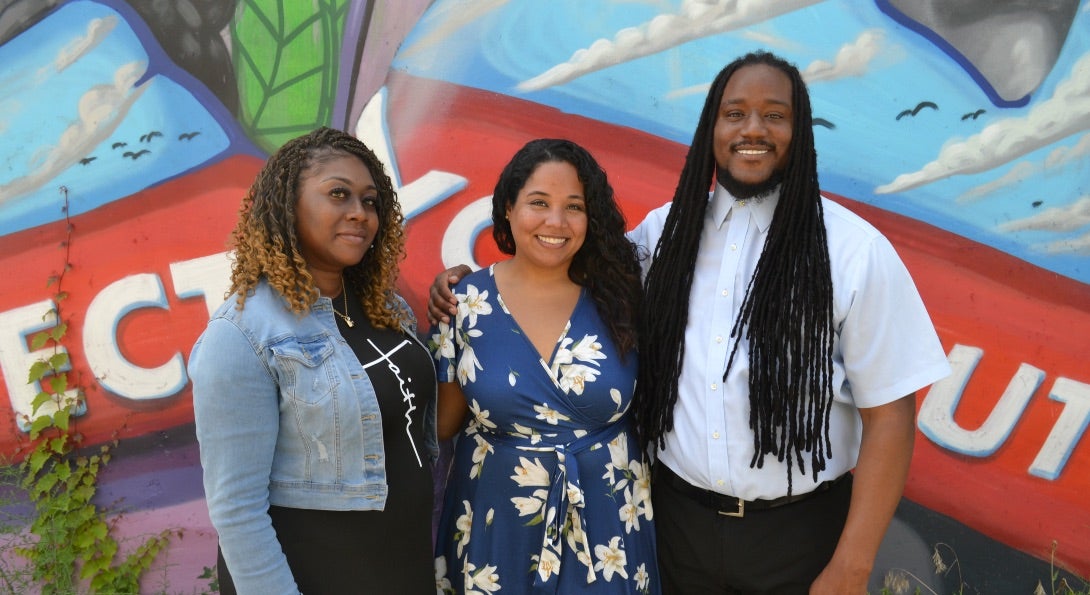 Velonis' class was one of 14 initial MacArthur-funded community-aligned courses, with another seven under way this fall totaling 44 current community collaborators. Beyond these courses, the community-engaged teaching team also facilitates guest lecturers from SPH's Health Justice Speakers Bureau to bring further community perspectives to classroom.
Programmatic support for the grant has been led by Hebert-Beirne and Acosta; Marjorie Kersten, PhD student with a concentration in community health sciences; Kiela Moreno, MPH student with a concentration in maternal and child health; and Cynthia Medina, MPH student with a concentration in community health sciences. Through the MacArthur funding, faculty and community collaborators receive compensation for their time and access to community-engaged teaching support. Generally, faculty are not compensated for course design, which is problematic given the time- intensive nature of a true partner- designed, community-aligned course.
"We need to position this as continued relationship building with our community partners," Hebert-Beirne said. "We met these extraordinary people with whom we built a robust learningenvironment. The lessons learned arehow powerful this can be, but also how hard it is to go that extra mile without the support and compensation provided by the MacArthur grant."
As Lawrence Hall initiates an evaluation of the JAC Program, Brown envisions a future in which the program is operating in major cities across the country impacted by gang violence. A robust program evaluation designed in collaboration with academia could allow for that replication. For now, the focus is on growing the South Shore presence to impact as many youths as possible with programming, employment pathways and alternative ways of thinking.
"Whether it's in public health or social work or criminal justice, we may all have different paths to get through a problem or a challenge," Hollie said. "But we're all here to make a difference and impact the system."
Modified on November 13, 2023