Fall 2020 Dean's Message
Message text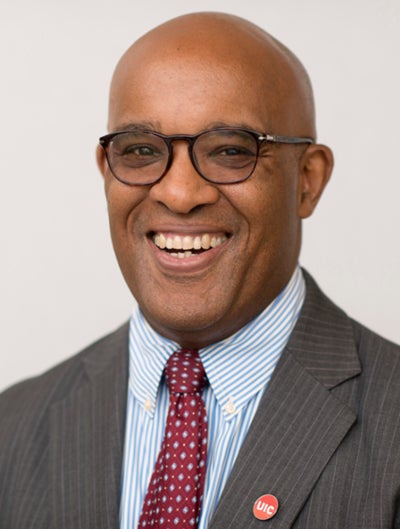 The year 2020 will certainly go down in history as the time when our world learned about the crucial role that public health professionals play in keeping communities safe. COVID-19 has impacted the lives of everyone, and it has unveiled what many of us in public health have known for years: social vulnerability and racial inequality have a profound impact on individuals and communities. While these perils are difficult to live with, I have been inspired by the way the UIC SPH community has risen to the challenge.
In this issue of Healthviews, you'll read about how our faculty had to pivot in order to move all in-person courses to an online format. While the ending of last year and the start of this academic year look different than what we are used to, our commitment to serve and support our students and community remains exactly the same. Our goal has always been to educate the next generation of public health leaders. I'm happy to say that we're seeing a spike in our enrollment numbers this year, especially in our undergraduate program. This is extraordinary news for UIC and the field of public health.
The National Scope/Global Impact section highlights the work of our Global Health Program. While the travel ban prevented our faculty and students from traveling abroad, they are still conducting research. I encourage you to read about the work of various faculty who are working on projects that reflect the critical role of surveillance in global public health. Imagine how different the outcome might have been in the U.S. if the surveillance of COVID-19 was used for planning and evaluation, health systems response and policy development.
UIC SPH was named a leading U.S. university shaping the nation's public health workforce (Harris Search Associates Ground Zero Report). You can read about our impressive faculty who were called upon to lead Illinois' response to combat COVID-19 and how Chicago's mayor selected us to co-lead the city's contact tracing initiative. Our new Policy, Practice and Prevention Research Center aims to build capacity for policy, programs and systems designed to improve population health and address equity.
Lastly, I hope you'll take a moment to check out the Advancing Health section to learn about how funding from AbbVie is helping address COVID-19 among the homeless and how an alumna's career in global health inspired her to give back.
While I didn't anticipate the school's 50th Anniversary would coincide with a pandemic, it certainly means no one will forget the year 2020. I hope we can celebrate in person in 2021 or when it is safe to do so.
In good health,
Wayne H. Giles, MD, MS
Dean of the UIC School of Public Health