Alumni Profiles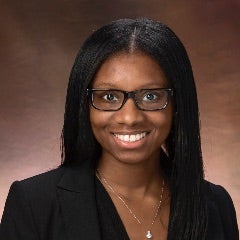 Courtney Babb, MS in Epidemiology '15, is a regional epidemiologist with the New Jersey Department of Health.  She serves as the COVID-19 regional lead for the state and will manage non-Covid communicable diseases as the pandemic recedes.  She assists local health departments with outbreak investigations and provides guidances to community stakeholders building COVID mitigations.  Previously, she served as a COVID-19 epidemiologist with the Philadelphia Department of Public Health and as a clinical researcher at The Children's Hospital of Philadelphia, where she facilitated clinical trials for the hospital's Comprehensive Sickle Center.
Nico Davis, MS in Epidemiology '18, is a senior consultant and analytic lead for Health of America Reports at Blue Cross Blue Shield Association.  He manages health outcome analyses from the association's claims national data warehouse and other supplemental data sources, preparing final reports for both internal and public-facing use.  He is also a member of the board of directors for Global Environmental Health LAB (Learn, Act, Build), an organization focused on improving the scientific basis of global health decision-making while building mechanisms for sustainable scientific practice in low and lower-middle income countries. The organization provides space for young professionals and students to gain experience in global collaboration through research, internships and an annual symposium.
Ellen M. Stein, MS in Epidemiology '19, is the director of the UIC COVID-19 Contact Tracing and Epidemiology program.  In August 2020, she designed and launched a team to perform COVID-19 case investigation and contact tracing for UIC students, faculty, and staff.  Her role includes managing staff, directing surveillance activities, building a training program, safeguarding patient confidentiality and collaborating with partners across the university.  She has led the evolution of the program to include addressing social and emotional aspects of well-being, particularly for students self-isolating on campus
Jocelyn Vaughn, MS in Epidemiology '19, serves as the research data scientist of UIC's COVID-19 Contact Tracing & Epidemiology Program. She assists with overseeing day-to-day operations of the program and plays a lead role in managing and analyzing epidemiologic data to inform campus decision making regarding COVID-19 protocols.