Testing and Social Isolation Needs in Jails and Prisons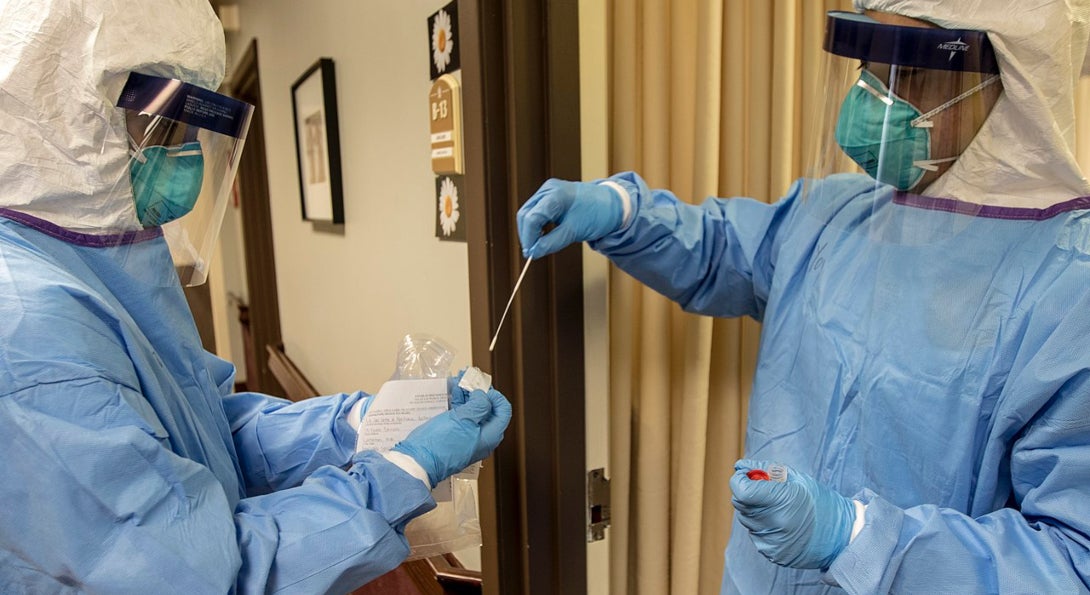 This analysis explores two critical needs in correctional settings:  providing inmates facing extreme social isolation with outlets for interaction and ensuring testing supplies are adequate to mitigate an outbreak.
Maintaining ties
One key aspect during the pandemic is caring for the mental health needs of inmates. Many people during social isolation orders have struggled with loneliness, anxiety and fear for their health or well-being, compounded by isolation.82 These tolls are as real for inmates as for those on the outside. Maintaining social ties is important for all people during the COVID-19 pandemic. Further, the U.S. Bureau of Justice Statistics estimates that "at least 95 percent of all state inmates will be released from prison at some point," making these ties crucial to transitioning out of custody.83
Physical visitation at all IDOC facilities has been suspended since March 14.84 In response to this, IDOC offered funds for two 20-minute phone calls and one 15-minute video visit per week to all people in custody.85 Despite this effort at maintaining ties, more than 61 percent of those who answered the John Howard Association survey said they hadn't received a free phone call in the past week, and 58 percent said that they had not received a free video visit in the past week.86 Such alternative means to keep connections with family and friends are vital. Making phone calls and video visits available may help ease isolation and anxiety among inmates and help them maintain relationships. In 2016, Illinois enacted a law that significantly cut the cost of calls from IDOC facilities to no more than seven cents per minute within the U.S. and 23 cents per minute for international calls.87 The state later negotiated vendor agreements reducing the cost of calls to the lowest in the nation, less than a penny a minute.88 Nonetheless, Illinois jails, which house more than 23,000 persons and are ad- ministered by individual cities and counties, may still charge exorbitant fees for calls.89 The cost of phone calls in these settings may prove prohibitively expensive.90
Allocating tests to contain hotspots
Without adequate testing, it is impossible to ensure that inmates who can safely return to their home communities are able to do so. Like other congregate facilities, such as nursing homes and meat packing plants, Illinois' prisons and jails need more testing. With the limited testing capacity in Illinois, we are forced to ration, directing testing efforts to achieve maximum effect.
One thing that should not happen is that a valu- ation of people sways us from working to ensure the safety of inmates. Protecting them redounds to the benefit of communities and yields practical gains for public health and safety.91 Furthermore, without adequate provision for inmates, the health of rural communities may be imperiled. Many of Illinois' prisons are located in rural counties. The health care capacity in these ar- eas, including hospital beds, intensive care units, and ventilators, is relatively limited.92 Potential transmission of COVID-19 in correctional settings would further stress rural hospitals.93
Utilizing hotspot maps and other data analytics to allocate resources to areas experiencing spikes in COVID-19 can assist rapid response.94 This kind of refined risk analysis may suggest nuanced remedial measures depending on where a facility is located. As we show above, the virus risk runs both ways, from the community into corrections and from corrections out into the community. The specific risks and remedies may depend a great deal on where the facility is located. For example, in Chicago, CCJ staff and detainees may bring the virus into the jail, and both groups may take the virus out into the community. This is because CCJ staff live in or near Chicago, and detainees who are released will often remain in Chicago. But the same is not necessarily true of many of facilities throughout Illinois. The IDOC employees are likely to still live in the local community, but most released inmates often do not remain in Danville, Dixon, Ina, or other locales. They are likely to go back to their hometowns elsewhere in the state.95 This might suggest that in some facil- ities, testing the staff is crucial to protecting the local community and should be a priority. Inmates being released should have temporary quarters arranged in their hometowns to self-quarantine, which protects their families and friends but also contains spread.
About the authors
Sage Kim, PhD, is an associate professor of health policy and administration at the University of Illinois at Chicago (UIC) School of Public Health.
Timothy Jostrand is a 2019 graduate of the MPH in Health Policy and Administration program at the UIC School of Public Health.
Ali Mirza is the Wolff Intern with the University of Illinois system's Institute of Government and Public Affairs.
Robin Fretwell Wilson, JD, is the director of the Institute of Government and Public Affairs.
Modified on July 08, 2020