DrPH student recognized as a rising leader in public health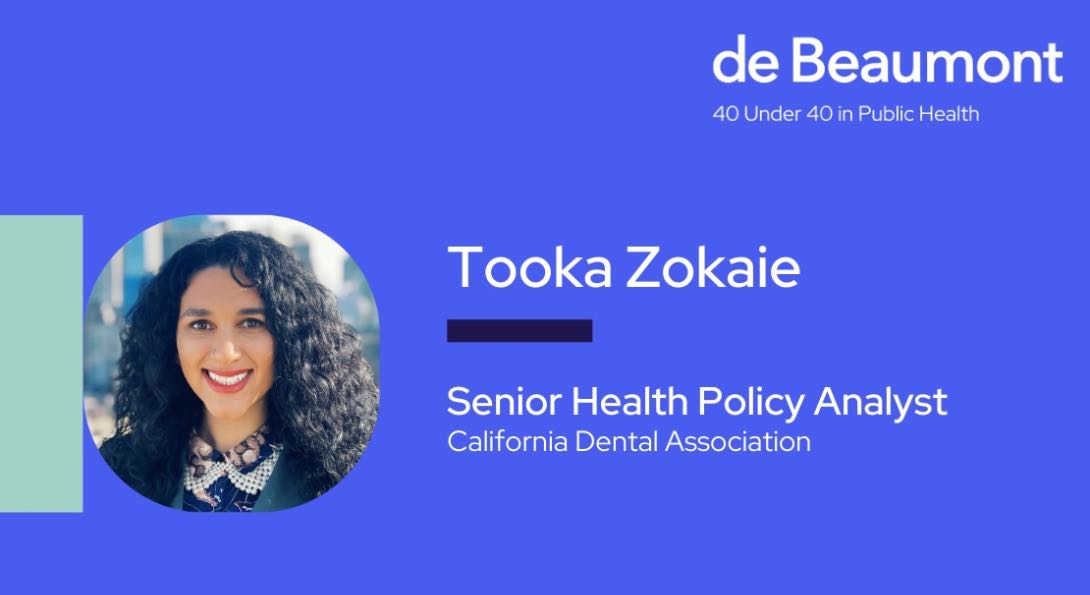 California Dental Association senior health policy analyst named to de Beaumont Foundation's 40 Under 40 in Public Health
Tooka Zokaie, a UIC DrPH student, has been recognized as one of the 40 Under 40 in Public Health in recognition of her work in dental public health. The de Beaumont Foundation announced its Class of 2023 on September 7th after reviewing nominations from hundreds of professionals working to benefit state or local public health across the United States.
"The professionals chosen for the 40 Under 40 in Public Health Class of 2023 demonstrate the determination, commitment, innovation, and resilience of the public health field," said Brian C. Castrucci, DrPH, president and CEO of the de Beaumont Foundation, which launched the program in 2019. "Their work is strengthening communities and improving lives, and I look forward to following their careers and learning from them."
"I am honored by this recognition, as it speaks to the mentors, colleagues, and total health advocates that make my work possible. No transformation in our behemoth health care system happens alone, and I hope to keep carrying a torch that lights a new path toward fostering health alongside such fabulous leaders", says Tooka.
In addition to Mrs. Zokaie, the program's honorees include epidemiologists, program managers, researchers, and policy analysts in state, local, and territorial health departments; colleges and universities; nonprofit organizations; and the private sector. The class was selected by a distinguished panel of public health professionals for their leadership and impact on their community's health.
For more information about the 40 Under 40 in Public Health, including a full list of honorees, visit debeaumont.org/40Under40.
Modified on September 12, 2023