COVID-19 Risks to Warehouse Workers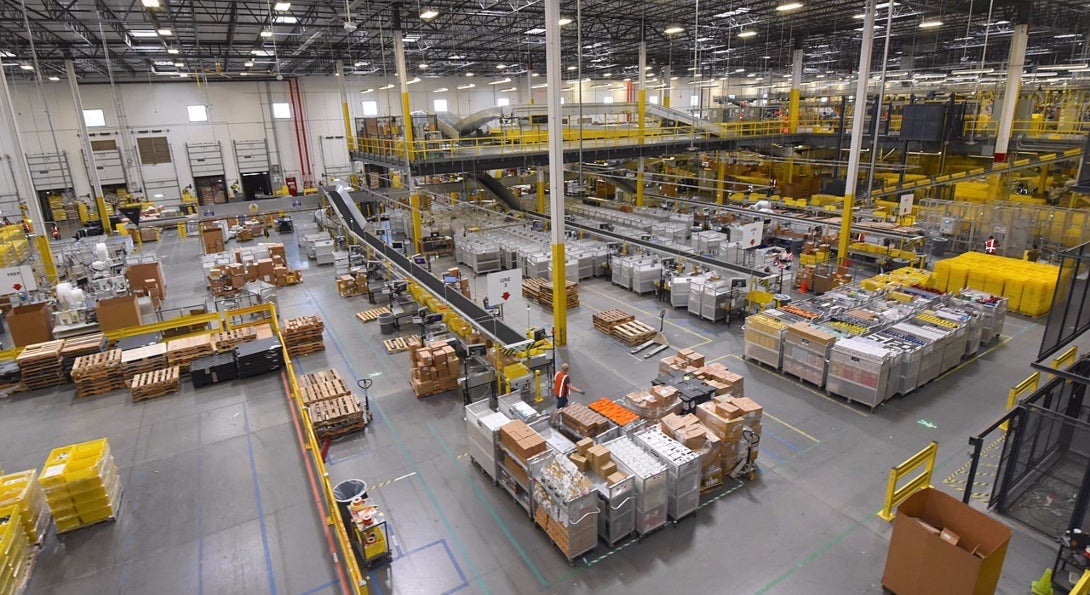 Amazon's Staten Island center, known as JFK8, operates 24 hours a day, seven day a week and employs thousands of workers. The workers in the lawsuit, including a warehouse associate, a problem solver, a processes assistant and a robotics team member — along with some of their family members — claimed that JFK8 failed to comply with guidance from the U.S. Centers for Disease Control and Prevention, and argued that Amazon's productivity requirements prevent employees from engaging in basic hygiene, sanitation and social distancing. Their complaint charged Amazon with public nuisance, breach of duty to provide a safe workplace and failure to timely pay COVID-19 leave, and that the company failed to comply with state and federal public health guidance during the COVID-19 pandemic.
A nationwide group of occupational health physicians and public health experts, including SPH's Linda Forst, MD, senior associate dean, submitted an amicus curiae brief to the United States Court of Appeals for the Second Circuit in support of the plaintiffs' claims.  This section of the brief examines the particular risks facing warehouse workers in a public health crisis.
Warehouse workers—such as those at Amazon's JFK8 facility—are subject to many job conditions that put them at increased COVID-19 risk. Two of these conditions are particularly notable. First, warehouses contain scores, hundreds, or even thousands of workers, often in cramped or tight spaces, working within high traffic and contained areas consisting of many people working at high work rates (sometimes with exertion) and/or talking at elevated volumes to overcome the din of machinery. As COVID-19 spreads primarily through the airborne route, this creates a hazard for widespread risk of infection to co-workers. Physical distancing necessary to mitigate COVID-19 is also challenging in the warehouse environment. The pace of work in these environments can interfere with hygiene mitigations, such as frequent hand washing, as workers cannot take repeated bathroom breaks to sanitize after every potential exposure. Second, the risk of COVID-19 spread is further elevated if workers in highly congested environments such as warehouses are not easily able to access paid sick leave, resulting in COVID-19 positive employees or their families infecting others.
There are a number of scientifically supported measures warehousing employers can and should adopt to mitigate these risks. To prevent person-to-person spread of COVID-19, employers must allow for workplace social distancing and frequent hand hygiene. In addition, employers must make paid sick leave easily accessible and make clear that it should be used to prevent the spread of illness. These interventions are necessary to ensure warehouses are safe for all workers, family members, and adjacent communities.
Social distancing and hygiene reduce the risk of COVID-19 transmission
COVID-19 poses a widely disparate workplace threat depending on the job. It has been clear since the start of the pandemic that COVID-19 is an airborne virus which is easily transmitted in closed, crowded, and/or poorly ventilated environments.4 As a result, many governments, businesses, and other private actors have encouraged "social distancing,"5 defined by the CDC to mean "keeping a safe space"—at least 6 feet—"between yourself and other people who are not from your household."6
Social distancing efforts have been found to be highly successful. One study found that social distancing could have "a great positive impact" on decreasing the risk of COVID-19 infection.7 Another found that comprehensive social distancing measures, including workplace distancing, should be effective at preventing COVID-19 transmission.8 Local government stay-at-home orders have also had a statistically significant impact on the COVID-19 growth rate, demonstrating that staying away from others matters.9 This makes sense given prior studies concerning communicable disease, where researchers have concluded workplace social distancing measures are likely to be effective in reducing virus transmission and spread.10
The CDC also advises that COVID-19 prevention requires attention to sanitation, including frequent hand washing with soap or the use of alcohol-based hand sanitizers.11 Maintaining clean hands is considered "the first line of defen[s]e in stopping the spread of infection."12 Notably, hand hygiene practices may reduce the spread of respiratory illnesses, including COVID-19, by up to 21 percent.13 Likewise, to mitigate the risk of coming into contact with the virus, high-touch surfaces should also be regularly disinfected.14 Of course, these measures are not sufficient by themselves, but they are a crucial part of any workplace virus prevention plan.
Warehouse work presents greater risks of COVID-19 infection
For many workers, social distancing and hand hygiene have been easily achieved while working from the safety of their homes. But workers in the warehousing industry are among the least able to work remotely.15 For those who must work outside the home, particularly those employed in crowded food packing or warehousing jobs, social distancing and hand hygiene are exponentially more difficult.16 Although the warehousing industry has certain environmental design characteristics that make social distancing difficult, that makes it all the more important that employers implement all mitigation measures to prevent COVID-19 infection.
The CDC has established guidelines that warehousing employers in particular should follow to prevent COVID-19 spread. These include "redesign[ing] workstations so workers can be at least six feet apart and are not facing each other," establishing "physical barriers between workers," closing or limiting "access to common areas where employees are likely to congregate," using "visual cues . . . to remind workers to maintain distance of 6 feet from others," placing "handwashing stations or hand sanitizers" throughout the workplace, and ensuring "the workspace is well ventilated."17 The State of New York has established similar guidelines for the wholesale trade sector, which includes warehousing employers.18 These and other measures have been successfully implemented not just in warehouses, but also in other high risk workplaces such as hospital emergency departments.19
Employers that do not implement social distancing policies or redesign workstations are putting their workers and their workers' families in harm's way. Throughout this pandemic, many warehousing employers have forced their workers to choose between satisfying grueling productivity demands and being able to adhere to COVID-19 work safety protocols.20 Anecdotal studies suggest Amazon's policies in particular are ill-suited for this moment.21 Policies such as penalizing warehouse workers for washing their hands too often or for too long, not properly cleaning workspaces following exposure, and inadequate sanitation resources all contribute to the spread of COVID-19.22
Modified on February 02, 2021