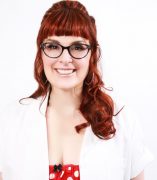 Katrine L Wallace, PhD
Epidemiologist
Adjunct Assistant Professor
Epidemiology and Biostatistics
Pronouns: She/Her/Hers
Contact
Address:
1601-3 W Taylor St., Chicago, IL 60612
Email:
Related Sites:
About
Dr. Wallace holds a PhD in Epidemiology (UIC SPH '13) and has professional experience in epidemiology, science communication, health economics, research design and biostatistics.
​Dr.  Wallace is a member of several science communication initiatives, such as: "Team Halo" (United Nations), Project FIDES (World Health Organization), and the Health Influencer Council (Public Good Projects).  She was also recognized by the UK government as a "Vaccine Luminary" for the 2021 G7 Vaccine Confidence Summit.
Due to her public health advocacy work fighting misinformation on social media, she has  been featured as an opinion contributor and has been interviewed or profiled in several mainstream media outlets such as: BBC World News, MSNBC, CNN, The Washington Post, The New York Times, Bloomberg, and National Public Radio.
Selected Publications
Malaty Rivera J, Wallace K. Considering mandatory COVID-19 vaccination policies for students. Contagion Live. May 18, 2022.
Wallace K, Landsteiner A, Bunner SH, et al. Increasing prevalence of metastatic castration-resistant prostate cancer in a managed care population in the United States. Cancer Causes Control. 2021; 32, 1365–1374.
Wallace K. COVID-19 vaccines work – misreading the data can make you think otherwise. The Hill. August 27, 2021.
Wallace K, Adanski K, Ashwini P, et al. The budget impact of including Rucaparib on a US payer formulary for treatment of patients with metatastic ovarian cancer. PharmacoEconomics. 2021;39,231-24
K Wallace, AA Riedel, N Joseph-Ridge, R Wortmann, Increasing prevalence of gout and hyperuricemia over 10 years among older adults in a managed care population. The Journal of rheumatology 31 (8), 1582-1587
Education
Ph.D. Epidemiology, 2013, School of Public Health, University of Illinois at Chicago, Chicago, IL.
Licensures and Certifications
Certified in Public Health (CPH, 2022) by the National Board of Public Health Examiners
Professional Memberships
American Public Health Association (APHA)
Society for Epidemiological Research (SER)
International Society for Pharmacoeconomics and Outcomes research (ISPOR)
Selected Presentations
Invited Speaker: Talking over the Fence, Going Public with your Science, University of Illinois at Chicago, October 27, 2022
Invited Speaker: Strategies for Combatting Health Misinformation, Hines College, October 19, 2022.
Invited Speaker: Strategies for Combatting Health Misinformation, University of Alabama at Birmingham, October 13, 2022.
Invited Panel Member: Best Practices for Establishing an Effective Online Presence: a Panel Discussion for Academics, SoCal Clinical and Translational Science Institute, June 1, 2022
Invited Speaker: "The Health Risks of Misinformation", University of Illinois at Chicago Alumni Exchange, May 19, 2022.
Invited Speaker: "Misinformation as a Risk Factor Exacerbating the COVID-19 Pandemic", University of Alabama at Birmingham, April 26, 2022.
Invited Panel Member: Combatting Mis/Dis-information with Science Communication, NIH Clinical and Translational Science Awards Program, McCormick Place, Chicago, April 23, 2022
Invited Panel Member: "The Medical Beat: Battling Mis/Dis-Information During Health Care Communications", Knight Media Forum, February 24, 2022
Invited Panel Member: "The co-epidemic of COVID-19 and misinformation", University of Illinois Springfield, November 19, 2021
Invited Spotlight Session Panel Member: "Social Media for Advocacy" Meeting of the American Public Health Association (APHA) October 2021
Invited Panel Member: "When Misinformation Goes Viral: Using TikTok to Fight Disinformation" – October 20, 2021 Panel Discussion with New York University GPH and NYU Steinhart