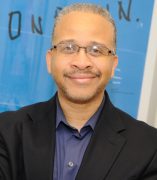 Vincent L. Freeman, MD, MPH '94
Associate Professor
Epidemiology and Biostatistics
Contact
Building & Room:
981 SPHPI
Address:
1603 W. Taylor St.
Office Phone:
Email:
CV Download:
About
Dr. Freeman is a clinical epidemiologist with a special interest in cancer, healthcare access and delivery, and health equity. He earned his undergraduate and medical degrees from the University of Chicago and completed his internship and residency in general internal medicine at Northwestern University. After becoming a clinician-educator in the VA healthcare system, Dr. Freeman earned a Masters of Public Health in epidemiology from the University of Illinois Chicago (UIC) School of Public Health. He received additional training in clinical epidemiology and health services research in the Departments of Preventive Medicine and Urology at Loyola University's Stritch School of Medicine and in the Center for Management of Complex Chronic Care at Edward Hines, Jr VA Medical Center. This research training and career development was supported, in part, through awards from the Robert Wood Johnson Foundation Harold Amos Medical Faculty Development Program and the Veterans Health Administration's Health Services Research & Development Program.
In 2004, Dr. Freeman joined the faculty of the UIC School of Public Health where he teaches courses in epidemiology methods and the epidemiology of cancer. His research into biological, social, and healthcare system determinants of cancer prognosis and health inequities has been supported through grants from the National Cancer Institute, American Cancer Society, and the Department of Defense.
Dr. Freeman is a lifelong Chicagoan and southside resident. He was born in West Englewood and raised in Avalon Park.
Selected Grants
NIH/NCI P50 CA106743-S1, Center for Population Health and Health Disparities – Minority Supplement (PI-Warnecke), Awardee
American Cancer Society – Illinois Division, Chicago Colorectal Cancer Consortium: Colorectal Cancer in African Americans (PI-Llor), Co-Investigator
NIC/NCI 1R01CA129140, Adiposity and Outcomes of Clinically Localized Prostate Cancer, Principal Investigator
American Cancer Society (117534-RSGT-09-286-01-CPHPS), The Chicago Prostate and Colorectal Cancer Survival Study, Principal Investigator
Department of Defense, Prostate Cancer Research Program (DADM1717-00-1-0029), Prostate Cancer in West Africans, Jamaicans and U.S. Blacks, Principal Investigator
NIH/NCI (1R01CA193497), The Role of Mnsod Allelic Variations in Prostate Cancer Etiology and Outcomes (PI-Diamond), Co-Investigator
Selected Publications
Freeman VL, Meydani M, Yong S, Pyle J, Wan Y, Durazo-Arvizu R, Liao Y. Prostatic levels of tocopherols, carotenoids and retinol in relation to plasma levels and self-reported usual dietary intake. Am J Epidemiol. 2000;151(2):109-118.
Freeman VL, Meydani M, Hur K, Flanigan RC. Inverse association between prostatic polyunsaturated fatty acid and risk of locally advanced prostate cancer. Cancer. 2004;101(12):2744-54 [Epub 2004 Oct 19]
Freeman VL, Flanigan RC, Meydani M. Prostatic Fatty acids and cancer recurrence following radical prostatectomy for early-stage prostate cancer. Cancer Causes Control. 2007;18(2):211-8. [Epub 2007 Jan 09]
Kositsawat J, Freeman VL, Gerber BS, Geraci S. Association of A1c levels with vitamin D status in U.S. adults: data from the National Health and Nutrition Examination Survey. Diabetes Care. 2010;33(6):1236-38. [Epub 2010 Mar 9]
Freeman VL, Durazo-Arvizu R, Arozullah AM, Keys LCM. Determinants of mortality following a diagnosis of prostate cancer in Veterans Administration and private sector healthcare systems. Am J Public Health. 2003;93 (10):1706-1712.
Freeman VL, Durazo-Arvizu R, Keys LCM, Johnson MP, Schafernak K, Patel VK. Racial differences in survival among men with prostate cancer and comorbidity at time of diagnosis. Am J Public Health. 2004;94(5):803-808
Freeman VL, Ricardo AC, Campbell RT, Barrett RE, Warnecke RB. Association of census tract-level socioeconomic status with disparities in prostate cancer-specific survival. Cancer Epidemiol Biomarkers Prev. 2011; 20(10): 2150-2159. [Epub 2011 Jul 22]
Freeman VL, Boylan EE, Pugach O, McLafferty SL, Tossas-Milligan KY, Watson KS, Winn RA. A geographic information system-based method for estimating cancer rates in non-census defined geographical areas. Cancer Causes Control. 2017 Oct;28(10):1095-1104. doi: 10.1007/s10552-017-0941-8. [Epub 2017 Aug 20]
McLafferty S, Freeman VL, Barrett RE, Lou L, Shockley A. Spatial error in geocoding physician location data from the AMA Physician Masterfile: Implications for spatial accessibility analysis. Spat Spatio-tempor Epidemiol. 2012;1(4):31-38. [Epub 2012 Feb 14]
Freeman VL, Naylor KB, Boylan EE, Booth BJ, Pugach O, Barrett RE, Campbell RT, McLafferty SL. Spatial access to primary care providers and colorectal cancer-specific survival in Cook County, Illinois. Cancer Med. 2020;9(9):3211–3223. doi: 10.1002/CAM4.2957 [Epub 2020 Mar 04]
Education
University of Chicago, The College, BA (cum laude), Biology, 1983
University of Chicago, Pritzker School of Medicine, MD, Medicine, 1987
Northwestern University, GME, General Internal Medicine, 1990
University of Illinois at Chicago, School of Public Health, MPH, Epidemiology, 1994