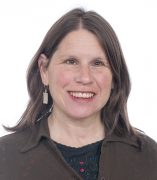 Susan Kaplan, JD
Research Assistant Professor
Environmental & Occupational Health Sciences
Contact
Building & Room:
1058 SPHPI
Address:
1603 W. Taylor St.
Office Phone:
Email:
About
My research and teaching focus on environmental sustainability, environmental and occupational health, and environmental and occupational health policy. My work builds on my policy experience prior to coming to UIC - at OSHA in Washington, D.C., where I developed workplace health and safety standards; the Rhode Island Economic Development Corporation, where I managed the brownfields program; and the Kennedy School of Government, where I served as assistant director of an energy policy group.
My areas of expertise and interest include brownfields, sustainable development, occupational safety and health, asthma, environmental sustainability in the health care sector, children's environmental health, and safer chemicals.
Among recent projects, I wrote two reports for the UIC-based Pediatric Environmental Health Specialty Unit - a case study report on indoor air quality, integrated pest management, and chemicals management in schools, and a resource guide on using data to understand environmental health issues in a community and how they may affect children's health.  As Director of the Health Care Without Harm Research Collaborative, I conducted research on impacts of environmental sustainability in health care on patient, worker, and community health. This included the Commonwealth Fund–funded project, "Can Sustainable Hospitals Help Bend the Health Care Cost Curve?", analyzing cost savings from hospital energy use reduction, waste reduction, and more efficient purchasing. I was PI on a five-year U.S. EPA grant to analyze and carry out technical assistance on best management practices for and environmental, economic, and public health benefits of sustainable redevelopment of brownfield sites.
I have taught or co-taught Ethics and Justice in Environmental and Occupational Health; Systems Analysis in Environmental and Occupational Health; Environmental and Occupational Health Policy; Brownfields: Integrating Environment, Health, and Planning; and Applied Practice Experience.
Professional Leadership
Section Councilor and Chair, Policy Committee, Environment Section, American Public Health Association
Education
University of Wisconsin Law School