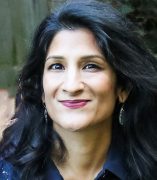 Supriya Mehta, MHS, PhD
Adjunct Professor
Epidemiology & Biostatistics
Contact
Building & Room:
958 SPHPI
Address:
1603 W. Taylor St.
Office Phone:
Email:
About
As an epidemiologist, I lead and collaborate on clinical and community-based research that improves HIV prevention and sexual and reproductive health.  My research focuses on reducing sexually transmitted infections (STI) and vaginal and penile microbiome dysbiosis as co-factors. Such studies, especially within a resource limited setting, are novel, though critically needed. There are few community-based studies of the penile, vaginal, or rectal microbiome. Most studies of microbiome and disease are clinic-based, and more often focus on the gastrointestinal microbiome than genital microbiomes. My research is translational, and focuses on behaviorally mediated or modified aspects of microbiome health at the population level, for broader impact. Currently, we are evaluating the effect of the penile microbiome on female sex partner risk of Bacterial vaginosis in a prospective cohort study of heterosexual couples in Kenya. We are also evaluating the effect of menstrual cups on the vaginal microbiome and BV and STIs among adolescent school girls in western Kenya.
Learn more about the Global Health Program at SPH.
Selected Publications
Mehta SD, Nordgren RK, Agingu W, Otieno F, Ochieng W, Odhiambo F, Bailey RC. Sexual quality of life and association with HIV and STIs among a cohort of heterosexual couples in Kenya. Journal of Sexual Medicine 2018;15(10):1446–1455.
Babb C, Makotsi N, Heimler I, Bailey R, Hershow R, Masanga P, Mehta SD. Evaluation of the effectiveness of a latrine intervention on childhood diarrheal health in Nyando District, Kisumu County, Kenya. Epidemiol Infect 2018;146(9):1079-1088.
Mehta SD, Pradhan A, Green SJ, Naqib A, Odoyo-June E, Gaydos C, Landay A, Bailey RC. Microbial diversity of genital ulcers among HSV-2 seropositive women. Sci Rep 2017;7(1):15475.
Johnson AK, Mikati T, Mehta SD. Examining the content of STI related internet searches to inform a model for disease forecasting. Scientific Reports 2016;6:36503.
Reimers LL, Mehta SD, Massad LS, Burk RD, Xie X, Ravel J, Cohen MH, Palefsky JM, Weber K, Anastos K, Minkoff H, Atrio J, D'Souza G, Ye Q, Colie C, Spear GT, Strickler HD. The cervicovaginal microbiota and its association with Human Papillomavirus (HPV) detection in HIV-infected and HIV-uninfected women. J Infect Dis 2016;214(9):1361-1369.
Mikati T, Maloney P, Tabidze I, Mehta SD. The immediate effect of the Affordable Care Act on insurance status and access to health care among patients seeking care at Chicago sexually transmitted disease clinics, 2013-2014. Sex Transm Dis 2016;43:260-263.
Tabidze IL, Nicholson TF, Mikati T, Benbow N, Mehta SD. Compliance with CDC Gonococcal Treatment Guidelines among Chicago Health Providers, 2011-2012. Sex Transm Dis 2015;42:422-8.
Mehta SD, Donovan B, Weber K, Cohen M, Ravel J, Gajer P, Gilbert D, Burgard D, Spear GT. The vaginal microbiota over an 8- to 10-year period in a cohort of HIV-infected and HIV-uninfected women. PLoS One 2015 Feb 12;10(2):e0116894.
Mehta SD, Moses S, Agot K, Odoyo-June E, Li H, Maclean I, Hedeker D, Bailey RC. The long term efficacy of medical male circumcision against HIV acquisition. AIDS 2013;27:2899-907.
Education
Post Doctoral Fellow, Association of Teachers of Preventive Medicine and Centers for Disease Control and Prevention; The Johns Hopkins University School of Medicine, Baltimore, Maryland
Doctor of Philosophy, Department of Epidemiology, The Johns Hopkins University School of Hygiene and Public Health, Baltimore, Maryland
Master of Health Sciences, Department of Epidemiology, The Johns Hopkins University School of Hygiene and Public Health, Baltimore, Maryland
Professional Memberships
American STD Association
International Union for Sexually Transmitted Infections
Menstrual Cup Coalition