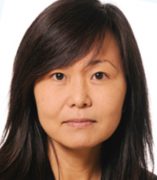 Sage J Kim, PhD
Professor
Health Policy and Administration
Contact
Building & Room:
781 SPHPI
Address:
1603 W. Taylor St.
Office Phone:
Email:
Related Sites:
About
Dr. Kim is a Professor in Health Policy and Administration. Prior to joining the faculty at HPA she was a Postdoctoral Fellow with the Centers for Disease Control and Prevention Public Health Research Fellowship. Dr. Kim's research focuses on the effects of incarceration, health disparities, and population health. Her work has appeared in such publications as the Journal of Urban Health, Infection Control and Hospital Epidemiology, Women's Studies International Forum, and Social Science and Medicine, among others.
Selected Grants
Institute for Policy and Civic Engagement (IPCE), Organizationally Mediated Social Capital, Community Engagement, and Medically Underserved Areas (MUA), PI
UIC SPH Seed Funding, Intergenerational transmission of neighborhood disadvantage and its effects on cancer risk, PI
NIMHD, The Center for Health Equity Research (CHER) Chicago, Co-I
NIMHD, The influence of structural violence and individual behavior and health on the gut microbiome and colorectal cancer (CRC) risk, Co-I
Illinois Department of Commerce and Economic Opportunity (DCEO), Help Eliminate Lead Program (HELP), Co-I
NIA, HIV treatment adherence in older adults: Role of social support and incarceration, PI
NIDA, Seek, Test, Treat: HIV screening in correctional settings, Co-I
NIMHD, Comprehensive Centers of Excellence – Project 1, Co-I
NIMHD, Center of Excellence in Eliminating Disparities: Improving environmental health disparities, Project PI
NIDA, Impact of incarceration on drug use, STI/HIV, and recidivism among women in a large urban jail, PI
Selected Publications
Kim S, Glassgow AE. The effect of father absence, parental adverse events, and neighborhood disadvantage on children's aggression and delinquency: A multi-analytic approach. Journal of Human Behavior in the Social Environment. 2018; 28(5):570-587.
Kim S, Glassgow AE, Watson K, Molina Y Calhoun E. Gendered and racialized social expectations, barriers, and delayed breast cancer diagnosis. Cancer. 2018; 124(22):4350-4357.
Kim S, Molina Y, Glassgow L, Guadamuz J, Calhoun E. The effects of navigation and types of neighborhoods on timely follow-up of abnormal mammogram among black women. Medical Research Archives. 2016; 3:1-17.
Kim S, Ouellet L, Mazza J, Spaulding A, Williams C. Rasch Analysis and differential item functioning of a social support measure in jail inmates with HIV infection. Evaluation & the Health Professions. 2016; 40(1):1-28.
Kim S, Mazza J. Reliability, validity, and item response of the Medical Outcomes Study Social Support score among incarcerated women. Women & criminal justice. 2014; 24(1):1-21.
Kim S, Zwanziger J, Henry D. School and Behavioral Outcomes among Inner City Children: Four-Year Follow- up. Urban Education. 2014; 49(7):835-856.
Kim S, Chukwudozie I, Brewer K, Calhoun E. Sociodemographic characteristics, distance to the clinic, and breast cancer screening results. Journal of Health Disparities Research and Practice. 2013; 6(1):70-88.
Kim S, Dolecek T, Davis F. Racial differences in stage at diagnosis and survival from epithelial ovarian cancer: A fundamental cause of disease approach. Social Science and Medicine. 2010; 71(2):274-281.
Kim S, Johnson T, Goswami S, Puisis M. Risk factors for homelessness and sex trade among incarcerated women: A structural equation model. Journal of International Women's Studies. 2011; 12(1):128-150.
Book chapters
Crittenden K, Kim S, Watanabe K, Norr K. 2002. Welfare, work, and well-being among inner-city mothers (pp. 41-64). In Tellen S & Sayad S (Eds.). The transition from welfare to work: Processes, challenges, and outcomes. New York, NY: The Haworth Press, Inc.
Schiff G, Kim S, Abrams R, Cosby K, Elstein A, Hasler S, Krosnjar N, Odwazny R, Wisniewski M, McNutt R. 2005. Diagnosing Diagnostic Errors: Lessons from a Multi-Institutional Collaborative Project. In Henriksen K, Battles JB, Marks E, Lewin DI (Eds.), Advances in patient safety: From research to implementation. Vol. 2, Concepts and methodology. Rockville, MD: Agency for Healthcare Research and Quality.
Schiff G, Kim S. 2006. Applying Principles and Practice of Quality Improvement to Better Care for the Underserved. In Schillinger D (Ed.), Health Care for Underserved population. New York, NY: McGraw Hill.
Graber M, Beavis K, Green E, Kim S, McNutt R, Schiff G. 2006. Ch 3. Issues in Critical Lab Communication Follow-up: Case Studies. In Schiff G (Ed.). Getting Results: Reliably Communicating and Acting on Critical Test Results. Chicago, IL: Joint Commission Resources.
Kim S, Shansky R, Schiff G. 2006. Ch 44. Quality Improvement through Care Management. In Puisis M (Ed.) Clinical Practice in Correctional Medicine. 2nd Edition. Philadelphia, PA: Mosby.
Kim S, Puisis M. 2017. Ch 17. Conducting Substance Abuse Research: Incarcerated Populations. In Jonathan VanGeest, Timothy Johnson, Sonia Alemagno (Eds.). Research Methods in the Study of Substance Abuse. New York: Springer.