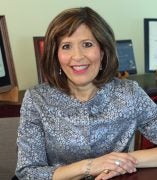 Robin Mermelstein
Director
Institute for Health Research and Policy
Contact
Building & Room:
558 WROB
Address:
1747 W. Roosevelt Rd.
Office Phone:
Email:
About
Robin Mermelstein, a distinguished professor of psychology, directs the Institute for Health Research and Policy at the University of Illinois at Chicago. She also is a clinical professor of community health sciences in the UIC School of Public Health, an assistant dean of the UIC College of Medicine, and the co-principal investigator of the UIC Center for Clinical and Translational Science.
Her research interests fall broadly in the area of tobacco use, with studies ranging from longitudinal examinations of the etiology of youth smoking to cessation interventions for adult smokers.
Since the mid 1990s, Dr. Mermelstein has been the principal investigator of a series of studies, including two consecutive program projects funded by the National Cancer Institute, to investigate trajectories of smoking patterns among adolescents and young adults, with a focus on social and emotional contextual factors.
In addition, she has been funded by the Centers for Disease Control and Prevention to examine factors related to youth smoking, and by the National Heart, Lung, and Blood Institute and NCI for studies of adult smoking cessation. Other areas of research focus include health behaviors of young adults and motivational interventions to increase smoking cessation.
Dr. Mermelstein is the past-president of the Society for Research on Nicotine and Tobacco and serves on national research review committees of the National Institutes of Health. She served on the Institute of Medicine committee that wrote the 2015 consensus study report, Public Health Implications of Raising the Minimum Age of Legal Access to Tobacco Products.
She directed the Robert Wood Johnson Foundation's national program office of Partners with Tobacco Use Research Centers: A Transdisciplinary Approach to Advancing Science and Policy Studies. As part of this program, RWJF collaborated with both NCI and the National Institute on Drug Abuse in funding the Transdisciplinary Tobacco Use Research Centers.
In 2014, the University of Illinois at Chicago named Dr. Mermelstein Woman of the Year for her contributions to women's health and professional development.