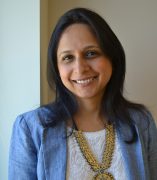 Preethi Lakshmi Pratap, PhD
Research Assistant Professor
Director, Continuing Education and Outreach Programs, Illinois ERC
Environmental and Occupational Health Sciences
Pronouns: She/her/hers
Contact
Building & Room:
1049 SPHPI
Address:
1603 W. Taylor St.
Office Phone:
Email:
About
Preethi Pratap, PhD, MSc, is a Research Assistant Professor in the Division of Environmental and Occupational Health Sciences at the University of Illinois Chicago (UIC) School of Public Health. She also serves as Core faculty in the Doctorate in Public Health Leadership Program, and is the Director of Continuing Education and Outreach for the Illinois Education and Research Center.
Dr.Pratap is a graduate of the Centers for Disease Control and Prevention's Epidemic Intelligence Service Fellowship, and has over a decade of experience in inter-disciplinary research in a variety of public health settings in occupational health, environmental health, health policy, infectious diseases, and food safety. A large part of her  prior scholarly practice focused on partnering with local and global organizations to develop, deliver and evaluate educational interventions to translate best practices in public health for healthcare workers, medical professionals and occupational health professionals.  In addition, she has served as PI and co-investigator on numerous grants and contracts to develop and implement public health interventions in diverse public health settings.
Dr.Pratap's current research interest is to facilitate the translation of data to action through participatory action research processes to inform policy, systems and environmental change.  She describes herself as a relationship builder with a commitment to connecting resources and people across local/federal agencies and academia to promote research to practice. She also has expertise in program evaluation and at present is the Director of Evaluation for two Centers at the UIC School of Public Health, the Illinois-Education and Research Center and the Center for Healthy Work (a NIOSH Total Worker Health® Center).