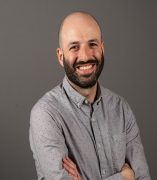 Nicholas Tilipman
Assistant Professor
Health Policy and Administration
Contact
Building & Room:
783 SPHPI
Address:
1603 W. Taylor St.
Office Phone:
Email:
CV Download:
Related Sites:
About
I am an Assistant Professor of Health Policy and Administration at the School of Public Health at the University of Illinois at Chicago.  My research focuses on the intersection of health economics, health policy, and industrial organization.  I study the effects of competition and regulation on the behavior of employers, insurers, and providers; the effects of health insurance on labor market outcomes; and the effects of  innovation in the pharmaceutical industry.
Selected Grants
Covered California, Marketplace Affordability and Stability in California, Co-PI
Selected Publications
Publications in Economics
"Employer Incentives and Distortions in Health Insurance Design: Implications for Welfare and Costs" American Economic Review, 2022, 112(3): 998-1037
Previously circulated as "Narrow Physician Networks, Switching Costs, and Product Variety in Employer Markets"
"Price Indices and the Value of Innovation with Heterogeneous Patients" (with Claudio Lucarelli and Sean Nicholson)
Journal of Health Economics, 2022, 84
Publications in Health Policy
"Personalized Telephone Outreach Increased Health Insurance Take-Up for Hard-to-Reach Populations, But Challenges Remain." (with Rebecca Myerson, Honglin Li, Andrew Feher, Wesley Yin, and Isaac Menashe). Health Affairs, 2022, 41(1): 129-137
"We All Want It, But We Don't Know What It Is: Toward a Standard of Affordability for Health Insurance Premiums" (with Peter Muennig, Bhaven Sampat, Lawrence Brown, and Sherry Glied). Journal of Health Politics, Policy and Law, 2011, 36(5): 829-853
"Simulation Modeling of Health Care Policy" (with Sherry Glied). Annual Review of Public Health, 2010. 31: 7.1 – 7.17
Working Papers
"Regulating Out-of-Network Hospital Payments: Disagreement Payoffs, Negotiated Prices, and Access" (with Elena Prager)
"Provider Market Power and Adverse Selection in Health Insurance Markets: Evidence from the California Benefits Exchange" (with Wesley Yin, draft by request)
"The Effect of the Favorable Tax Treatment of Health Insurance on Coverage and Utilization" (with Sherry Glied, draft by request)
"Mental Health Mandates and Job Transitions" [draft by request]
Works in Progress
"Vertical Integration, Physician Referral Networks, and Insurer-Physician Negotiated Prices"
"Externalities from Large Health Insurance Purchasers" (with Elena Prager)
"Broker Incentives and Plan Choices in Health Insurance" (with Anran Li and Anthony LoSasso)
Published Policy Articles and Reports (Non-Peer-Reviewed)
"Options to Improve Affordability in California's Individual Health Insurance Market," with Katie Ravel and Wesley Yin. Covered California Report. 2018.
Education
PhD, Cornell University (2017)