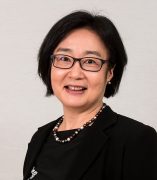 Naoko Muramatsu, PhD, MHSA, FGSA
Professor
Community Health Sciences
Contact
Building & Room:
687 SPHPI
Address:
1603 W. Taylor St.
Office Phone:
Email:
Institute for Health Research and Policy
Building & Room:
594 WROB
Address:
1747 W. Roosevelt Rd.
Office Phone:
About
Dr. Naoko Muramatsu is a professor in the division of Community Health Sciences in the UIC School of Public Health and an affiliated faculty in the Department of Sociology in the UIC College of Liberal Arts and Sciences. She is passionate about improving the well-being of aging populations and the quality of long-term care systems. Her research focuses on understanding how place impacts aging, health, work, and caregiving experiences of diverse populations nationally and globally. Her current research develops cost-effective, sustainable community-based health promotion programs in partnership with older adults, caregivers, community-based organizations, and multidisciplinary research teams. Guided by life course perspectives, Dr. Muramatsu uses multilevel longitudinal analysis and mixed methods to understand and intervene upon the complex individual, organizational, and system-level factors that impact aging populations and the quality of health care systems.