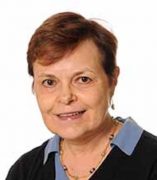 Noel Chávez, PhD, RD, LDN
Professor Emerita
Community Health Sciences
Contact
Address:
1603 W. Taylor St. Chicago, IL 60612
Email:
About
Dr. Noel Chávez is an Associate Professor Emerita in the Community Health Sciences Division. Her research centers on the health and nutrition status of Latinos and other underrepresented groups, particularly that of children and families. Dr. Chávez's research projects focus on Latino child health, including studying maternal environmental and dietary influences on subsequent development of asthma in children, dietary acculturation, ces use, family health and nutrition attitudes, and behaviors in Latino families with young children. Dr. Chávez has served as a proposal reviewer for the USDA NIFA Childhood Obesity Research panel, and is a member of the editorial board for the Maternal and Child Health Journal and the American Journal of Health Promotion. She is an active member of the Food and Nutrition Section, and the Latino Caucus of the American Public Health Association. She is also a Nutrition Services Advisory Committee member for the Illinois Department of Human Services.
Selected Publications
Eldeirawi, K., Hennessy, M.D., Chavez, N., & Persky, V. (2014). Nativity and Serum Concentrations of Antioxidants in Mexican American Children: A Cross-Sectional Study. Nutrients. doi:10.3390/nu60x000x
Holbrook, A.L., Johnson, T.P., Cho, Y.I., Shavitt, S., Chavez, N., & Weiner, S. (2014). Causes and Consequence of Response Heaping in Surveys: Does Heaping Reflect Survey Satisficing? Public Opinion Quarterly, 78(3), 591-633.
Lapin, B., Piorkowski, J., Ownby, D., Vergara, C., Pelzel, D., Wagner-Cassanova, C., Freels, S., Chavez, N., Hernandez, E., & Persky, V. (2014). The Relationship of Early-Life Antibiotic Use with Asthma in At-Risk Children. Journal of Allergy and Clinical Immunology. DOI: doi.org/10.1016/j.jaci.2014.05.006.
Lunde, B., Harwood, B., Rankin, K., & Chavez, N. (2013). Sterilization of Rural and Urban Women in the United States. Obstetrics and Gynecology. DOI: 10.1097/AOG.0b013e31829b5a11.
Alkon, A., Block, D., Moore, K., Gillis, C., Nuccio, N., & Chavez, N. (2013). Foodways of the Urban Poor. Geoforum, 48, 126-135.
Zenk, S.N., Odoms-Young, A., Powell, L.M., Campbell, R.T, Block, D., Chavez, N., Krauss, R., Strode, S., & Armbruster, J. (2012). Impact of the 2009 WIC Food Package Revision on Fruit and Vegetable Availability and Selection. American Journal of Preventive Medicine, 43(4), 423-428.