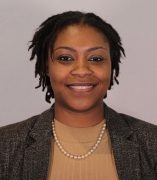 Alfreda Holloway-Beth, PhD '14, MS '07
Research Assistant Professor
Environmental and Occupational Health Sciences
About
Alfreda Holloway-Beth, PhD, is the director of epidemiology at Cook County Department of Public Health.  She earned a bachelor's degree at Washington University in St. Louis, and both a Master of Science and Doctorate from the University of Illinois at Chicago School of Public Health.  She is a research assistant professor in the division of environmental and occupational health sciences where she focuses on surveilling police-caused injury to citizens and occupational injury among police through law enforcement epidemiology.
As the director of epidemiology, she directs and oversees health status assessment for the health department. In this role, she is able to improve the understanding of chronic diseases, injuries, and illnesses in terms of incidence, prevalence, risk factors, spatial, financial, societal, temporal, and demographical aspects.
Dr. Holloway-Beth has served as the Chair of Occupational Health and Safety section and President of the Black Caucus of Health Workers at APHA. She is currently the Co-Chair of the Health Equity subcommittee at the Council of State and Territorial Epidemiologists. She is the Co-Chair of the Epidemiology and Health Informatics subcommittee at the Northern Illinois Public Health Consortium.
She was recently honored with the Chicago 40 Game Changers award by Mellody Hubson from Ariel Investments.
Education
PhD (2014), University of Illinois Chicago School of Public Health, Department of Environmental and Occupational Health Sciences. Dissertation: An Assessment of Surveillance and Administrative Data for Law Enforcement Related Injuries
MS (2007), University of Illinois Chicago School of Public Health, Department of Epidemiology and Biostatistics. Thesis: Outbreak of Acinetobacter baumanii Harboring an OXA-40 Carbapenemase
BA (2002), Washington University in St. Louis, International Studies