SPH Names Dr. Samuel and Mrs. Catherine Epstein Term Professor in Cancer Prevention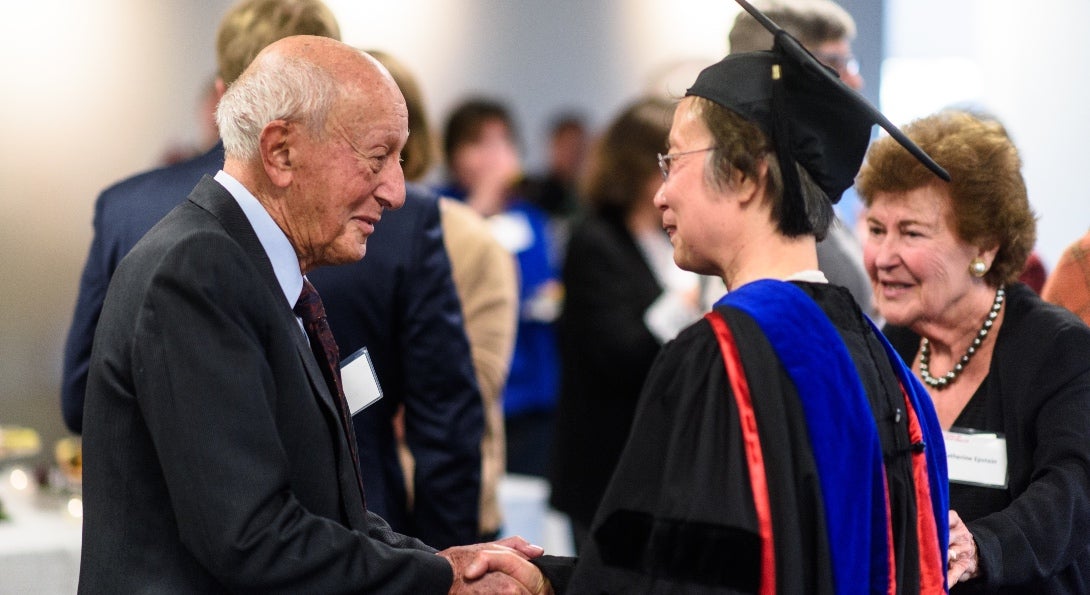 Story text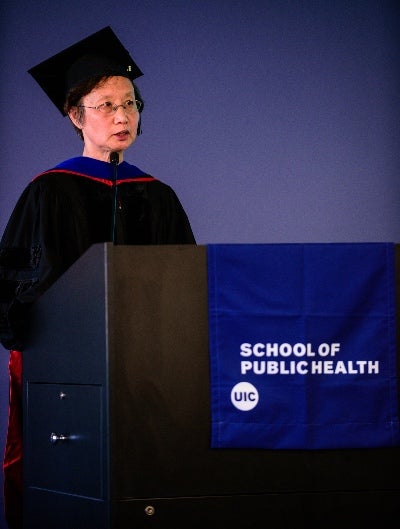 On May 11, 2017, the UIC School of Public Health held its first Investiture Ceremony. An Li, PhD, professor of environmental and occupational health sciences, was named the Dr. Samuel and Mrs. Catherine Epstein Term Professor in Cancer Prevention.
"An investiture of a professor is one of the most significant highlights of a faculty member's academic life," said Dr. Robert Barish, Vice Chancellor of Health Affairs, who presided over the ceremony. "Bestowing such a position is a sign of appreciation and endorsement of the individual by the university, and strong belief in their accomplishments and future accomplishments," he said.
Li, who has been a faculty member at the School of Public Health for 21 years, was joined by family members and friends as she received this honor. As an environmental chemist, Li conducts studies on how human activities influence the natural environment, and how these changes in turn affect human health. Sam Dorevitch, MD, associate professor and director of environmental and occupational health sciences, and Erik R. Christensen, PhD, distinguished professor emeritus, department of civil and environmental engineering, University of Wisconsin-Milwaukee, both spoke about the achievements of Dr. Li and why she was chosen as the recipient of this term professorship.
"Her productivity and versatility in research has led her to publish two books, more than 70 journal papers, and present more than 100 conference papers and abstracts," Christensen noted. "Dr. Li's work has been cited more than 3,000 times. As a result, environmental scientists around the world use her techniques."
Named in honor of Dr. Samuel Epstein and his wife, Catherine, this five-year term professorship will reside in the division of environmental and occupational health sciences.
A faculty emeritus at the School of Public Health, Dr. Epstein was a pioneer, trailblazer and leader in his field, known for his many contributions on avoidable causes of cancer, for which he was given the Right Livelihood Award in 1998. Over the course of his career, Dr. Epstein became an internationally recognized authority on the avoidable causes of cancer, particularly unknown exposures to industrial carcinogens in air, water, the workplace and consumer products.
Selected quote
I will do my best to continue pushing science forward and contributing to the cause of environmental cancer prevention.

Dr. Samuel and Mrs. Catherine Epstein Term Professor in Cancer Prevention

|
Story text, continued.
Dr. Epstein played a vital role in public policy. He authored congressional legislation, served as a consultant to the U.S. Senate Committee on Public Works, and was an expert member of several federal committees including the EPA's Health Effects Advisory Committee, and the Department of Labor's Advisory Committee on the Regulation of Occupational Carcinogens. Dr. Epstein often served as a key expert on the banning of hazardous products and pesticides including DDT, Aldrin and Chlordane. He has published some 270 peer reviewed articles, and authored or co-authored 20 books including the prizewinning 1978 "The Politics of Cancer."
Drs. Epstein and Li were able to meet one another for the first time at the investiture ceremony.
"I am most thankful to Dr. Samuel Epstein, Mrs. Catherine Epstein, and the entire Epstein family, for establishing and granting this honor to me," Dr. Li said. "Dr. Epstein is a pioneer and his work is a great inspiration for me and for many others. By following his footsteps, we can do better. I will do my best to continue pushing science forward and contributing to the cause of environmental cancer prevention."
Modified on February 05, 2021