SPH Alumna Announces Endowed Scholarship Fund in Honor of 50th Anniversary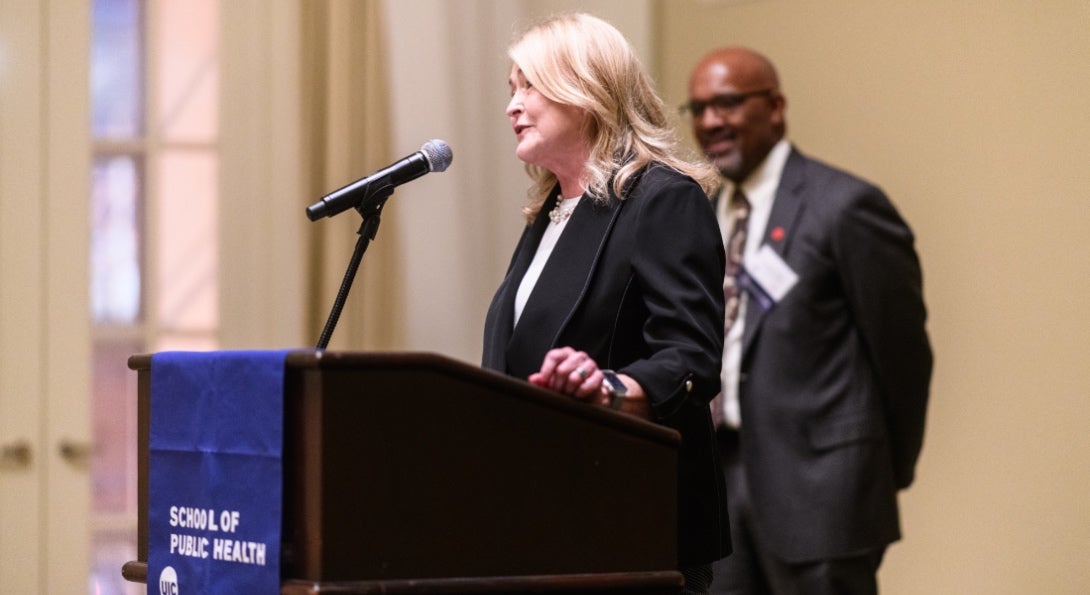 On October 23, 2019, the UIC School of Public Health (SPH) hosted a kick-off celebration to honor the school's upcoming 50thAnniversary.  Held at the historic Palmer House in Chicago, the event drew more than 200 guests to hear panelists Dean Wayne H. Giles, and former SPH Deans Paul Brandt-Rauf and Susan Scrimshaw discuss The Past, Present and Future of Public Health.  UIC Chancellor Michael Amiridis delivered welcoming remarks.
A highlight of the evening was the announcement of a new endowment to celebrate the school's upcoming 50thAnniversary in 2020.  Alumna Dr. Denise Oleske (PhD '83, MPH '74) generously decided to gift the school $50,000 to endow a new scholarship fund.  Named the 2020 Scholarship Fund: Celebrating the 50thAnniversary of the School of Public Health, this fund will support graduate students at the School of Public Health into perpetuity.  "Denise has been a consistent and active member of our alumni community from the beginning," Dean Giles said at a special pre-panel reception for the school's Founders Circle and Legacy Society members. "She is the immediate past chair of our Executive Advisory Board and has been a long time member of our Founders Circle."
"I'm honored to be here and to contribute to the 50thanniversary scholarship," Dr. Oleske said. "In 50 years, I want the students at the School of Public Health to look back on this moment and know we were committed to their success. I'm proud to make this investment in the School of Public Health and I hope you will join me committing to the future of our students and the important work they will continue to do for generations."
The University of Illinois at Chicago School of Public Health is a community of faculty, staff, students and alumni who are determined to strengthen public health outcomes and interrupt social and economic disparities in communities locally, in our state and country and around the world.  Since 1970, the school has prepared public health practitioners, researchers, academic faculty, policymakers and activists whose work focuses on positively shaping health outcomes.
Anyone interested in supporting the 2020 Scholarship Fund may contact SPH's Office of Advancement at SPHAdvancement@uic.eduor 312-355-4501.
Modified on December 11, 2019