Professor recognized as University Scholar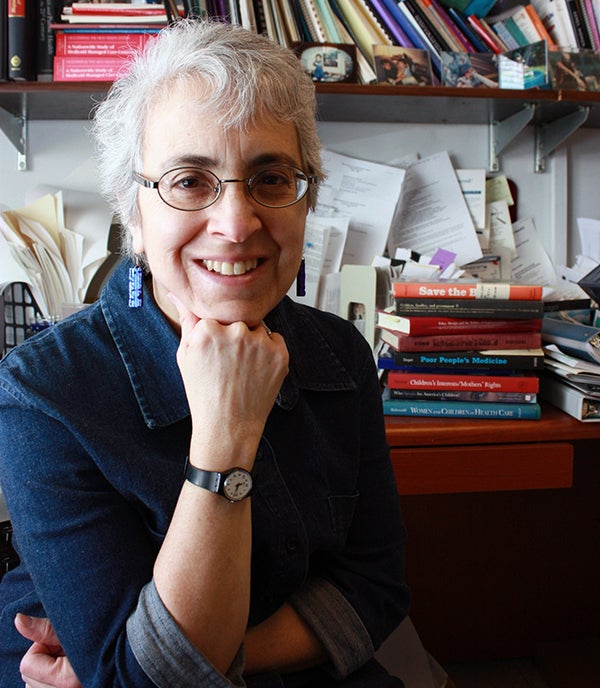 In more than three decades as faculty at UIC, Arden Handler, DrPH '87, has grown the School of Public Health's maternal and child health programs to a position of leadership across the nation.  Her efforts both at UIC and within the maternal and child health field are honored this fall with UIC's University Scholar Award, UIC's prestigious faculty award.
The program provides a three-year award to faculty members who have demonstrated superior performance in scholarly activities in both research and teaching and who show great promise for future achievements.
This feels like recognition not just for me but for the whole maternal and child health program and the efforts we have made to improve the health of women, children and families.  To be a go-to maternal and child health partner for the city and state, it feels really good to be recognized for that.
Handler's career has always focused on maternal and child health.  After earning her DrPH at SPH and prior to becoming a member of the faculty, she managed the Cook County and University of Illinois perinatal databases housed at UIC.  After joining SPH's faculty, she expanded the influence and reach of the School's academic and community-based efforts.  Today, she serves as the director of the UIC Center of Excellence in Maternal and Child Health, one of only 13 centers nationwide funded by the U.S. Department of Health and Human Services.
During her long history with the Center, she has worked with faculty and staff to establish robust collaborations with local and state maternal and child health programs including maternal and child health training grants throughout the Midwest, Illinois and other regional Title V program, CityMatCH, a national organization of urban maternal and child health leaders, and AMCHP, a national organization of state leaders. She also has been actively involved in the development of policy at the local, state and national level and the launching of one of the nation's first maternal and child health epidemiology programs.
Her current projects include an innovation project with colleagues across UIC focused on improving maternal health outcomes.   The project has launched a two-generation postpartum clinic in conjunction with UI Health that provides well-baby and well-woman care in one setting for two years after birth.  Handler is also leading the evaluation of the Illinois Breast and Cervical Cancer Screening Program, part of a CDC-sponsored effort to improve screening and diagnostic services to promote early detection.  She also leads the evaluation of Family Connects Chicago, a universal postpartum home visiting pilot in Chicago.
Handler aims to use the award funding to support a history student to assist with researching the early history of the Infant Welfare Society of Evanston and to provide funding to the UIC Library to create a digital maternal and child health library based on the numerous documents related to efforts to improve maternal and infant health in Chicago and Illinois that she has collected over the years.
As she reflects on her time at UIC, Handler points to a meeting of city and state experts she convened a few years ago as a sign of the program's success.
"Half the people in that room were graduates of our program, and that was just incredible," Handler said. "It's a reflection of all the amazing things we're doing, because we're not just academic, we are very much connected to maternal and child health practice."
Modified on December 14, 2021