Preparing the next health justice leaders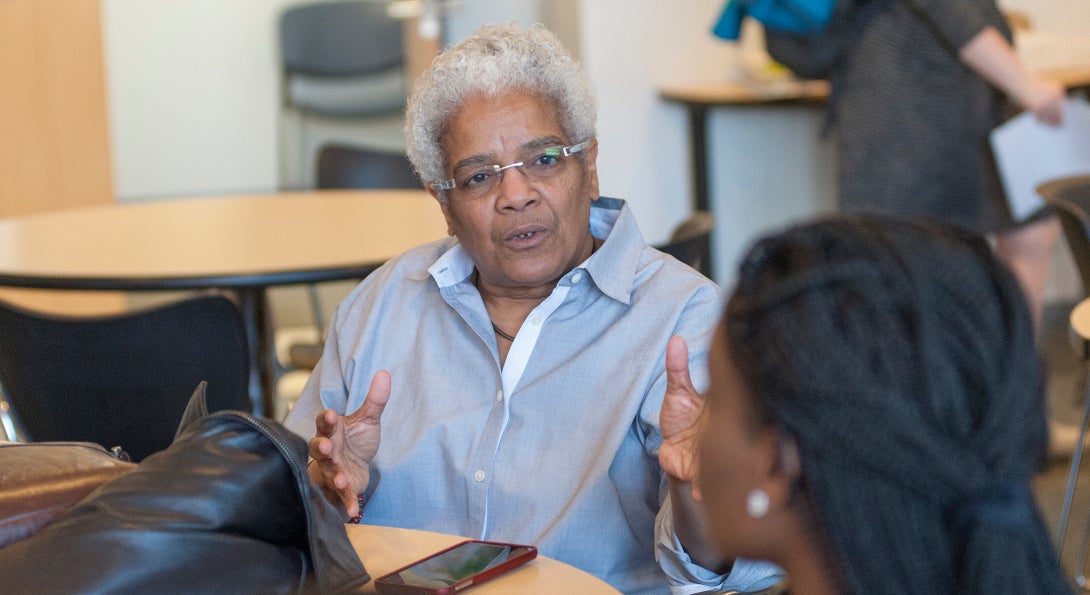 Linda Rae Murray's career locally and nationally has been dedicated to naming, addressing and mitigating health disparities. Now, a new scholarship at SPH named in her honor will cultivate the next generation of public health leaders from underserved communities committed to upending health disparities.
"She has served and advocated for the poor, workers and those suffering racial and ethnic discrimination," said Peter Orris, PhD, professor of environmental and occupational health sciences. "This is the essence of her career, following Frederick Douglass' call for struggle, as 'Power concedes nothing without a demand; it never did and it never will.'"
Murray, MD, MPH '80, began her career as a resident at Cook County Hospital, where she served two terms as president of its House Staff Union. She later practiced medicine as a general internist at Woodlawn Health Center in Chicago and as an attending physician in the division of occupational and environmental medicine at Cook County Hospital. She served as medical director at Winfield Moody, a federally qualified health center (FQHC) serving the Cabrini Green Public Housing Project in Chicago; as advisor to the International Chemical Workers Union; as residency director for occupational medicine at Meharry Medical College; and as bureau chief for the Chicago Department of Health under Mayor Harold Washington. She retired as the chief medical officer of the Cook County Department of Public Health.
Nationally, Murray held leadership roles with the National Association of County and City Health Officers, served as president of the American Public Health Association and was appointed to the Board of Scientific Counselors, National Institute for Occupational Safety and Health of the Centers for Disease Control by President Clinton.
"Unions are key to ending the socioeconomic divide that has produced such suffering in communities of color," said Dian Palmer, president of SEIU Local 73. "Dr. Murray has been a powerful advocate for public health and health justice in underserved communities, and I expect the recipients of a scholarship in her name will continue to advance these efforts."
"The experiences of the COVID-19 pandemic have illustrated the urgent need for practice and research modeled on Murray's efforts," said David Ansell, MD, MPH '91, senior vice president for community health equity for Rush University Medical Center.
The scholarship's star-studded national initiating committee includes Ansell; Susan Avila, MPH '91; Mary Bassett; Georges Benjamin; Fernando DeMaio; Camara Jones; John Kahler; Michelle Morse; Orris; Susan Rogers and Myrtis Sullivan, MPH '83.
Please join the committee in this effort to attract and train UIC students who are committed to social and health justice and advance Dr. Murray's vision of creating a more equitable and egalitarian world.
Modified on November 02, 2023