Policy Brief: Policy Impacts on the Spread of COVID-19
Note:  this is a policy brief in a series of publications from the Social Vulnerability Group at the UIC School of Public Health's Health Policy and Administration division.
Policy implementations to promote social distancing during the Covid-19 pandemic are designed to curtail the spread rate, however, the benefits will not be seen immediately.
The Illinois Governor's Office has enacted several new Executive Orders with the intention of "flattening the curve" as the pandemic spreads through Chicago and Illinois.  Following the Disaster Proclamation on March 9th, the first of the coronavirus Executive Orders related to social distancing was released on March 13th, which canceled all gatherings of 1,000 people.  In the two days immediately following, Chicago experienced the greatest increases in confirmed cases, increasing from 76 confirmed cases to 128 confirmed cases.  This led to three much stricter isolation promoting policies that closed schools in Illinois until March 30th, canceling all gatherings of 50 or more people and suspending all dine-in operations at bars and restaurants.  Today's telehealth service expansion Executive Order will improve remote care options for patients and further social distancing, while enhancing the novel concept of providers practicing 'clinical distancing'.   Still, the total confirmed cases climbed to 151 in Chicago and 278 in Cook County.
Brief, continued.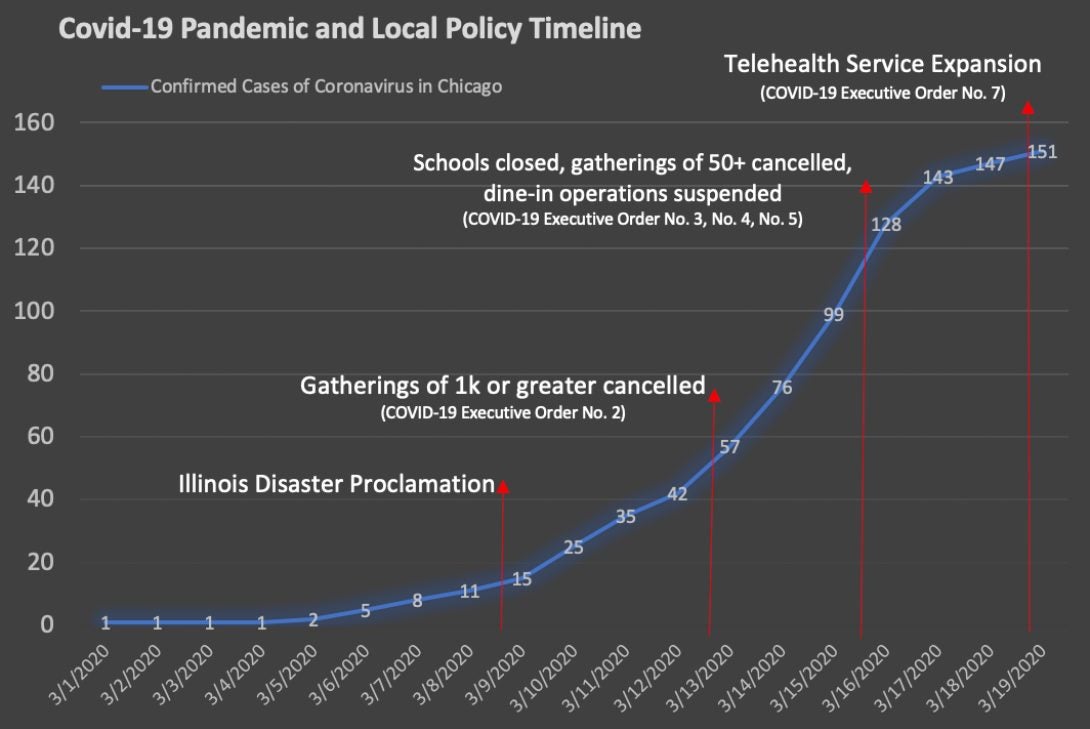 Based on what we know, particularly testing capacity increases, we can still expect confirmed cases to increase for days if not weeks, even after stricter and stricter policies are implemented to prevent group gatherings and social interactions.  Although these social distancing policies should help curve the surge of new cases, we need to pay attention to the fact that the symptoms are not likely to show for several days after contraction.  This means in the weeks and days before the social distancing policies were enacted, disease transmission would continue.
As the policies enacted become stricter, it is important to remember to adhere to them, as they are important in stemming the spread of the, reducing new cases and reducing the burden on the front-line health workers.  We will continue to track and monitor the confirmed cases of coronavirus in Chicago, Cook County, Illinois, and the United States to examine the effects of these policies on the spread of the virus.  In the coming days, we will track changes in local and federal policies.  While the Executive Orders are a directive for Illinoisans, it is still incumbent on the individuals to act on and respect these policies for stopping the spread of Covid-19.
Modified on April 04, 2020