Passion and Persistence Pay Off for Alumna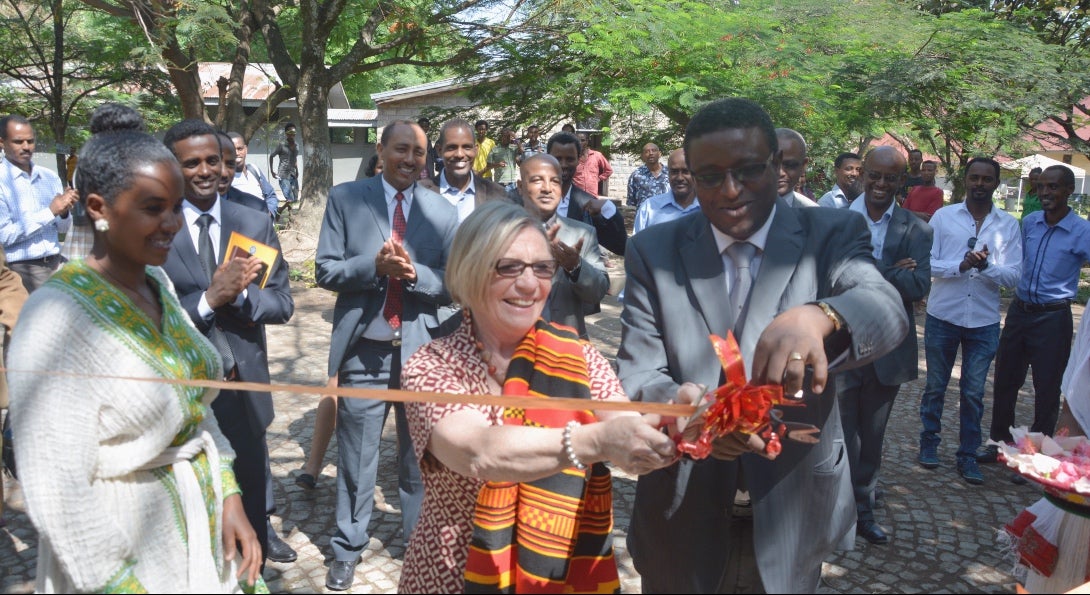 Story text
As a member of one of the first graduating classes at the UIC School of Public Health, Mary Harvey (MPH '76), a new member of the school's Legacy Society, pays tribute to the important role the school has played in her life.
Harvey's passion for helping others manifested at an early age. In high school, she took a commuter train from the suburbs to the South Side of Chicago to tutor students who needed extra support. This passion has motivated her throughout her life, and when she retired from the United States Agency for International Development (USAID) Foreign Service in Africa in 2016, she had spent her entire career in public service.
In 1966 Harvey entered the University of Iowa as an undergraduate, where she took classes in African studies. "Thus began a lifelong love affair with the great continent, its amazing countries and cultures and particularly its people, many of whom became beloved friends and 'family' over the years," she says.
Harvey also spent a year abroad in France, developing fluency in the French language which became important when she sought to become a Peace Corps volunteer upon her graduation in 1971. Her first application was denied, because she didn't have the technical skills they were seeking. But she didn't give up. The Peace Corps soon discovered that they needed people who could speak the language of the country. French was a second language in Senegal where she worked for two years at a social center in Kebemer focused on nutrition and cholera epidemics. She also created a lending library for the local community, which may still be going today.
Story text, continued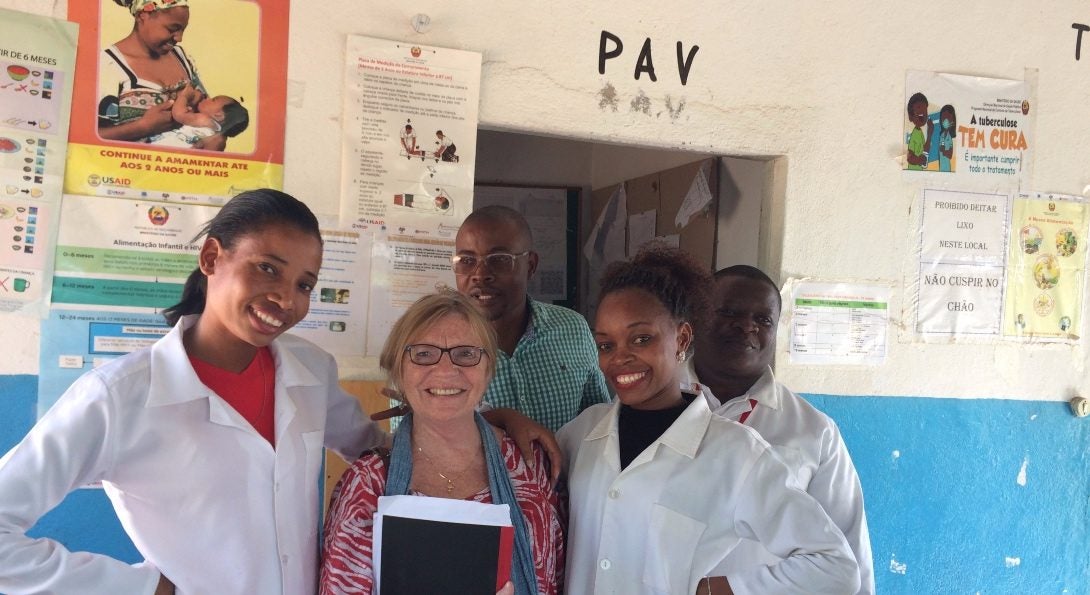 Harvey says, "I just did what I was interested in. I followed my heart but was also very lucky!" She discovered early on that persistence in the face of challenges was an important tool in creating the life she envisioned.
The Peace Corps was a life changing experience that Harvey credits as one of the reasons she wanted to pursue an advanced degree in public health. She had recently returned to the United States and married her college sweetheart when she heard about a new graduate course of study in public health at UIC's Circle Campus. She recalls her excitement when learning about this program. Again, she was not accepted when she first applied, but called the school before the semester began and was informed that she had been admitted and that she was also being offered a U.S. Public Health Scholarship. This perseverance, she says, is a theme she's followed throughout her life.
As a graduate student, Harvey focused on epidemiology and international health. She fondly remembers Dr. Jeanne Blumhagen, one of only two teachers who taught a course in global health. She worked at the suburban Cook County Health Department in Maywood where she focused on food borne illnesses and immunization programs. But, "Africa had taken my heart," she said.
After graduating from UIC, she applied for a job with Boston University as an assistant director of immunizations for Strengthening Health Systems in West and Central Africa, funded by USAID. Based in Abidjan, Côte D'Ivoire, she managed the immunization activities of the Centers for Disease Control and Prevention and worked closely with the World Health Organization (WHO) on the new Expanded Program for Immunizations, which succeeded the successful smallpox eradication program.
Story text, continued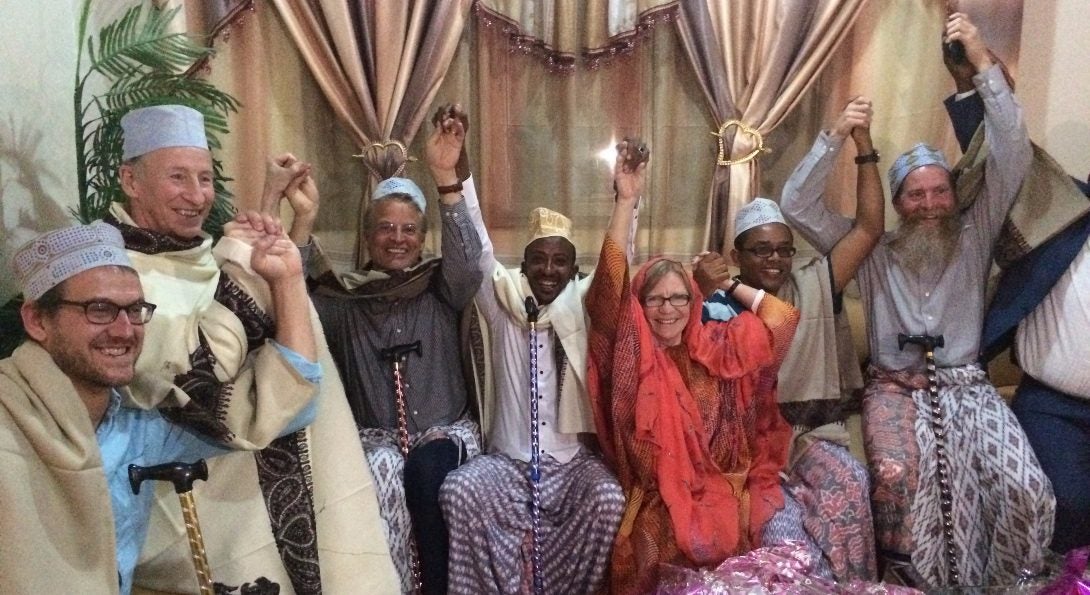 This was a position she admits should have been out of her reach. "The job called for a medical degree, which I didn't have. But I applied anyway and got it. Timing and luck played a big role but I just had to give it a chance." Harvey says that she would give the following advice to new graduates of the public health program who are facing a tough job market: "Do not be deterred by qualifications listed for a job. Just go for it." Many times, she has overcome an obstacle or taken a chance on something that others might have seen as a long shot.
Harvey spent three years with the Boston University office in Africa, where her work spanned 18 African countries. She moved to Washington D.C. where she worked for the USAID/Africa Bureau making numerous trips to countries all over the African continent working on immunizations and other health programs. In 2012, she found herself in Ethiopia on a four-year assignment as a USAID Foreign Service Officer working on a multi-sector nutrition activity.
Mary's passion to give back to the UIC School of Public Health is evident in her recent commitment to make an estate gift to the school. The Legacy Society recognizes donors who plan to make a gift through their estate. Mary says she wants "to help those who have a desire to work in public health but can't afford to go back to school." She believes "people should invest in people" and hopes her future gift to the school will be used to support students who are interested in local or international government health systems.
As the UIC School of Public Health celebrates its 50th anniversary, Mary Harvey is proud of all that the field of public health has accomplished over the past five decades, particularly in the development of new vaccines and the strengthening of immunization programs. The eradication of smallpox in 1980 and the recent certification of the eradication of the wild polio virus in Africa are two of the most important developments in public health in the last 50 years. "Reaching every person with vaccines on a timely basis is near and dear to my heart," Harvey says. She can't help but draw a comparison to what the country is facing right now with the COVID-19 pandemic. "I haven't given up on the idea of healthcare for all." The persistence she has shown throughout her life just might pay off again.