Meet our inspiring grads: Abigail Suleman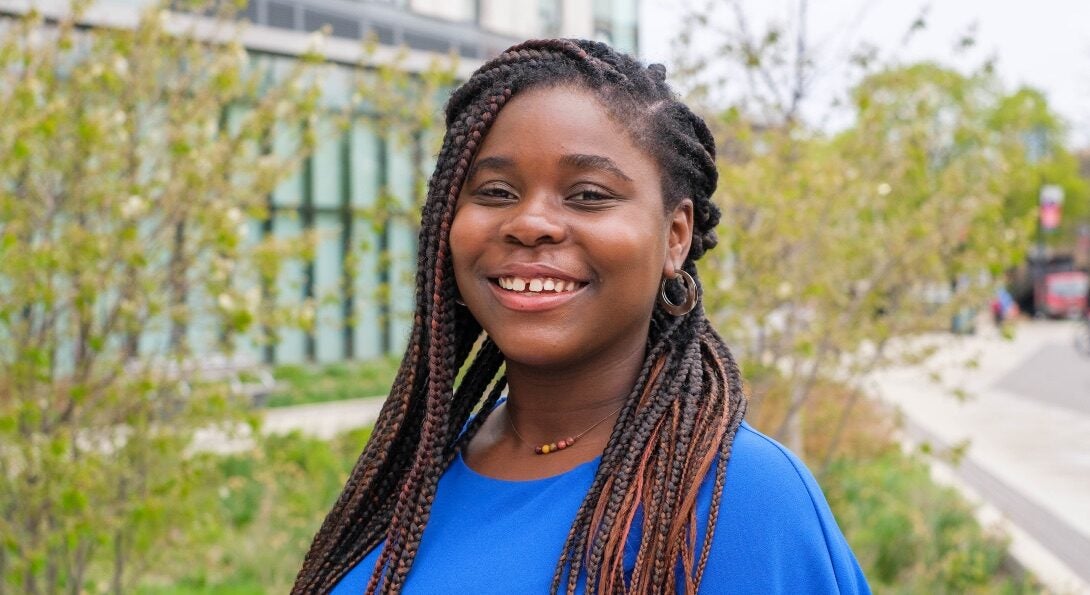 Abigail Suleman not only studies ways to improve health systems in underserved populations, but she also takes action to empower communities and decrease health disparities.
As an undergraduate at UIC, for example, Suleman saw a need to address menstrual inequities on campus and founded a student organization to distribute free, sustainable menstrual products to students who could not afford them. Her work also sparked advocacy and larger conversations on menstrual equity and reproductive justice.
"I've found a lot of joy in creating things — coming up with an interesting project and implementing that and integrating bigger systems into the project," Suleman said.
As she approaches her May 4 graduation, where she will receive a Master of Public Health with a concentration in maternal and child health epidemiology, Suleman plans to continue to provide research-based evidence that can be leveraged to improve public health outcomes for underserved communities. She is this year's recipient of the Alan W. Donaldson Award, the most prestigious award granted by the UIC School of Public Health to a graduating student in recognition of their academic excellence, qualities of leadership and community service.
"Public health was always something I knew I was going to pursue," she said. "I want to support population health and work within systems to support individuals and their communities."
Suleman developed an interest in public health after hearing stories of family and friends living in Nigeria who sometimes experienced barriers to accessing health care.
"Scenarios like these always made me think of the larger health of the population and especially those who were underserved," she said. "I have gained a better awareness of the strengths of other communities abroad, their health and their potential. I'm really interested in community empowerment and the impact it has on health, and larger health systems and how they affect the individual."
Growing up in Rockford, Suleman participated in summer programs during high school at the College of Medicine's Rockford campus and found that UIC was the perfect fit for her educational studies.
"I was very excited that the leaders of the summer program were women who were very smart and passionate and racially and ethnically diverse, which was super nice to see," she said. "Because of the experience I had in Rockford, I knew that UIC was one of the best places for growth for me."
Suleman joined UIC as an undergraduate with support from the President's Award Program Honors Scholars Program, a scholarship program that covers tuition and fees for four years while also promoting academic excellence and mentoring with membership to the Honors College.
As an undergraduate in 2020, Suleman and two friends, Amy Chang and Divya Krishnakumar, founded Blood Buds, a student organization dedicated to providing free, sustainable menstrual cups to students facing financial barriers to accessing menstrual products. They applied for funding from the UIC Sustainability Fee and were awarded $3,000 to purchase, distribute and ship more than 250 menstrual cups, as well as host workshops on topics related to reproductive justice. Later, Blood Buds acquired 950 more menstrual cups for UIC students.
"Our desire was to fight and combat period poverty and help people who could not afford menstrual products," she said. "The biggest, surprising thing was that people were talking not just about their need for these products, but also stigma, pain, policies and mental health."
In 2021, Suleman and her team presented their work at the UIC School of Public Health's Minority Health Conference and were awarded the UIC Maurice Prize for their innovative project. Suleman also received the Jane Addams Distinguished Service Award for her commitment to menstrual equity, as well as the Chancellor's Student Service Award.
Blood Buds has found support from many campus units and departments, Suleman said, including the Office of Planning, Sustainability and Project Management, Women's Leadership and Resource Center, Campus Housing, Student Leadership and Civic Engagement, UIC Wellness Center and the UIC Center of Excellence in Maternal and Child Health.
For her undergraduate academic work, Suleman received the Norman Nachtrieb Award for Scientific Promise, Peter V. Conroy Prize for Outstanding Promise in French Studies and American Chemical Society Undergraduate Award.
As a graduate student, Suleman has focused her studies on sustainable menstruation, period pain and breastfeeding among underrepresented groups.
"It was very fulfilling being part of the work," she said. "I really liked that very quickly, right away, we were very deeply exposed to research."
She recently was awarded Outstanding Lightning Talk at the School of Public Health for her presentation on "The Association between Period Poverty and Class Disruption while in University."
"I'm deeply grateful for every person who has helped me get here," Suleman said. "I'm happy I get to leave on a high note."
Suleman said her public health background has informed her artistry. She's also a poet, violinist, visual artist and performer.
"Communicating a message is not done just through one format," she said. "My work opens up my perspective of health and the health sciences."
After graduation, Suleman hopes to identify fellowships that will advance her on her path to having a clinical career in maternal health epidemiology.
"UIC has provided a strong network for me and an image of the possibilities ahead," she said.
Modified on April 26, 2023