Expanding horizons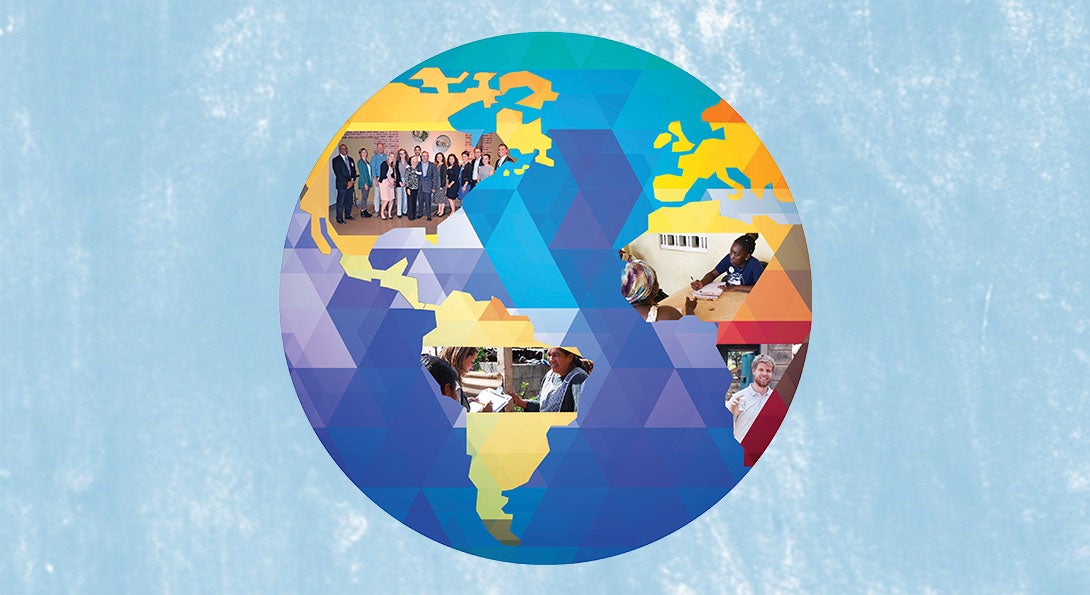 A new gift from the Passaro family will strengthen SPH's national profile as a global health leader
For more than 15 years, SPH students have been traversing the globe addressing some of the world's most pressing public health challenges, thanks to the support of Chicagoans Lanny and Terry Passaro.
The Passaros have long been among the most generous donors to the School of Public Health. In 2005, they created the Douglas Passaro Global Horizons Scholarship to honor the memory of their son, a School of Public Health professor with a passion for global health who passed away at the age of 43.
Now, the Passaros are reaffirming their commitment to SPH with a new gift to the Global Health Program, funding an endowed professorship and increased scholarship support. "I have thought about the Global Health Program for more than 20 years," Terry Passaro said. "It's a good product, it's an honest product. It's sending students, some who know next to nothing about travel, and giving them a mission to make a difference around the world."
Since the first scholarship was awarded in 2006-07, 50 SPH students working across five continents have benefited from the Passaro scholarship, which supports graduate students conducting health-related, hands-on international field experiences. The scholarship has funded numerous students taking part in global experiences in Jordan, Guatemala, Nepal, Philippines, Bolivia, Malawi and Kenya, among other locations.
"The generous donation from the Passaro family will enhance student educational opportunities and experiences and strengthen our ability to attract an esteemed researcher in global public health," said Alyson Lofthouse, assistant dean of global health. "The endowed professor will expand our research portfolio and take a lead role in growing our vision for global health research, education and practice, fostering population-level health solutions worldwide. We are beyond grateful for the support of the Passaro family."
"One of the really impressive outcomes of this scholarship has been high quality focused research projects in so many
places around the world, said Mark Dworkin, MD, professor of epidemiology and faculty on the Passaro scholarship selection committee. "We've had many passionate smart students apply for and get awarded the Passaro scholarship and use it to do remarkable work."
"Because of the Passaro Fund, many UIC students lived with Kenyan host families, were immersed in a new culture, provided community service, cultivated their leadership potential and attained significant knowledge and personal growth," said Bob Bailey, PhD, professor emeritus of epidemiology and biostatistics. "These experiences have been foundational to many of them going on to successful careers in global health and now making significant contributions to health promotion and disease prevention here at home and around the globe."
Ada Moadsiri, DrPH '13, MPH '06, earned Passaro Scholar funding in 2009-10, when she worked with the Tongan Ministry of Health to reduce the burden of nutritionally-related chronic disease. Today, Moadsiri serves as a technical officer with the World Health Organization's Tobacco Free Initiative.
"The scholarship afforded me my first opportunity to blend humanitarianism and global public health, which encouraged me to dedicate my career to international civil service, Moadsiri said. "Because of those lasting personal and professional lessons, when I am supporting countries and areas to advocate for and implement upstream policy measures, I try never to lose sight of the communities, families and individuals we aim to impact."
Samuel Dorevitch, MD, professor of environmental and occupational health sciences, has worked closely with Safe Water and AIDS Project in Kenya to establish solar-powered water purification stations across the western part of the nation. He has collaborated with Passaro-funded students and says the endowed professorship will be a "giant step forward" for the Global Health Program.
"Many SPH faculty are already doing innovative and impactful global health work, and the professorship will provide us with high-level leadership," Dorevitch said. "It will also advance SPH's global health activities within UIC, and it will raise the profile of UIC nationally."
For Terry Passaro, the gift is a continuation of her family's dedication to the Global Health Program.
"It gives our whole family a way to participate through very effective global health education initially in memory of Douglas Passaro and in the memory of Lanny Passaro, a proud supporter of scholarship through education and travel," she said.
Modified on November 02, 2023