Elevating environmental justice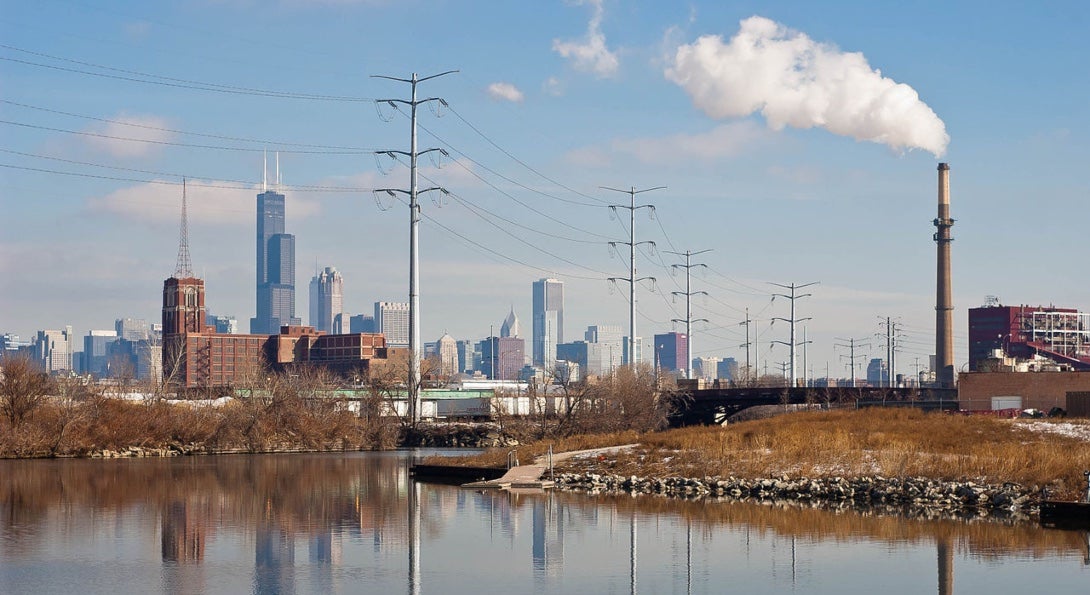 Elevating environmental justice
In 2018, General Iron announced it was moving its car-shredding operations from Chicago's Lincoln Park neighborhood – a prized plot of north side land – to a new spot on the city's southeast side.
In the largely Latinx east side neighborhood, news of the company's relocation plans was met not with cheers but unease about General Iron's metal-shredding business – and its accompanying environmental hazards – coming to an area already plagued by environmental pollution burdens. The concerns would come to include town hall meetings, City Hall rallies, legal battles and a month-long hunger strike.
Soon after General Iron's announcement, the Southeast Environmental Task Force (SETF), a local nonprofit devoted to environmental justice and sustainable development, approached a seasoned partner, the ChicAgo Center for Health and EnvironmenT – or CACHET as it is better known, for a helping hand.
Knowing UIC School of Public Health (SPH) researchers and CACHET-connected investigators Victoria Persky, PhD, and Serap Erdal, PhD, collected priorair quality data showing the impact of General Iron's emissions on the Lincoln Park community, SETF turned to CACHET for technical expertise, consultation and feedback. The engagement of CACHET with SETF spurred a letter from CACHET in partnership with SPH's Collaboratory for Health Justice and the Dean's Office to the Chicago Department of Public Health (CDPH) detailing the existing research and expressing concerns about the lack of community involvement and a thorough health impact assessment.
In the end, the Chicago Department of Public Health denied the final permit needed for the move.
The General Iron case serves a shining example of how CACHET pursues its collaborative, research-driven mission to elucidate the biological and social underpinnings between relevant urban environmental exposures and human disease and translate the findings to reduce health inequities and disparities within communities.
For more than 20 years, SPH faculty member Gail Prins researched the impact of the environment on prostate cancer and male reproduction. While Prins produced hearty work, she often felt isolated. She was particularly envious of colleagues at peer institutions who boasted an on-campus National Institutes of Health (NIH) P30 center delivering shared resources and facilities to propel their research efforts.
"Without a P30 center, you're just an individual with an idea trying to put together resources to address questions," said Prins, a professor in the divisions of environmental and occupational health sciences and epidemiology and biostatistics. "I saw how P30s could supercharge things." CACHET, an effort first ignited by former SPH Dean Paul Brandt-Rauf, changes that for environmental health researchers like Prins. A cross-town collaboration between UIC and the University of Chicago, CACHET is one of 25 P30 Environmental Health Core Centers in the U.S. – and the only one in Illinois – funded by the National Institute of Environmental Health Sciences (NIEHS).
Upon landing its preliminary funding in 2017, CACHET began working in earnest to build momentum and demonstrate its ability to drive environmental health research among clinician, laboratory and population scientists and attack pressing health inequities. Over its first four years, CACHET established three research focus groups – Air, Water and Soil Pollutants; Biomarkers of Exposure, Effect and Susceptibility; and Molecular and Cellular Processes on Environmental Toxicity – to understand, evaluate and ultimately reduce environmental health-related disparities and supported investigators' enterprising research with enhanced facilities. The Environmental Biomarkers Core, for example, is centered around UIC's Mass Spectrometry, Metabolomics & Proteomics Facility, where cutting-edge tools provide qualitative and quantitative analysis regarding biomarkers of exposure, disease and therapeutic response as well as levels of environmental toxins. Additional core facilities include the Integrative Health Sciences Facility Core and the Microbiome Core.
Through its Community Engagement Core, led by SPH's former associate dean for community engagement Jeni Hebert-Beirne, (MPH'95, PhD'08), the upstart center also worked to strengthen ties with community partners. CACHET brings epidemiological or bench research to collaborate on environmental justice issues with community organizations like SETF and address environmental health concerns.
"With our setup, we are able to understand community needs, perform research on environmental health and then bring science back to the community where it can help real people," said Prins, who leads CACHET alongside Dr. Habibul Ahsan, director of the Institute for Population and Precision Health at the University of Chicago.
CACHET's presence has provided an undeniable push to SPH's environmental health research efforts. The center offers seminars, grant writing support and community workshops as well as pilot project funding. Since its 2017 launch, in fact, CACHET has awarded more than $600,000 to kick-start environmental health research projects connected to cancers, respiratory viruses and reproductive health among others. The center has also collaborated with community partners on evidence-informed public statements on matters of environmental justice, such as the open statement urging city officials to the deny the permit for General Iron's proposed move.
Over its first four years, CACHET established itself as a positive force as NIH funding surged, community engagement intensified and researchers established new projects on topics such as metal toxins, agriculture herbicide exposure and air pollution's ties to pregnancy outcomes. As a result, CACHET recently received full funding for another five-year period. The annual $1 million capital infusion empowers more environmental health research and positions CACHET to further address health disparities.
Prins sees CACHET elevating its impact by developing more community partnerships, fostering more interdisciplinary and interinstitutional collaboration and capturing more grants to study important environmental health issues. And to be certain, CACHET leaders recognize the positive impact their work can have on communities.
Daisy Magana, MPH '21, a Community Engagement Core coordinator with CACHET, saw firsthand the benefit of CACHET's efforts to share academic research with on-the-ground partners. When the SETF needed technical expertise to better understand environmental concerns around General Iron's relocation, CACHET provided credible support and scientific knowledge to inform SETF's actions.
"This research and expertise helped a community, my community, chart its path forward," said Magana, who lives less than a mile from the proposed General Iron site on Chicago's southeast side.
And in a city like Chicago, where some communities are overburdened with environmental exposures and health disparities, such support proves especially valuable, said Erdal, a CACHET investigator and co-chair of its Air, Soil and Water Pollutants Research Focus Group.
"Untangling these risk factors and providing scientific data is such an important mission because the need is so critical," said Erdal, an associate professor in the division of environmental and occupational health sciences. "When the scientific community comes together with environmental justice organizations and stakeholders, it becomes an effective instrument for community empowerment and healthier lives."
Modified on July 17, 2023