Cultivating community-based citizen scientists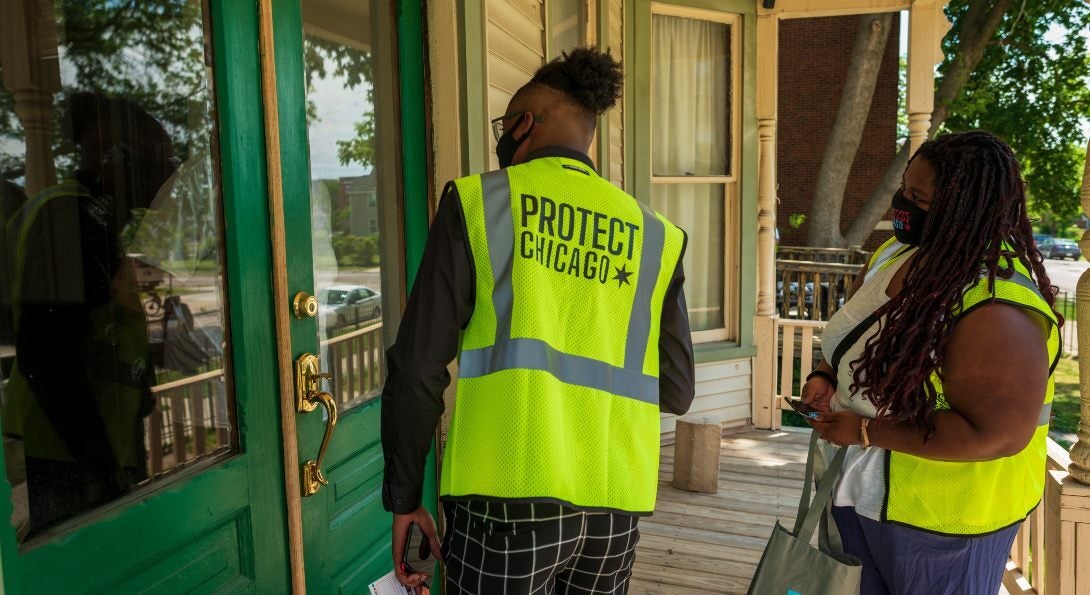 With two pandemic-era programs, the UIC School of Public Health Collaboratory for Health Justice is working with local citizens to build skills and systems to drive healthier living in Chicago area communities Rashida Balogun once had her eyes squarely focused on a career as a physician's assistant. An experience with the UIC School of Public Health (SPH), however, pushed the Chicago native to switch course and begin pursuing a Master of Public Health (MPH) degree at UIC in the fall of 2022.
As a member of the City of Chicago COVID-19 Contact Tracing Corps, Balogun learned of SPH's Citizen Scientist Certificate Program and enrolled thinking she would gain deeper insights into healthcare. As she sat in courses learning about social determinants of health and research's role in informing policy, however, she became increasingly intrigued by public health's extensive reach. "As a practitioner, you impact people at a one-on-one level, but the certificate program got me thinking about impacting people at a higher level. It put public health on my radar in a way it never was before," Balogun said, adding that the pandemic underscored the critical role public health plays in contemporary society.
So impactful was the experience, in fact, that Balogun enrolled in the certificate program a second time to confirm her interest in a public health career. Once again, she found herself drawn to the root causes of health problems, not merely the symptoms, the appeal of impacting health at a population level and the role of research in understanding health problems and, even more, designing thoughtful solutions. "I began to look around and think not only about putting band-aids on problems but thinking more holistically about what needs to be done to improve population health," said Balogun, who will pursue the Community Health Sciences track in her MPH studies.
Balogun, in fact, is one of 19 Corps members of the ChiTracing Covid Response Task Force who are part of the
Life Scholars cohort, a community of former contact tracers whose training led them to choose pathways to higher education at UIC. Borne out of the pandemic, SPH's Citizen Scientist Certificate Program and a sibling effort, the Youth Citizen Scientist Course, seek to empower individuals like Balogun to embrace a more active role in public health decision-making by reflecting on their own lives and critically investigating the historical and structural factors that have shaped today's health inequities.
"Rather than public health experts landing in a community and making decisions from the top down, both of these programs encourage community members to use their own lived experiences to create a more collaborative, democratic approach to public health," said Maggie Acosta, assistant director at SPH's Collaboratory for Health Justice (CHJ).
CHJ initially developed the online non-degree Citizen Scientist Certificate Program for contract tracers, supervisors and resource navigators hired through the city's ChiTracing contract tracing program established in response to COVID-19. In the future, however, the goal is for SPH leaders to expand the program to any Chicago community member interested in developing a research career, advancing their capabilities in evidence-based practice or creating strategic partnerships to improve community health.
The goal of the certificate program, Acosta said, is to build participants' capacity with key public health research skills they might use to advance public health initiatives in local communities. By teaching students how to formulate community-based research questions, collect and analyze data and generate evidence-informed solutions, SPH and CHJ offer a path to more strategic public health work in Chicago area communities.
George Salter and Marissa Thornton from Habilitative Systems, a social and human services organization with 16 different sites across the Chicago area, both completed the certificate program and credit it with giving them the framework, confidence and skills to ensure Habilitative is appropriately responding to community needs and properly assessing its impact. "The approach we learned in class allows us to hear the community first before we look at our organization, our capacities and our partners to service needs," said Salter, a community response worker supervisor at Habilitative. "Then, we can follow up to see how they are receiving services and their satisfaction because the delivery is really the most important element."
As one example, the Chicago-based agency coupled a new form to track the resources community members need with a process for individual follow up. "This helps us make sure the resources we are providing are aligned with community needs," said Thornton, a supervisor lead at Habilitative.
Like the Citizen Scientist Certificate Program, the Youth Citizen Scientist Course, since renamed Radically Reclaimed Public Health, was similarly designed to spur more democratic decision-making in public health. A social science program intended for high school and college-aged students, the course spotlights the interdisciplinary possibilities in public health with an additional focus on social justice and activism. In partnership with One Summer Chicago and the Logan Square Neighborhood Association, CHJ hosted its first youth program in the summer of 2021. Students learned about public health, its history and how they might use data collection in their everyday lives to craft relevant interventions for communities. Participants then pursued projects exploring the root causes of health inequities in which they also applied qualitative, quantitative and mixed-methods data-collection approaches.
One student, Madeline Cardona, a senior majoring in Rehabilitation Sciences at UIC's College of Applied Health Sciences, participated in a group project focused on nutrition in Chicago's West Lawn neighborhood. After conducting an original community survey and assessing community resources and needs, Cardona's team created a pamphlet sharing information on the far-reaching impact of food insecurity, noting local residents' relationship with nutrition and identifying resources capable of helping residents lead healthier lives. "I learned how to think more deeply about my community and how living in a particular neighborhood affects our lives," said Cardona, who now sits on the Community Scholars Board, the CHJ's community advisory board devoted to helping the program expand its engagement with Chicago area youth. "If you don't view the perspectives of people you are working with, you will struggle to understand proper solutions."
And that's the philosophy inspiring both of SPH's citizen scientist programs and the mindset SPH and CHJ leaders believe will enhance public health efforts in Chicagoland communities. "When we're able to make better sense of the data we have and truly understand community needs, we are in a better position to make informed decisions that improve lives and strengthen communities," Acosta said.
Modified on December 13, 2022