AP Experience at Boeing Builds Industrial Hygiene Skills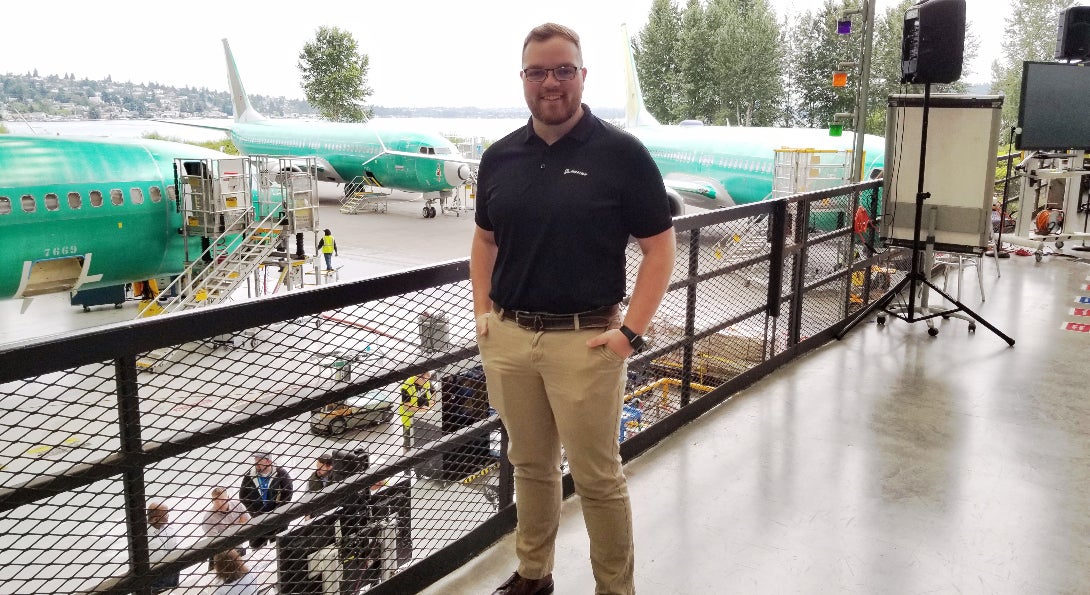 MPH student Benjamin Tate builds his career ensuring worker health and safety
Boeing's Renton, Washington factory covers 1.1 million square feet, with more than 13,000 employees producing more than 50 narrow body commercial jets per month.  In summer 2019, School of Public Health student Benjamin Tate joined a team assessing exposures to hazards across the thousands of individual processes and work stations that make up the manufacturing of an airplane.
As a student in the MPH in Environmental and Occupational Health Sciences (EOHS) program with a concentration in Industrial Hygiene, Tate completed his MPH applied practice experience at Boeing, ensuring the company's practices are in compliance with federal and state regulations and working to protect the health and well-being of the company's employees.
"Everyone spends a majority of their life at work, and work has a huge impact on your home life," Tate said. "If I can improve someone's work life, I'm improving their life overall by doing so."
Tate worked with employees to mitigate a few specific hazards.  He led noise monitoring efforts, equipping Boeing employees with a noise dosimeter to track the amount of noise a worker is exposed to throughout the course of the workday.  He then analyzed the data to make sure noise exposure is below regulatory levels and enrolls people with overexposure to noise in a hearing conversation program.
With thousands of confined spaces across Boeing's mammoth facility, Tate also examined how the company prepares workers for hazards encountered in confined spaces, reviewing Boeing's policies and comparing to the requirements of the State of Washington and the federal Occupational Safety and Health Administration.
With each individual process, there are tons of different people to contact, and that's something I've become really good at, reaching out to people across the company.  Each part in the process has its own health and safety component, so it's important that I'm learning from those that I interact with.

MPH in Environmental and Occupational Health Sciences Student

|
Tate previously worked for a few smaller companies but says his time at Boeing, which started in May and runs through August, is his first exposure to a large-scale company.  He works with three Certified Industrial Hygienists on staff evaluating health and safety needs across the company.
With his first year at the School of Public Health complete, Tate says courses on the impact of working conditions and a noise monitoring project he completed in an EOHS class prepared him to engage in public health practice at Boeing.  He aims for a career in industrial hygiene and occupational safety across a variety of industries.
"It's been awesome to work for Boeing, to get an inside look at a bunch of different processes," Tate said. "But it's also nice to know they care about you here, it's not just cut and dried business, business, business.
"I want to work for a company that has ideals like this, making sure everything is going OK at home and protecting you at work."
Modified on March 10, 2020