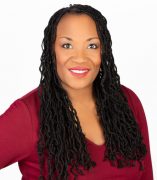 Vida Henderson, PhD, PharmD, MPH, MFA
Director, Community Engagement and Health Equity Office, UI Cancer Center
Research Assistant Professor
Community Health Sciences
Contact
Address:
818 S. Wolcott Ave.
Office Phone:
Email:
CV Download:
About
Vida Henderson, PhD, PharmD, MPH, MFA is a minority health and health disparities researcher whose primary goal is to ameliorate gender and racial health disparities and inequities by exploring associations between the social determinants of physical and mental health and behavioral outcomes utilizing mixed methodology. Much of her work has focused on women's health, particularly examining how factors associated with preventive health services utilization impact health disparities. She is currently Director of the Office of Community Engagement and Health Equity and a Senior Research Scientist at the University of Illinois Cancer Center. She is also a Research Assistant Professor at the University of Illinois School of Public Health, where she also received her PhD in Community Health Sciences.  She has led a number of research studies funded at federal, local and foundation levels and much of her current research focuses on breast and cervical cancer prevention. She received a Doctor of Pharmacy degree from Xavier University of Louisiana, where she eventually served as clinical faculty in the College of Pharmacy. She also received a Master of Public Health degree from University of Michigan and a Master of Fine Arts degree from Queens University of Charlotte. Dr. Henderson specializes in qualitative methods, program evaluation, community-engaged research and health communication.
Selected Grants
National Cancer Institute K01CA248852, Promoting Genetic Counseling Among African American Women with Hereditary Risk for Breast Cancer, Principal Investigator
Chicago Department of Public Health, Mile Square Accessible Mammogram Outreach and Engagement, Principal Investigator
National Institute on Aging R36AG054652, Understanding the Relationship between Psychological Well-Being and Well-Woman Visit and Preventive Care Use in Midlife African-American Women, Principal Investigator
National Cancer Institute 1P20CA202908, GUIDE Cancer Research Pilot Project, Evaluation Lead
Illinois Department of Public Health, Illinois Breast and Cervical Cancer Screening Program Patient Navigation Toolkit, Principal Investigator
Illinois Department of Public Health, Illinois Breast and Cervical Cancer Screening Program Health Systems Project, Principal Investigator
Bristol Myers Squibb, UICAAN - UI Cancer Center Cancer Screening, Access, Awareness, Navigation Program, Co-Investigator
Patient Centered Outcomes Research Institute (PCORI), University of Illinois Cancer Center Patient Brigade, Co-Lead
Selected Publications
Henderson, V., Tossas‐Milligan, K., Martinez, E., Williams, B., Torres, P., Mannan, N., Green, L., Winn, R. & Watson, K. S. (2020). Implementation of an integrated framework for a breast cancer screening and navigation program for women from underresourced communities. Cancer, 126, 2481-2493.
Cohen, S. A., Bradbury, A., Henderson, V., Hoskins, K., Bednar, E., & Arun, B. K. (2019). Genetic counseling and testing in a community setting: quality, access, and efficiency. American Society of Clinical Oncology Educational Book, 39, e34-e44.
Molina, Y., Henderson, V., Ornelas, I. J., Scheel, J. R., Bishop, S., Doty, S. L., Patrick, D. L., Beresford, S. & Coronado, G. D. (2019). Understanding Complex Roles of Family for Latina Health: Evaluating Family Obligation Stress. Family & community health, 42(4), 254-260.
Watson, K. S., Hulbert, A., Henderson, V., Chukwudozie, I. B., Aponte-Soto, L., Lerner, L., … & Winn, R. (2019). Lung Cancer Screening and Epigenetics in African Americans: Role of the Socioecological Framework. Frontiers in oncology, 9, 87.
Handler, A., Henderson, V., Johnson, R., Turino, C., Gordon, M., Franck, M., Peacock, N., & Pecha, D. (2018). The Well-Woman Project: Listening to Women's Voices. Health Equity, 2(1), 395-403.
Henderson, V., Madrigal, J. M., & Handler, A. (2018). A mixed methods study: Midlife African American women's knowledge, beliefs, and barriers to well-woman visit, flu vaccine, and mammogram use. Journal of Women & Aging, 1-22. doi: 10.1080/08952841.2018.1549433
Henderson, V., Stumbras, K., Caskey, R., Haider, S., Rankin, K., & Handler, A. (2016). Understanding factors associated with postpartum visit attendance and contraception choices: Listening to low-income postpartum women and health care providers. Maternal and Child Health Journal, 20 (7) 132-143. doi: 10.1007/s10995-016-2044-7.
Girotti, J. A., Loy, G. L., Michel, J. L. & Henderson, V. A. (2015). The Urban Medicine Program: Developing Physician-Leaders to Serve Underserved Urban Communities. Academic Medicine, 90 (12), 1658-1666. doi: 10.1097/ACM.0000000000000970.
 Handler, A. S., Henderson, V. A., Rosenfeld, A., Rankin, K., Jones, B., & Issel, L. M. (2014). Illinois Breast and Cervical Cancer Program: Implementing Effective Public-Private Partnerships to Assure Population Health. Journal of Public Health Management and Practice, 21(5), 459-466. doi: 10.1097/PHH.0000000000000191.
Henderson, V. A., Barr, K. L., An, L. C., Guajardo, C., Newhouse, W., Mase, R., & Heisler, M. (2013). Community-Based Participatory Research and User-Centered Design in a Diabetes Medication Information and Decision Tool. Progress in Community Health Partnerships: Research, Education, and Action, 7(2), 171-184. doi: 10.1353/cpr.2013.0024.