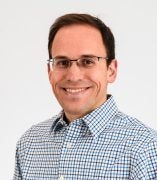 Robert Schroeder
Director of Communications and Marketing
Pronouns: He/Him/His
Contact
Building & Room:
1188 SPHPI
Address:
1603 W. Taylor St.
Office Phone:
Email:
About
Rob Schroeder (he/him/his) is the director of communications and marketing at the UIC School of Public Health.  He leads all communications and branding initiatives, including website management, news writing, multimedia production, graphic design, social media and public relations.
Previously, Rob served as the assistant director of marketing and media at the UIC College of Education, where he led two website redesigns and built the current college website.  In addition, he founded and was the editor-in-chief of The Promise magazine, focusing on issues in urban education in Chicago and across the nation.  Rob managed communications efforts across public relations, media relations, advancement and admissions.
Rob brings a journalism background to his work at UIC, writing for newspapers in Illinois, New York and Virginia, serving as on-air talent at the Cayuga Radio Group in Ithaca, NY and producing The Kathleen Dunn show for Wisconsin Public Radio, a public affairs talk show focused on current events issues including health care, the environment, education, economics, housing and challenges in low-income communities.
Rob also spent two years broadcasting minor league baseball for the Covington Lumberjacks and Rockford Riverhawks, earning the Valley Baseball League's broadcaster of the year award in 2007.
Education
Bachelor of Arts in Journalism, Ithaca College, 2008
Bachelor of Science in Sport Media, Ithaca College, 2008
Master of Business Administration, University of Illinois at Chicago, 2015
Concentration: Marketing
Concentration: Social value creation