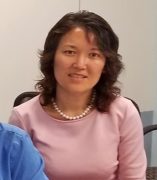 Jun Ma, MD, PhD
Director
Center for Health Behavior Research
Contact
Building & Room:
347 WROB
Address:
1747 West Roosevelt Rd.
Office Phone:
Email:
About
Dr. Jun Ma is a professor of academic internal medicine and geriatrics and associate head for research in the Department of Medicine. She also directs IHRP's Center for Health Behavior Research and is an IHRP Fellow. With a broad background in preventive medicine, nutritional science, and biometry, she specializes in clinical and translational lifestyle medicine research in primary care and nonmedical community settings.
Dr. Ma directs an integrative precision lifestyle medicine and translation research portfolio. Since 2008, she has secured more than $15 million in NIH and AHRQ funding as the principal investigator of innovative lifestyle intervention research studies that address highly intractable health problems and disparities among racially/ethnically and socioeconomically diverse adult populations in private mixed-payer, managed care, and public health systems, as well as in communities.
She is one of the principal investigators of PREMIER, an NIH-funded postdoctoral training program for precision lifestyle medicine. Learn more.
She has directed the development and publication of new randomization methods and tools, including a Web-based comprehensive system for minimization methods. In addition to her experience leading experimental research, ranging from pilot randomized studies to multicenter pragmatic trials, she has often published on national patterns of outpatient care quality and disparities in lifestyle-related physical and mental health disorders using complex population survey data, such as the National Ambulatory Care Surveys and the National Health and Nutrition Examination Survey.
In January 2017, Dr. Ma was elected to the Academy of Behavioral Medicine Research, an international honorary society recognizing senior scientists for their research excellence in behavioral medicine.
Before joining the UIC faculty in 2015, Dr. Ma was a senior scientist at the Palo Alto Medical Foundation Research Institute and a consulting professor in Stanford University's Department of Medicine, with which she continues to collaborate on research. She is a Fellow of the American Heart Association and serves on the AHA Council on Epidemiology and Prevention and the AHA Council on Lifestyle and Cardiometabolic Health.
Dr. Ma earned her doctorate in nutritional sciences from the University of Nebraska, Lincoln, and her medical degree from West China University of Medical Sciences in Chengdu, Sichuan, China, with an emphasis in preventive medicine.