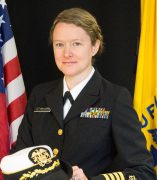 Capt. Michelle Colledge, PhD '08
Environmental and Occupational Health Sciences Alumni Achievement Award
About
Capt. Michelle Colledge is an is expert research officer in the Chicago field office of the Agency for Toxic Substances and Disease Registry (ATSDR) in the Centers for Disease Control and Prevention (CDC), and has been with CDC for over 20 years. At ATSDR, she works with citizens, enforcement agencies, and state and local health partners to characterize and mitigate residential exposures to toxic substances. In some instances, this work has resulted in more health protective legislation being passed for industries such as oil and gas, landfills, metals refineries, and most recently, medical sterilizers. She has testified as an expert witness for state and federal Congressional hearings on environmental issues and is an agency subject matter expert on air quality, landfills, and several toxic substances.
Colledge received her BA in biological anthropology from the University of South Florida (1996), her MPH degree in Epidemiology from Florida A&M University Institute of Public Health (1999), and earned her PhD degree in Environmental and Occupational Health Sciences from the University of Illinois Chicago School of Public Health in 2008.
Colledge enjoys making art, has three kind, spirited, and creative children, and her husband is a talented musician and luthier(maker of violins, violas, and cellos).