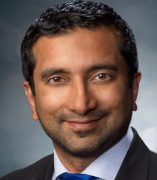 Jay Bhatt, DO, MPH '08
Distinguished Alumni Achievement Award
About
Jay Bhatt, D.O., MPH, MPA (pronounced "bot") is Founder and Principal of JDB Strategies, a health equity and innovation consulting firm, is a faculty member at the University of Illinois Chicago School of Public Health, an ABC News Medical Contributor, a physician executive, internist, geriatrician, public health innovator and widely quoted expert on the most pressing challenges and exciting opportunities in health care. These include cross-sector initiatives; the application of predictive analytics and informatics; using Medicare and Medicaid as opportunities to redesign the healthcare system; addressing the social determinants of health to lower costs, improve outcomes and eliminate inequities; technology innovation; and emergency preparedness.
Jay is recognized for thought leadership and clarity in his remarks and writings on systemic healthcare issues. He has spoken at South by Southwest, the National Academy of Medicine, HLTH Create Health's Future and the Aspen Ideas Festival, and has been published in Academic Medicine, American Journal of Public Health, Morbidity and Mortality Weekly Report, Annals of Internal Medicine and the Journal of the American Medical Association. He comments and viewpoints have appeared in USA Today, The Washington Post, Chicago Sun-Times, Chicago Tribune, The Wall Street Journal, CNN, Fox News, Modern Healthcare, Becker's Hospital Review, HuffPost and HealthLeaders.
As a physician executive, Jay's innovative initiatives have helped hospitals deliver safer, smarter and better care; made doctors more skilled and responsive to patients; and helped government across sectors impact health outcomes and the health of communities.  These accomplishments have been informed by his earliest positions practicing internal medicine and geriatrics in underserved communities at the Erie Family Health Center on Chicago's Northwest Side and as the managing deputy commissioner and chief innovation officer for the Chicago Department of Public Health. Though hard work and fresh ideas, he became a trusted community leader and eventually was able to bring the voice of those patients to the Illinois Hospital Association and American Hospital Association as a senior executive.
At the American Hospital Association Jay served as vice president and chief medical officer and led several AHA subsidiaries as president and CEO. These included the Institute for Diversity and Health Equity, which addresses barriers to receiving adequate care, and the Health Research & Educational Trust, which trains medical professionals and encourages research into the quality, cost and equality of healthcare.
While at AHA, Jay's efforts were focused on working with healthcare and technology companies to help hospitals develop and drive innovation. As part of this, he helped develop and deployed major AHA initiatives, including Age-Friendly Health Systems to improve the health of people at every stage of life; the AHA Physician Alliance, a community for physicians and hospitals to collaborate; and the government-sponsored Hospital Improvement Innovation Network, engaging over 1600 hospitals in 34 states to improve quality and patient safety. 
Before joining the AHA, Jay served as the first chief health officer of the Illinois Health and Hospital Association, where he launched the organization's Hospital Engagement Network to improve quality and safety. He launched a physician leadership academy, led a statewide zero-harm initiative and headed an IHA regional patient safety organization.
As the Chicago Department of Public Health's managing deputy commissioner, Jay implemented Healthy Chicago, the city's public health agenda.  Under his guidance, the department was recognized internationally for using predictive analytics and machine learning to target food-safety hotspots; improve their approach to inspections; reduce lead exposure and chronic disease; and strengthen the culture of safety and continuous improvement.
Over the years, Jay has received many honors. He was an Aspen Health Innovator Fellow and a Presidential Leadership Scholar; was named to 40 Under 40 lists by Crain's Chicago Business, the National Minority Quality Forum, MedTech Boston and Becker's Healthcare, where he was s Rising Star; and received UIC School of Public Health's Distinguished Alumni Achievement Award and National Medical Fellowships Champions of Health Award.  
Jay earned a B.A. from the University of Chicago; a Doctor of Osteopathic Medicine (D.O.) from Philadelphia College of Osteopathic Medicine; a MPH in public health from the University of Illinois Chicago; and a MPA in public administration from the Harvard Kennedy School of Government as a Zuckerman and Commonwealth Fund Minority Health Policy Fellow.
 Known to his patients as the "dancing doctor," Jay teaches dance classes, participates in fitness programs and enjoys Chicago's lively restaurant scene with his family and friends. He enjoys podcasts, nonfiction reading on leadership and autobiographies."