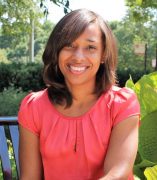 Nyahne Bergeron, MPH
Doctoral Student
Graduate Research Assistant
Community Health Sciences
Pronouns: She/Her/Hers
About
I am currently a third-year doctoral student in the Community Health Sciences Division of the UIC School of Public Health. I serve as a Graduate Research Assistant for the Offering African American Survivors Increased Support (OASIS) Project, an NIH-funded study led by Dr. Yamilé Molina that aims to assess how patient navigation can affect shared decision-making, risk assessment, screening, and survivorship among African-American breast cancer patients and their social networks.
I also serve as the Program Coordinator for the Building Interdisciplinary Research Careers in Women's Health (BIRCWH) Program in the UIC Center for Research on Women and Gender, an NIH-funded, K12 training grant to mentor junior faculty scholars in women's health and sex/gender-based health research.
My research interests include minority health, chronic disease disparities (with a focus on breast cancer), psychosocial determinants of health, and healthcare navigation.
Selected Publications
Strayhorn SM, Bergeron NQ, Strahan DC, Villines D, Fitzpatrick V, Watson KS, Khanna A, Molina Y. Understanding the relationship between positive and negative social support and the quality of life among African American breast cancer survivors. Support Care Cancer. 2021 Feb 25. DOI: 10.1007/s00520-021-06098-9
Molina Y, Khanna A, Watson KS, Villines D, Bergeron N, Strayhorn S, Strahan D, Skwara A, Cronin M, Mohan P, Walton S, Wang T, Schneider JA, Calhoun EA. Leveraging system sciences methods in clinical trial evaluation: An example concerning African American women diagnosed with breast cancer via the Patient Navigation in Medically Underserved Areas study. Contemp Clin Trials Commun. 2019;15:100411. DOI: 10.1016/j.conctc.2019.100411
Tung EL, Gunter KE, Bergeron N, Lindau ST, Chin MH, Peek ME. Cross-sector collaboration in the high-poverty setting: Qualitative results from a community-based diabetes intervention. Health Serv Res. 2018; 53(5):3416-36. DOI: 10.1111/1475-6773.12824
Peek ME, Ferguson MJ, Bergeron NQ, Maltby D, Chin MH. Integrated community-healthcare diabetes interventions to reduce disparities. Curr Diab Rep. 2014;14:467-56. DOI: 10.1007/s11892-013-0467-8
Service to Community
UIC School of Public Health Diversity Leadership Committee, PhD Student Representative, 2019-Present
UIC Community Health Sciences Division Doctoral Studies Committee, PhD Student Representative, 2020-2021
Chicago Cancer Health Equity Collaborative (CHEC): Student Preceptor, 2020-2021
Illinois Department of Public Health, Illinois Comprehensive Cancer Control Plan Screening and Early Detection Workgroup, 2020-2021
Chicago Area Schweitzer Fellowship Program, Health and Medicine Policy Research Group, Chicago, IL
- Student Mentor, 2018-2019
- Fellow for Life Steering Committee Member, 2015-Present
Notable Honors
2021, Amuwo Minority Scholarship, UIC School of Public Health
2019, Loretta Pratt Lacey Memorial Scholarship, UIC School of Public Health
2014, Fellow for Life, Chicago Area Schweitzer Fellowship Program, Health and Medicine Policy Research Group
Education
DePaul University, Chicago, IL - Master of Public Health, Community Health Practice, 2014
Saint Xavier University, Chicago, IL - Bachelor of Science, Biology, 2007
Professional Memberships
American Association for Cancer Research (AACR)
American Public Health Association (APHA)
National Cancer Institute (NCI) GMaP Region 4 (Cancer Disparities Research Network)
Selected Presentations
Bergeron NQ, Fitzpatrick V, Asche C, Watson KS, Khanna AS, Hempstead B, Calhoun EA, McDougall J, Molina Y. The value of estimating spillover effects in health equity interventions: A case study to promote mammogram uptake among African American women and their social networks. 2021 AACR Conference on The Science of Cancer Health Disparities in Racial/Ethnic Minorities and the Medically Underserved. (poster presentation)
Bergeron NQ, Strahan DC, Strayhorn SM, Rong A, Villegas M, Rayas N, Jara S, Ruiz I, Khanna AS, Villines D, Watson KS, Ferrans CE, Molina Y. What social factors are most strongly associated with the reduced spread of breast cancer cultural beliefs among African American women? 2021 American Society of Preventive Oncology Annual Meeting. (invited talk, poster presentation)
Bergeron NQ, Strahan DC, Strayhorn SM, Rong A, Villegas M, Rayas N, Jara S, Khanna AS, Villines D, Watson KS, Ferrans CE, Molina Y. Do African American informal caregivers' breast cancer fear and cultural beliefs predict the dissemination of breast cancer misinformation and lower mammogram uptake among their social networks? 2020 AACR Virtual Conference on the Science of Cancer Health Disparities in Racial/Ethnic Minorities and the Medically Underserved. (poster presentation)
Bergeron NQ, Strahan DC, Strayhorn SM, Rong A, Villegas M, Rayas N, Jara S, Khanna AS, Villines D, Watson KS, Ferrans CE, Molina Y. Do African American informal caregivers' breast cancer fear and cultural misconceptions predict the spread of breast cancer misinformation among their social networks? 2019 American Association for Cancer Research Conference on the Science of Cancer Health Disparities in Racial/Ethnic Minorities and the Medically Underserved. San Francisco, CA. (poster presentation)
Bergeron N, Gao Y, Rowell D, Hsu A, Peek ME. Community fitness passport program: A culturally tailored intervention of physical activity for African-Americans with diabetes.
- 2015 American Public Health Association Annual Meeting. Chicago, IL. (poster presentation)
- 2015 Minority Health in the Midwest Conference, University of Illinois at Chicago. Chicago, IL. (oral presentation)