WHO Declaration by U.S. Health Collaborating Centers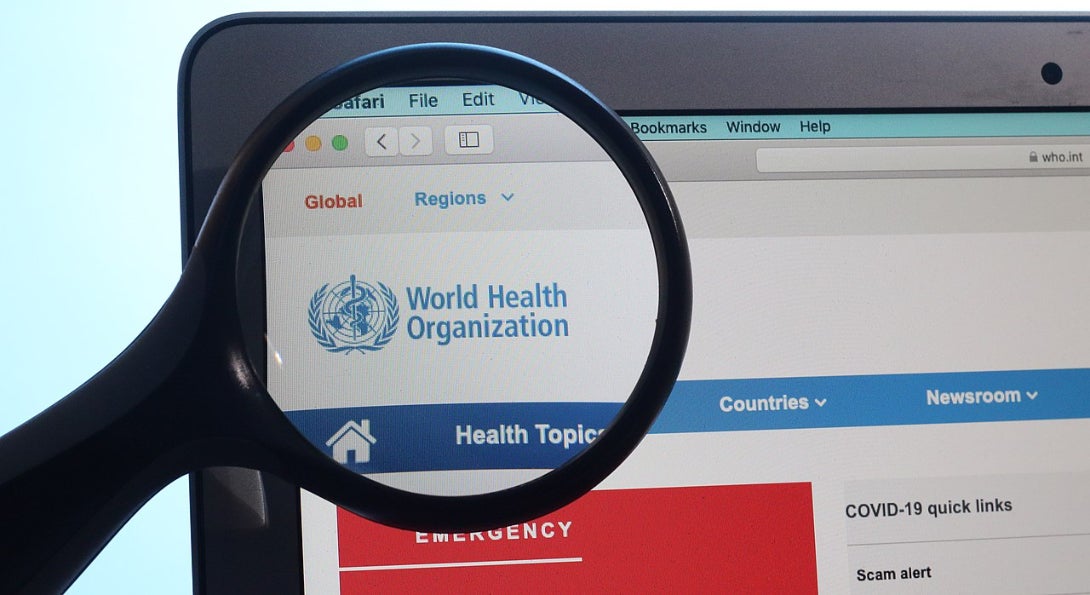 Statement text
 We are from institutions across the United States designated as Collaborating Centers with the World Health Organization (WHO). We work on infectious diseases like COVID-19 and other public health issues, such as healthy housing, occupational health and safety, tobacco, and many other determinants of health. 
At a time when nations around the world are struggling with the current pandemic, President Trump's attempt to withdraw funding from WHO will harm us all. This is not the time to take the tires off the ambulances; we need more ambulances! 
We call on the president and Congress to restore and increase funding for WHO immediately. 
The Collaborating Centers and the institutions where they are located typically donate time, expertise, and other resources to improve health around the globe. The WHO is needed to coordinate this massive effort. 
In addition to increasing testing, training, research, and capacity to respond to the current pandemic, we have worked with WHO to address other related matters. For example, with all of us spending more time in our homes, we have helped WHO craft its new guidelines to ensure that those homes are both healthy and safe. We have advanced occupational health and safety to protect workers who are placed in harm's way as they do their jobs. We have provided critical guidance on medical devices (including ventilators) and their use, specifications, and procurement (primarily for the Americas). We have helped to respond to health inequities, food insecurity, and many other areas of need that have become even more pronounced during this pandemic. 
We have worked on public health ethics, including the 2015 WHO training manual, Ethics in Epidemics, Emergencies and Disasters: Research, Surveillance and Patient Care. We have contributed to a monitoring and evaluation system to track COVID-19 response activities in the African region. 
We have collaborated to reduce the toll of non-communicable diseases, including tobacco and to support implementation of the WHO Framework Convention on Tobacco Control. We have sought to improve the health of older adults through research and training. We have increased access to care for the underserved, including rural, urban, and incarcerated populations. We have improved safety, quality, and effectiveness of traditional and complementary medicine in primary health care. 
All these activities have benefited the United States, as well as other countries. 
Now more than ever, we need WHO to carry out its mission. Now is not the time to get in the way and point fingers. Now is the time to do all we can to find solutions. 
Mr. President and Members of Congress, you have the power to help citizens around the world and here in the U.S. who are struggling with this virus and many other health challenges. Please support the mission and capacity of the World Health Organization. 
The opinions expressed here are those of the authors, not the World Health Organization. Institutions are listed for identification purposes only. 
Signatories
David E. Jacobs, PhD, CIH 
Director, WHO Collaborating Center for Healthy Housing Training and Research
Chief Scientist, National Center for Healthy Housing 
Amanda Reddy, MS 
WHO Collaborating Center for Healthy Housing Training and Research
Executive Director, National Center for Healthy Housing 
Linda Forst, MD, MPH 
Director, WHO Collaborating Center at the Great Lakes Center for Occupational and Environmental Safety and Health
Senior Associate Dean, University of Illinois at Chicago 
Abdulgafoor M. Bachani, PhD, MHS 
WHO Collaborating Center for Injuries, Violence and Accident Prevention
Associate Professor, International Health Director, Johns Hopkins International Injury Research Unit 
David O. Carpenter, MD 
Director, WHO Collaborating Center for Environmental Health
Institute for Health and the Environment at the University at Albany (NY) 
Chun-Tao Che, PhD 
Director, WHO Collaborating Center for Traditional Medicine
Professor, College of Pharmacy, University of Illinois at Chicago
Cheryl J. Cherpitel, DrPH
Director, WHO Collaborating Centre on Alcohol Epidemiology and Injury
Senior Scientist, National Alcohol Research Center
Adjunct Professor, University of Victoria, School of Nursing, Victoria, BC 
Tobey Clark, Director, CCE, CHTM, FAAMI, FACCE 
WHO Collaborating Center for Health Technology Management
Technical Services Partnership, University of Vermont 
Patricia Davidson, PhD, Med, RN, FAAN 
Co-Director, WHO Collaborating Center for Nursing Knowledge, Information Management and Sharing
Secretariat WHO Collaborating Centers for Nursing and Midwifery
Johns Hopkins School of Nursing 
George Delclos, MD, MPH, PhD, FCCP 
Director, WHO Collaborating Centre in Occupational Health
University of Texas Houston Health Science Center School of Public Health 
Stan Deresinski, MD 
Co-Director, WHO Collaborating Center for Antimicrobial Resistance and Stewardship
Stanford University School of Medicine 
Jennifer Dohrn, DNP, CNM, FAAN 
Director, PAHO/WHO Collaborating Center for Advanced Practice Nursing
Associate Professor of Nursing, Columbia University School of Nursing Assistant Dean, Office of Global Initiatives 
Stephen Fawcett, PhD, and Vincent Francisco, PhD 
Co-Directors, WHO Collaborating Centre for Community Health and Development
University of Kansas 
Beth J. Feingold, PhD, MPH, MESc 
Co-Director, WHO Collaborating Center for Environmental Health
Assistant Professor, Department of Environmental Health Sciences, University at Albany (NY) School of Public Health 
Lorraine Frazier, RN, PhD, FAAN 
WHO Collaborating Center for Advanced Practice Nursing
Dean and Mary O'Neil Mundinger Professor, Senior Vice President, Columbia University Medical Center 
Joanna Gaitens, PhD, RN 
Co-Director, WHO Collaborating Center for Occupational Health
University of Maryland School of Medicine 
Stanton Glantz, PhD 
Director WHO Collaborating Centre on Tobacco Control Policy
Professor of Medicine, University of California San Francisco 
Michael Glasser, PhD
National Center for Rural Health Professions, University of Illinois – Rockford 
Kenneth W. Goodman, PhD
Director, WHO Collaborating Center in Ethics and Global Health Policy
University of Miami Miller School of Medicine Institute for Bioethics and Health Policy 
Lawrence O. Gostin, JD 
Director, WHO Collaborating Center on National and Global Health Law at Georgetown University
Faculty Director, O'Neill Institute for National and Global Health Law 
Doreen C. Harper, PhD, RN, FAAN 
Dean and Director, PAHO/WHO Collaborating Center for International Nursing
UAB School of Nursing, The University of Alabama at Birmingham
Marisa Holubar, MD, MS
Co-Director, WHO Collaborating Center for Antimicrobial Resistance and Stewardship
Stanford University School of Medicine
Tom Inglesby, MD
Director, WHO Collaborating Center for Global Health Security Professor, Johns Hopkins
School of Public Health Director, Johns Hopkins Center for Health Security
Ruth Karron, MD
Director, Johns Hopkins WHO Collaborating Center for Vaccine Epidemiology and Evaluation
Arthur Kaufman, MD
Director, WHO Collaborating Center at the University of New Mexico 
Adelais Markaki, PhD, RN, PHCNS-BC
Associate Professor and Co-Director, PAHO/WHO Collaborating Center for International Nursing
UAB School of Nursing, The University of Alabama at Birmingham 
Linda L. McCreary, PhD, RN, FAAN
Co-Director, PAHO/WHO Collaborating Center for International Nursing Development in Primary Health Care
University of Illinois at Chicago College of Nursing 
Melissa McDiarmid, MD, MPH
Director, WHO Collaborating Center for Occupational Health
University of Maryland School of Medicine 
Lina Mu, PhD, MD
Co-Director, WHO Collaborating Center, WHO Collaborating Center for Research on Healthy Settings
Director, Office of Global Health Initiatives, School of Public Health and Health Professions, University at Buffalo, The State University of New York 
Cindy L. Munro, RN, ANP-BC, PhD, FAAN, FAANP, FAAAS
Co-Director, PAHO/WHO Collaborating Centre for Nursing Human Resources Development and Patient Safety
University of Miami School of Nursing and Health Studies
Mark A. Musen, MD, PhD
WHO Collaborating Center for Classification, Terminology, and Standards
Director, Stanford Center for Biomedical Informatics Research, Stanford University 
Johis Ortega, PhD, APRN, ACNP-BC, ENP-BC, FNP-BC, FAAN
Co-Director, PAHO/WHO Collaborating Centre for Nursing Human Resources Development and Patient Safety
University of Miami School of Nursing and Health Studies 
Laura Parajon, MD, MPH
Co-Director, WHO Collaborating Center at the University of New Mexico 
Claudia Parvanta, PhD
Co-Director, WHO Collaborating Center on Social Marketing and Social Change
Professor, University of South Florida 
Mahmooda Khaliq Pasha, PhD, MHS, CPH
Co-Director, WHO Collaborating Center on Social Marketing and Social Change
Assistant Professor, University of South Florida 
Samina Raja, PhD
Co-Director, WHO Collaborating Center for Research on Healthy Settings
Associate Dean for Research and Inclusive Excellence, School of Architecture and Planning, University at Buffalo 
Nancy R. Reynolds, PhD, RN, ANP, FAAN
Co-Director, WHO Collaborating Center for Nursing Knowledge, Information Management and Sharing
Associate Dean of Global Affairs, Johns Hopkins School of Nursing 
Paul B. Spiegel, MD
Director, WHO Collaborating Center for Research and Policy Guidance in Humanitarian Health Assistance
Johns Hopkins Bloomberg School of Public Health, Center for Humanitarian Health 
Andrea G. Tenner, MD, MPH, FACEP
Director, WHO Collaborating Centre for Emergency and Trauma Care
University of California, San Francisco 
Thomas Unnasch, PhD
Director, WHO Collaborating Centre for Onchocerciasis Diagnostics
University of South Florida 
Terri E. Weaver, PhD, RN, FAAN
Co-Director, PAHO/WHO Collaborating Center for International Nursing Development in Primary Health Care
Dean, University of Illinois at Chicago College of Nursing 
Rebeca Wong, PhD
Director, WHO/PAHO Collaborating Center on Aging and Health
University of Texas Medical Branch