SPH student, alum selected for Fulbright grants
Both are participants in SPH's global health concentration
About the grant winners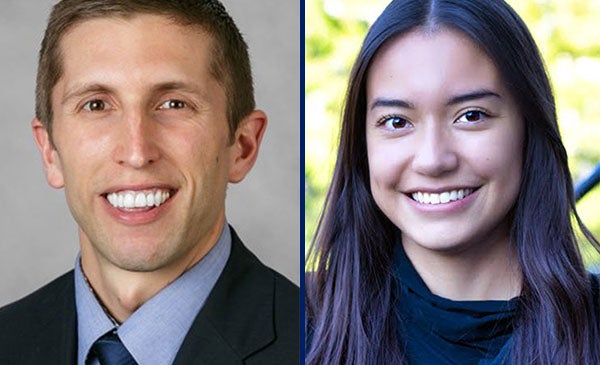 Greg Klazura, MD, MPH in Health Policy Administration student with a global health concentration and a 2018 graduate of the University of Illinois College of Medicine, was selected for a research program in Uganda that has been temporarily delayed due to the COVID-19 pandemic. Should the program's status change this fall, he will spend approximately six months in Uganda performing a quality improvement project and formal evaluation of the Pediatric Emergency Surgery Course and its impact on patient outcomes.
"In Uganda, there are seven pediatric surgeons. There should be roughly 200 given its pediatric population. As a way to address this unanswered burden of surgical disease, Ugandan and international faculty created and delivered the Pediatric Emergency Surgery Course," he said. "The course aims to improve referral patterns to tertiary centers for complex pediatric surgical conditions and also improve surgical capacity in rural areas for pediatric surgical disease that do not require a referral."
Klazura believes the Fulbright experience will benefit his ongoing research focused on improving access to surgical care in low resource settings and his professional interests in global, trauma and pediatric surgery.
"The Fulbright provides me a wonderful opportunity to form closer relationships with Ugandan health care providers, apply the lessons from the Global Medicine Program at UIC and my current master's in public health program, network within the global health community, and learn from the incredible Fulbright network," he said.
Klazura, a native of Rockford, Illinois, earned a bachelor's degree in pre-professional studies from the University of Notre Dame.
Coraima Yanez, MPH in Community Health Sciences '21 with a concentration in global health, has accepted a Fulbright English teaching assistantship, or ETA, to teach in Calahorra, Spain. Her 10-month program is scheduled to begin in September and will be based at IES Valle del Cidacos, a secondary school in the country's La Rioja region.
"Being a native bilingual speaker myself, and a first-generation student, I look forward to making space for trust and growth and pushing my students' learning beyond the confines of the classroom. I'm also looking forward to experiencing life in rural Spain, as I grew up in a rural town (Tribune) in western Kansas," said Yanez.
Yanez, who received a bachelor's degree in life sciences and a minor in Spanish from Kansas State University in 2019, plans to pursue a career in the global health sector.
"Through Fulbright, I will not only be able to participate in cultural exchange and teach English in the ways that helped set me up to where I am today, but I will also have the opportunity to build relationships and engage in conversations that will continue to prepare me for a career in public service," she said.
Modified on August 23, 2021