SPH Introduces Inaugural MHA Executive in Residence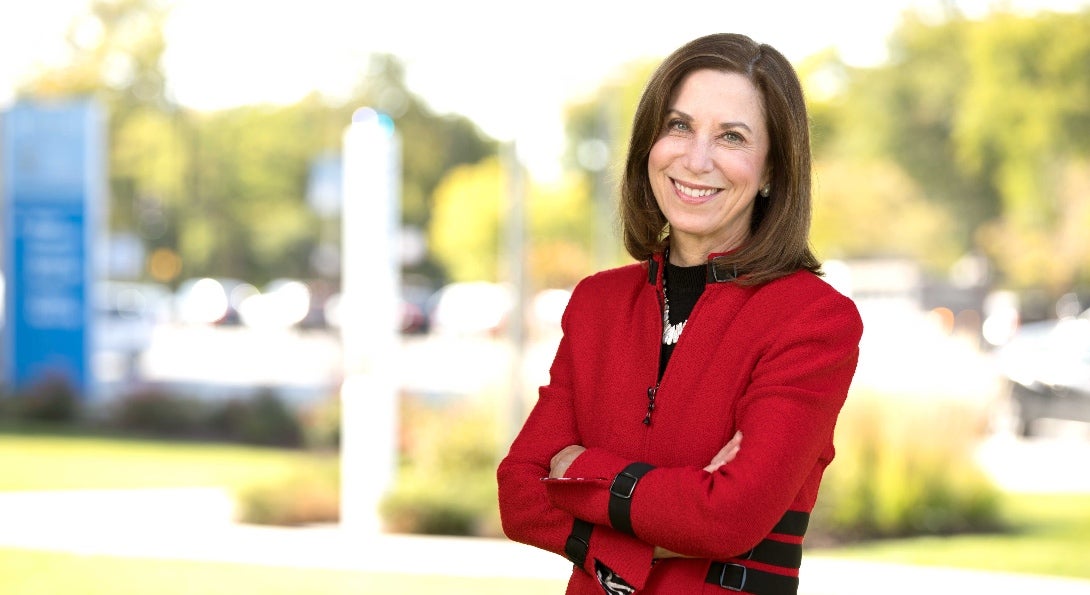 Story text
The University of Illinois Chicago (UIC) School of Public Health is proud to welcome Karen C. Teitelbaum, president and CEO of Sinai Health System, as the inaugural Executive in Residence with the School's Master of Healthcare Administration (MHA) program in the division of health policy and administration.
The Executive in Residence is a senior healthcare leader with a distinguished career of leading transformational change in the healthcare industry. They are uniquely positioned within the healthcare administration program to foster professional relationships with key external stakeholders, serve as a practitioner resource to faculty in their healthcare research efforts, and contribute to students' career development. This role is also designed to ensure that the MHA course curriculum addresses relevant trends and issues and prepares students to enter the healthcare industry as future leaders.
"I've been privileged to serve as a preceptor at Sinai Chicago for UIC MHA student interns, and I am consistently impressed by the caliber of the students coming out of the UIC MHA program," Teitelbaum said. "We have hired a number of them as interns, and they are superstars."
An experienced executive, Teitelbaum has spent her career in leadership positions with some of the most industry-challenged healthcare delivery organizations.  Experienced in business development, strategy, turnaround, and advocacy, she is a nationally recognized leader focused on ensuring corporate viability and growth in the health services arena.
As president and chief executive officer of Sinai Chicago, Chicago's largest private healthcare system serving vulnerable communities, and with more than $1 billion of revenues, Teitelbaum led the successful turnaround of financial, philanthropic and operational performance. Results to date show a year-over-year improvement in the bottom line, taking the organization from a loss of $42 million to a profit of $10.7 million, improved earnings before deductions from a negative $14.8 million to a positive $33.8 million and increased philanthropic giving from $2.3 million annually to $10.9 million.  During this time, she recruited, retained and developed a high-performing, diverse executive team of nationally recognized professionals.
Teitelbaum is an influential participant in state and national legislative policy-making agendas, working with legislators of both the State and Congress.  She has formed strategic relationships with non-healthcare partners, including a major academic institution and a real estate development firm, in order to train the next generation of professionals and create assets in urban areas.
She serves on civic, state and national boards, including serving as the Board Chair for the Illinois Health and Hospital Association,  America's Essential Hospitals (chair, board equity task force), the Chicago-Cook County Innovation Workforce development board as a mayoral appointee and the School's MHA Advisory Board. A member of the Chicago Network, she has served on both planning and the healthcare sector nominating committees, the Commercial Club of Chicago, the Economic Club of Chicago and Kellogg Executive Women's Network.
"What I find most exciting about UIC's MHA program is its innovative thinking and vision, a real focus around what we in the healthcare industry need to be imparting to students in order to have the next generation of excellence in healthcare administration and health delivery," Teitelbaum said. " This program is a pace setter for ensuring our future healthcare professionals are exquisitely prepared for the challenges and opportunities of our field."
Modified on January 25, 2021