SPH Faculty Leads Community Meeting on Ethyl Oxide Exposure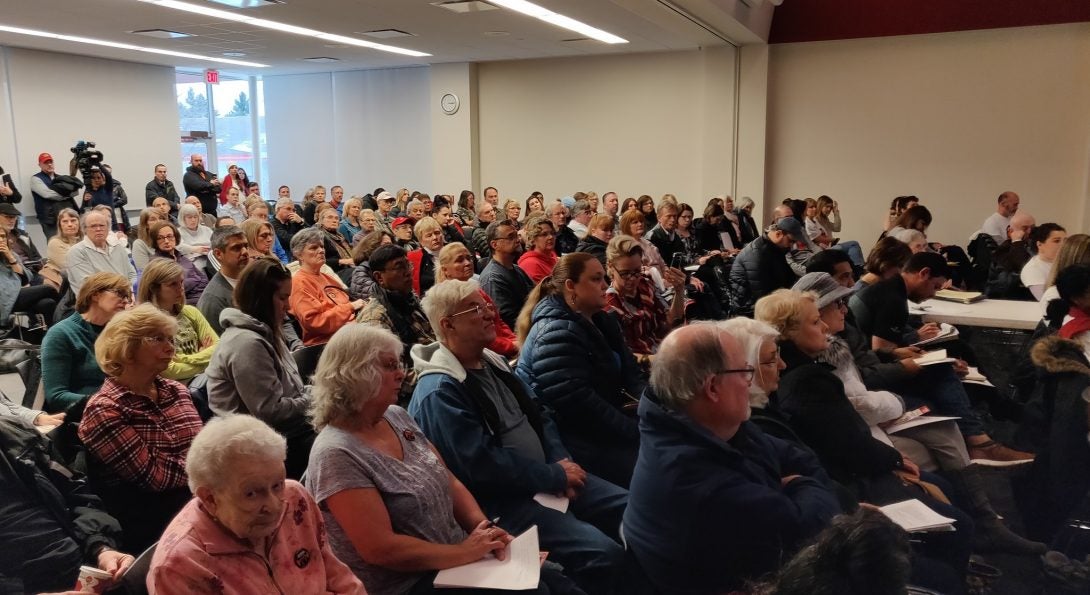 Dr. Susan Buchanan, clinical associate professor of environmental and occupational health sciences at the University of Illinois at Chicago (UIC) School of Public Health, led a community meeting on January 12 at the Warren Newport Public Library in Gurnee, Ill., to present the results of recent bloodwork of Lake County residents testing for exposure to ethylene oxide.
The non-randomized study examined ethylene oxide hemoglobin adduct levels in blood of people living near Medline Industries Inc., a manufacturer of medical equipment using ethylene oxide to sterilize surgical supplies and Vantage, Inc., a chemical production plant.  The convenience sample indicated residents living closer to the Medline facility had higher blood levels of the carcinogen than those living further away.  Testing took place in August, led by faculty and students at the School of Public Health.
"Studies used to determine the carcinogenicity of ethylene oxide are mostly with workers who have had much higher exposure levels," Buchanan said. "It's impossible to correlate an individual's cancer threat with their blood levels of ethylene oxide, but people want to know exactly what these levels mean."
Video: Next steps addressing ethyl oxide exposure in Lake County, Illinois
Story, continued.
In front of a packed house at the library, Buchanan and alumnus Mark Pfister, DrPH '15, executive director of the Lake County Health Department, fielded questions from attendees on the future of air monitoring in the area, the prospect of more blood testing opportunities and wider research to determine the effects of lower levels of exposure to ethylene oxide.
According to media reports, Medline temporarily ceased operations in January as the company completes construction of emissions abatement equipment.  The company is the largest private employer in Waukegan, Ill.
"These facilities were emitting ethylene oxide at legal levels set at the state level," Buchanan said. "The federal EPA doesn't necessarily have the authority to come in and deal with a plant legally emitting carcinogens."
The community group Stop Ethyl Oxide is working with the Illinois state legislature to modify current emissions laws.  Buchanan calls it a remarkable grassroots effort demanding attention and action on an environmental health issue.
"When you talk about cancer, you'll get more attention, as it's everyone's big fear," Buchanan said. "There's a big role of social media, and a lot of people have been stimulated recently to engage more in local political activity.  I think those three are a perfect storm that turn some of these issues into well-known visible issues."
Modified on February 10, 2020