SPH announces André Gilmore Stanley DrPH Scholarship in Equity and Anti-Racism
In honor of Andre' Gilmore Stanley | March 21, 1954 to August 19, 2017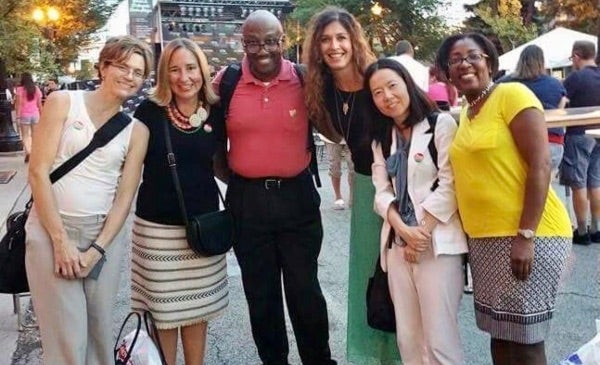 To honor the memory of André Gilmore Stanley, a proud member of the 2016 cohort of the University of Illinois Chicago School of Public Health DrPH in Leadership Program, we are excited to launch the André Gilmore Stanley DrPH Scholarship.
Mr. Stanley was a Policy Analyst for the US Food and Drug Administration's Center for Tobacco Products in Silver Spring, Maryland. Prior to serving in the federal government, he worked in other various tobacco control capacities around the country including the former North Carolina Health and Wellness Trust Fund in Raleigh, North Carolina, the Smokeless States National Tobacco Policy Initiative in Chicago, Illinois, and the American Stop Smoking Intervention Study for Cancer Prevention (Project ASSIST) at the SC Department of Health and Environmental Control in Columbia, SC. He was also an Adjunct Professor of Public Health at the University of the District of Columbia. André was a member of the Executive Board of the American Public Health Association (APHA) where he was previously the chair of the Alcohol, Tobacco and Other Drugs Section of the Association. In 2011, the APHA awarded him a Fellowship in Government where he served on Capitol Hill as a legislative assistant in the US House of Representatives.
Mr. Stanley joined the DrPH program as a well-seasoned public health professional who aspired to lead a state health department in the next stage of his long career. He was described by his classmates as a very positive person, always willing to support his cohort-mates and share new ideas or approaches to community health. Mr. Stanley had a deep commitment to continuously learn, keeping his knowledge and skills relevant to today's complex public health challenges. With his deep experience and strong interest in tobacco control, his research passion focused more on issues of equity and anti-racism, and the need to further explore and create solutions for police violence against the Black population. Ultimately, he desired to create health communities for all through a new culture of health.
To honor Mr. Stanley's life, work and anticipated critical research, the DrPH Program is launching the Andre' Stanley Scholarship to live out Mr. Stanley's legacy. This scholarship will provide financial support to UIC SPH DrPH students in good academic standing who express a clear vision for action to address health equity, particularly racism, as a public health issue. Awarded students should be in the dissertation proposal stage of their DrPH program with a research focus on equity and anti-racism.
How to give
If you are interested in donating to the fund, visit our giving page and choose the UIC André Gilmore Stanley DrPH Scholarship in Equity from the drop down menu under Scholarships and Awards.
Modified on October 13, 2021