Solar-Powered Water Treatment Project Debuts in Kenya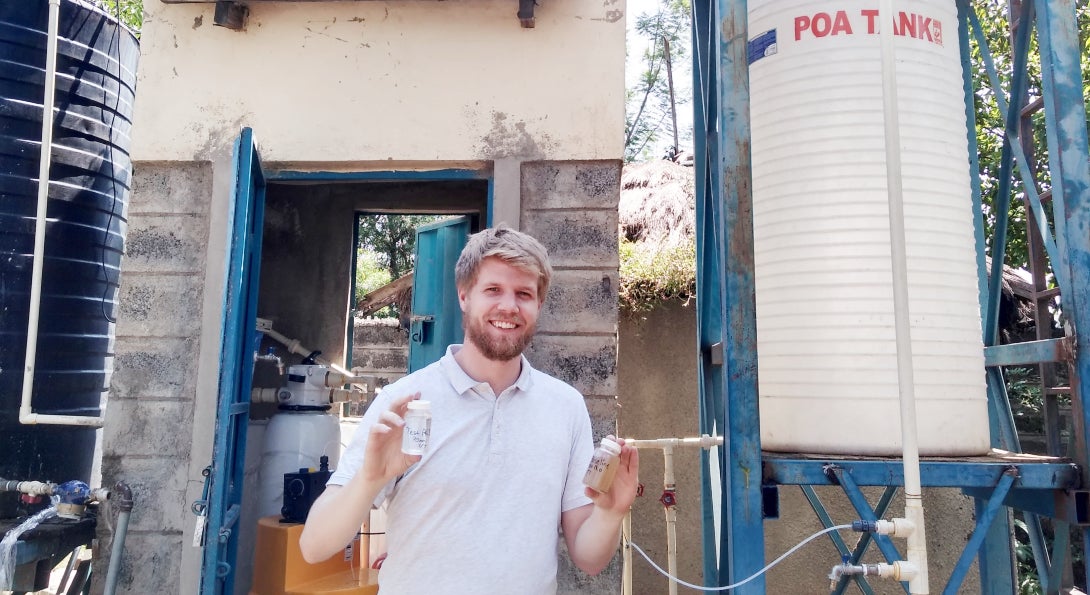 The UIC School of Public Health has received a grant from Grand Challenges Explorations, an initiative of the Bill & Melinda Gates Foundation, to study the expansion and testing of a clean drinking water system in two informal urban settlements located in Kisumu, a city of 500,000 people in Kenya. Dr. Samuel Dorevitch, associate professor at the UIC School of Public Health, principal investigator on the grant, traveled to Kenya this summer to continue working on this project, which was started in 2017.
The water disinfection system uses solar power to produce ozone gas. The gas is then bubbled through water collected from natural or municipal sources to kill germs and make the water safe for drinking. In partnership with the Safe Water and AIDS Project (SWAP), a non-governmental organization based in Western Kenya, Dorevitch and colleagues have already installed small versions of the system in ten homes in Kisumu's Kisian Village, where it can disinfect about 40 liters of water a day.
"New and better ways of treating drinking water have to work well in the laboratory, but they also have to be user-friendly and work well in people's homes," says Dorevitch, who is also a fellow of UIC's Institute for Environmental Science and Policy. "People in Kisian Village who used the solar-powered water treatment system say it's simple to use and they continue to use it even months after the research ended."
The new grant money will enable Dorevitch and his group to install much larger systems in Kisumu that can process up to 5,000 liters of water each day for community use. Colin Hendrickson, a Master of Public Health student in the division of environmental and occupational health sciences, joined Dorevitch in Kenya over the summer. "The box's small-scale design allows it to run solely using solar energy, bypassing the hefty electricity demand of traditional ozone disinfection. The ozone generators were originally only tested for small quantities of water (1000L) in order to understand how we could effectively scale up the technology so that more people could benefit from the treated water," Hendrickson explains.
Dorevitch, Hendrickson and their colleagues will compare two ways of deploying the larger system in two informal settlements in Kisumu: in one settlement, a community water cooperative will manage the system and coordinate water distribution. In another informal settlement, the system will be managed and distribution will be handled by water vendors. "We want to find out what works better, an entrepreneurial model or a nonprofit, cooperative model," Dorevitch says.
As part of the funding from the Gates Foundation, Dorevitch, Hendrickson and two of their SWAP colleagues traveled from Kenya to Munich, Germany, to attend a week-long entrepreneurial workshop intended for water and sanitation technologies and businesses. "We participated in the highly engaged workshop which consisted of working one on one with successful start-up business owners and consultants. Because our experiences are primarily in research, the concepts we learned about entrepreneurship and business models were all very new to us, and we appreciated much of what we learned. While we want to make the biggest impact possible, it was very important to plan out how we can make it a sustainable operation," says Hendrickson.
Over the next 18 months, the scaled-up treatment system and the two approaches will be evaluated. "We need to know what works and what doesn't from a technology standpoint as well as from a community standpoint," Dorevitch says. "We will use that information to guide the deployment of solar-powered clean water systems in other settings and to evaluate the health impacts of this method of water treatment."
Modified on October 15, 2020