Report Details Needs in Supporting State Healthcare Workforce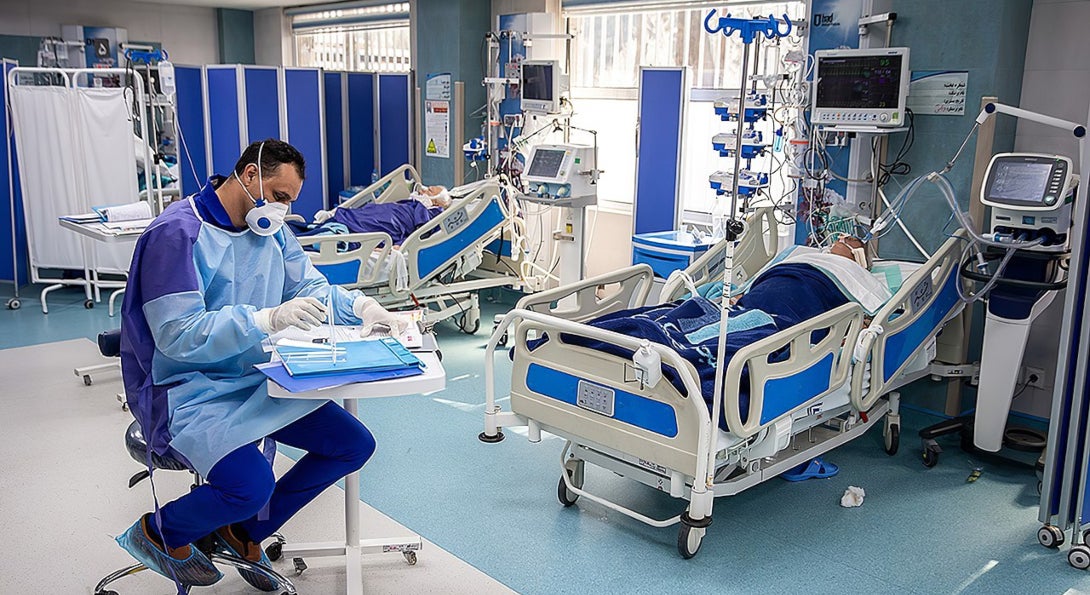 The University of Illinois System's Institute of Government and Public Affairs (IGPA) released a new report on the impact of the COVID-19 pandemic on the state's healthcare workforce.
At the request of U of I System President Tim Killeen, IGPA assembled more than four dozen interdisciplinary faculty experts from the three system universities to serve on IGPA's Task Force on the Impact of the COVID-19 Pandemic.
The task force's Healthcare Workforce working group, which published this report, includes Dr. Mark Rosenblatt, Executive Master of Healthcare Administration '19, dean of the UIC College of Medicine and Nicole Gonzalez, MPH in Maternal and Child Health '13, research specialist with the UIC Center for Global Health.
This report, titled Supporting the Healthcare Workforce in Response to the COVID-19 Pandemic, identifies several challenges healthcare workers are facing in Illinois. They include the direct health risks to them and their families, as well as issues involving access to transportation, housing, childcare and other family needs.
Workers are caring for increasing numbers of critically ill and dying patients with depleted resources – resources that are needed both to treat patients and to protect workers from infection. At the same time, they also face emotional and mental health consequences including exhaustion, stress, post-traumatic stress disorder, depression, anxiety, suicidality, domestic violence and substance abuse.
"Healthcare workers have suddenly become soldiers on the pandemic front line under tremendous hardships," the report says. "Nationally, they are repeatedly exposed to the virus and worry about lack of protective equipment and lack of ventilators. Some sleep in separate rooms at home to distance themselves from their own family. Some have been evicted from their apartments. Some worry about facing incredibly difficult ethical dilemmas regarding who should be ventilated and who should not. To address their needs requires new measures that go beyond traditional mental health services."
The report highlights two case studies from the University of Illinois Hospital and Health Sciences System (UI Health) for strategies to support healthcare workers. In one, UI Health arranged housing and transportation for workers who live with people who are more vulnerable to the virus so these workers can avoid potentially exposing them. One participant, an intensive-care unit nurse, credited the program with protecting the life of her immunosuppressed husband.
Another case study looks at efforts to respond to psychological adversity and trauma, including instituting a hotline for employees struggling with things like financial, interpersonal or work-related problems.
"Healthcare workers need support, not just now, in the heat of the crisis, but over time. It is especially important to address psychosocial and mental-health consequences related to possible burnout and traumatization," said Stevan Weine, director of the Center for Global Health at the University of Illinois at Chicago.
In addition to workforce issues, the report says the pandemic will leave many healthcare facilities struggling financially, due to increased costs and revenue losses from the cancellation or postponement of other care. The Illinois Hospital Association estimates that hospitals could collectively lose up to $1.4 billion monthly. This report notes that those losses will fall the hardest on hospitals with higher percentages of patients who rely on Medicare or Medicaid, or are uninsured.
In the face of financial pressure, the report found, some providers have cut wages and furloughed workers. The lowest-paid healthcare workers were already living below the poverty line, reliant on safety-net programs for help with food security, housing, and health insurance. These workers are disproportionately women of color.
"The healthcare industry is getting slammed by the pandemic. Both its workers and its bottom line are suffering," said IGPA Director Robin Fretwell Wilson, one of the lead authors of the report. "Just like in the rest of society, there are haves and have nots in the healthcare world. At every possible opportunity, we must work to prevent the socioeconomic, gender, and racial inequalities, which were already in place going into the pandemic, from widening during this crisis."
Wilson notes as one example of this inequity that some hospital workers, including custodial and food-service staff, are at risk for COVID-19 infection and do not have health insurance themselves.
Modified on May 06, 2020