Pie Guy
Derrick Tung gave up a successful career in health care administration to bring Detroit-style, wood-fired pizza to Chicago.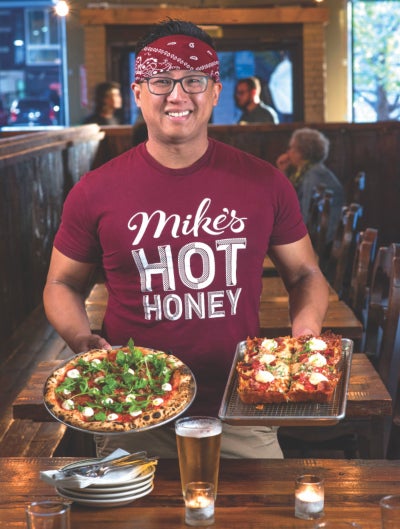 At trendy Paulie Gee's in Chicago's Logan Square neighborhood, you can order a pizza like few others in a city known for 'za plentitude and diversity. It's wood-fired and Detroitstyle—" light and airy with a crispy cheese crust," explains owner and Honors College graduate Derrick Tung, Master of Healthcare Administration '07 & '02 LAS.
The career health care administrator did not expect to end up baking pizzas and serving craft cocktails for a living. He credits the comprehensive yet flexible nature of his UIC education as a transitional asset.
Even though he majored in biology at UIC, Tung snuck in business classes whenever he could. "My LAS degree gave me a strong foundation toward any profession I would want to pursue, through proper understanding of science fundamentals and an introduction to business and teamwork," he says. "My master's of health administration provided understanding of financial management of businesses and a focus on the importance of an organization's culture in its success, as well as the importance of how to interact with guests in any setting—hospital or restaurant."
After graduation, he worked at UI Health as an administrative fellow and in administrative operations for its hospital Department of Minimally Invasive & Robotic Surgery. In those roles, he reduced operating expenses and patient lengths of stay.
"Each provided me with an opportunity to see how different styles of leadership worked," Tung notes.
In 2010, he moved on to the University HealthSystem Consortium, a Chicago-based national alliance of 107 academic medical centers and 233 affiliated hospitals. As project manager of quality operations, he made improvements that resulted in supply and operations savings.
The Pizza Pivot
And then his life changed one night when he was out to dinner with his wife. "I fell in love with Neapolitan-style pizza," known for its tomatoes and mozzarella cheese, he recalls, "and started conceiving a business idea of a fast-service pizza restaurant."
Tung used research skills he honed at UIC when he ventured online to learn how to make pizza via various food forums and YouTube videos. His big breakthrough? "I eventually started making round, instead of amoeba amoeba- shaped pizzas," he says, laughing.
He next constructed a wood-fired pizza oven on the back of a trailer and started to sell pizzas at farmers markets and private events as a weekend side business. "The highlight of my week," Tung says.
Soon he was ready to pivot to pizza. "I sought out a mentor who was similar to me— midlife career change into the restaurant industry, particularly pizza," he explains. That mentor was Brooklyn, N.Y., pizza patron Paulie Giannone. Paulie Gee's Logan Square is one of its franchises, with Tung as the owner.
"Concepts and skills [that] I learned at UIC and in my health care career [apply to] the restaurant business—supply negotiation and utilization, team management, corporate culture, and internal and external customer service," Tung says.
Another is willingness to change. "In the first six months, we were losing money each day," Tung recalls. He had to address financial and staffing concerns. "I've learned that it's important not to be afraid of letting go of underperforming staff members," he says. "Otherwise you demoralize the harder- working staff.
"With some luck and a lot of operational changes, we were able to break even and then begin making a profit," he says.
A rush of good fortune
UIC taught Tung how to work through problems, and he had a big one the first two days the restaurant was open, when the dishroom and restroom flooded. "My parents told me, in Chinese culture, water represents good fortune, so they believed it was a good omen for the restaurant," Tung recalls. "I don't know if sewage water counts, though."
At Paulie Gee's, "we focus a lot on the flavors, textures and interplay of ingredients of our pizza. We typically test a pizza at least a half-dozen times before listing it on our menu," Tung says. "We rotate three of our pizzas each month, trying out ideas, playing with local and seasonal ingredients and exercising our creativity."
Tung likes to give his pizzas creative names such as Porkypineapple, Ricotta Be Kiddin' Me and Cheesavore Easy Cheesy.
As for his transition from medical administrator to pizza entrepreneur, Tung says, "We are the culmination of all our experiences in life; there's something to be learned from every job and relationship."
Modified on February 10, 2020