Ozone System Brings Clean Water Access to Kisumu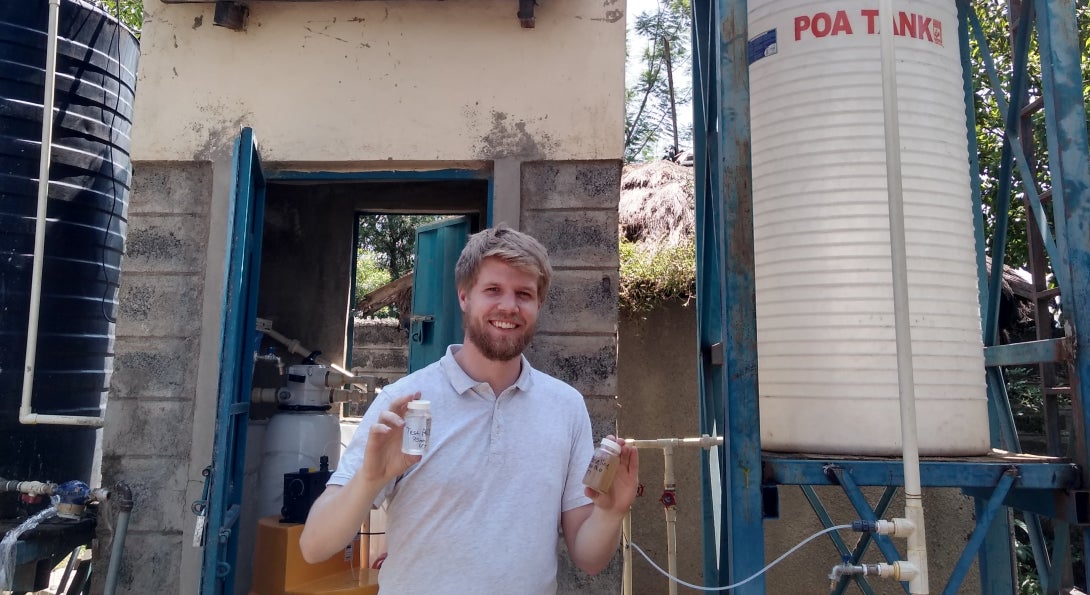 With new funding from the Gates Foundation, School of Public Health faculty and student researchers are aiming to bring new technologies to rural parts of nations like Kenya to build clean water access.
This summer, Colin Hendrickson, MPH in Environmental and Occupational Health Sciences student with concentrations in Water Quality and Health concentration and Global Health, worked with Dr. Samuel Dorevitch, professor of environmental and occupational health sciences, to install an ozone disinfection system invented by engineers at the University of Illinois in Ahero, Kenya, outside the city of Kisumu. Hendrickson led testing of the new system with large quantities of water, creating clean, drinkable water from a very heavily polluted river.  Hendrickson's seven weeks in Kenya were a part of his global applied practice experience.
"Coming to Kisumu and seeing people pulling water out of the river, using it to wash their clothes, using it to drink straight from the river, I'll always remember those things for the rest of my life," Hendrickson said. "We're starting to fully understand the possibilities [of this technology] and how many people we can serve with it."
This new technology converts oxygen in the atmosphere into ozone, which serves as a very powerful disinfectant for water.  Polluted water is pumped through a series of filters and flocculation tanks before it is disinfected with ozone.
Dorevitch and Hendrickson initially planned to test the system with 5,000 liters of water and successfully transformed 1,000 liters into drinkable water.  They ran into real-life hurdles along the way that confront technology created in a lab.  Shipping supplies to rural Kenya from Chicago was tricky, while electricity access was spotty.  The disinfected water had a yellowish tint, a problem Hendrickson and Dorevitch plan to troubleshoot in the future.
They are also looking to find ways to scale up the technology.  Currently, the system is designed for use in a household setting, disinfecting about 20 liters of water at a time.  Their aim is to open up two more water disinfection systems in the Kisumu area, each treating 1,000 liters of water per day.
For Hendrickson, his global applied practice experience represented his first foray into public health research and practice on another continent.  Passionate about water quality and health since high school, he says his months in Kenya are a step toward a career researching and implementing water sanitation in communities and how sanitation can impact infectious diseases.
"The global health experience has been fulfilling, but it's also a call to action in that what I did out there is just the beginning of what I can fully accomplish," Hendrickson said. "My research will continue to advocate for people so that they don't have to worry about where they are getting their water, so they don't have to spend hours of their day traveling miles to gather water that might not even be clean enough to drink."
Modified on September 25, 2019