New Book Details Alumna's Recovery from Stroke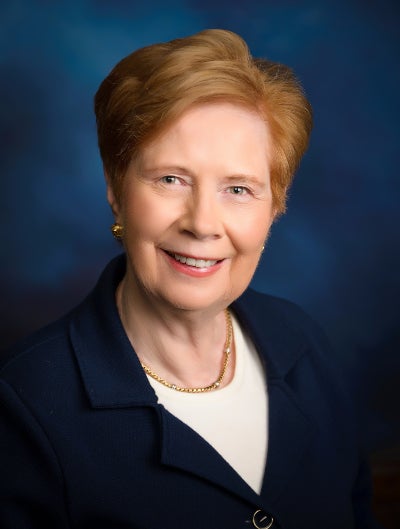 Alumna Janet Douglas, MPH '78, earned her undergraduate degree in occupational therapy.  As a therapist, she was not particularly fond of working with stroke patients.
When she suffered a massive stroke and entered rehab after a long hospital stay, she found herself in the fascinating position of beginning therapy as a trained occupational therapist, though her memories of her work were grainy at best.
Her experiences of recovery and the blossoming of a new life are the subject of an award-winning book she penned titled "A Wonderful Stroke of Luck: From Occupational Therapist to Patient and Beyond."  Her wok was recognized in 2019 with a gold award from the Non-Fiction Writers Association and is a finalist for the Book of the Year named by the Chicago Writers Association.
"I'm just kind of all over the place talking to survivors and their families, or therapists or physicians, medical professionals who work with stroke patients," Douglas said. "These are people who know what it's like from one side, but not from the other side."
Prior to her stroke, Douglas was working as a managing director with a global risk management company, routinely flying across the world.  She suffered a stroke while in England, losing her memory, identity and ability to dream with damage to her paratial lobe.
Beginning rehab back in Chicago, Douglas says she had no recollection of her work experience as a therapist.  In fact, she had no comprehension that anything was actually wrong with her.  Her early days of rehab were understandably challenging, and she credits the Shirley Ryan Ability Lab with reviving her self-consciousness.
Prior to her stroke, Douglas had written three textbooks, and those close to her recommended she should put her writing background to use detailing her experiences.  It took five years for her reading and writing abilities to reach the point where she felt she could dive in on a memoir.
"I didn't have a clue where to start," Douglas said. "I needed to discover my voice.  I wanted a message that stroke survivors and people with any sort of brain damage could grab on to, that you may not get back to where you were before, but you might get somewhere better."
For Douglas, that somewhere better is a new career serving as the director of human resources for RefugeeOne, a refugee resettlement agency.  She says she finds herself working at a kinder, gentler pace than her days traveling the world.  It's a role she may not have envisioned for herself many years ago, but that life change is the meaning of the title of her book.
"Sometimes not getting what you want is a wonderful stroke of luck," Douglas said. "I set myself a goal of getting 90 percent back of who I was; I didn't make it, but I found myself 100 percent of someone else.  You may not get back to where you were before, but you might get somewhere better."