IL HFS Announces Equity-Centric Healthcare Transformation Plan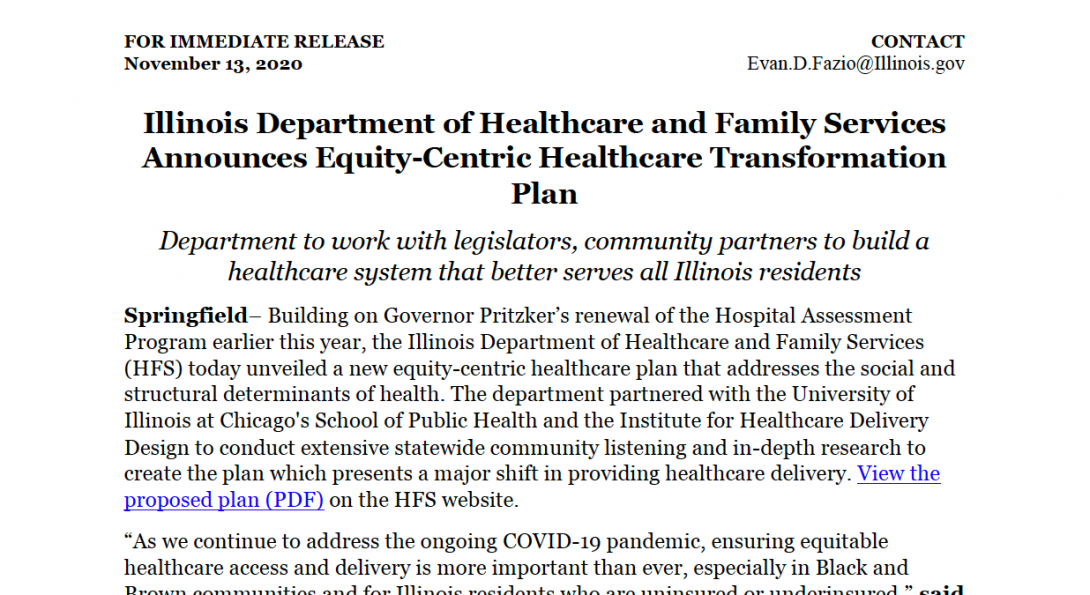 Collaboratory for Health Justice works on effort towards healthcare transformation
Building on Governor Pritzker's renewal of the Hospital Assessment Program earlier this year, the Illinois Department of Healthcare and Family Services (HFS) today unveiled a new equity-centric healthcare plan that addresses the social and structural determinants of health. The department partnered with the University of Illinois at Chicago's School of Public Health and the Institute for Healthcare Delivery Design to conduct extensive statewide community listening and in-depth research to create the plan which presents a major shift in providing healthcare delivery. View the proposed plan (PDF) on the HFS website.
"As we continue to address the ongoing COVID-19 pandemic, ensuring equitable healthcare access and delivery is more important than ever, especially in Black and Brown communities and for Illinois residents who are uninsured or underinsured," said Governor JB Pritzker. "Under this newly released plan, my administration will work with our partners in the General Assembly to establish a system where all Illinoisans, regardless of their background or where they live, receive the quality care they deserve."
Read the full press release and see the proposed plan here. 
Modified on September 01, 2021